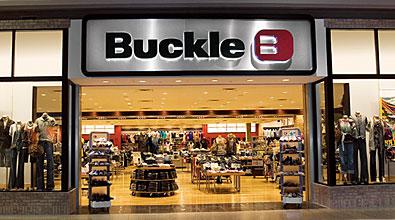 The Business
For those of you who are unfamiliar with The Buckle, Inc. (NYSE:BKE), it is an apparel retailer that caters to young adults. It is an American success story that began in 1948 when David Hirschfeld opened a men's store named Mills Clothing, in the small college town of Kearney, Nebraska. In 1965 Dave's son Dan took over the business. Dan changed its name to the Brass Buckle, and it became a denim store. In 1977 it started selling women's apparel, and in 1991 it went public as The Buckle, Inc.
Dan Hirschfeld still owns approximately 30% of the common shares of the company. Since going public its share price has gone from $2.00 to a high of $57.68 on August 5, 2013. This growth was accomplished while keeping the company debt free, and it has been paying regular dividends since 2003.
Its growth is organic and entirely in the US. It markets well known brands as well as private label, and denim is still its top product at 46% of sales. Its stores are located in high traffic shopping malls, primarily in secondary markets with only two in New England and three in New York. The company still has plenty of room to expand without entering into the uncertain global market. In 2013 BKE opened twelve new stores bringing its total to 452. BKE has had an online store since 1999. This business model seems to work in that BKE has some of the highest margins of any of its peers. (BKE's 2012 Annual Report)
Fundamentals
The following is a list of relevant financial ratios from Charles Schwab which shows the strength of BKE.
Return On Assets - 43%
Return On Equity - 40.14%
Return on Investment - 35.01%
Net Profit Margin - 14.32%
Operating Profit Margin - 22.64%
Long-Term Debt - $0.00
Quick Ratio - 1.7
Current Ratio - 2.99
Enterprise Value - $2.2 Billion
EPS Growth Rate (5 year) - 16.18%
Dividends
In addition to its regular dividend, BKE consistently pays a mammoth special dividend at the end of the year. The present yield for the regular dividend is 1.7%. A special dividend was recently declared in the amount of $1.20, a 2.5% yield. Last year's special dividend was an exceptional $4.50, issued (at least in part), as a result of an anticipated adverse change in tax law.
In the five years prior to the 2014 fiscal year (BKE's fiscal year end is January 30), the total dividends had an average payout ratio to earnings of 154%. However, the five-year payout ratio to operating cash flow minus capital expenses was only 68%. The large payout ratio is concerning, but by keeping the regular payout low (about 25%), I think it can avoid the usual share price chaos if a substantial decrease in future special dividends becomes necessary.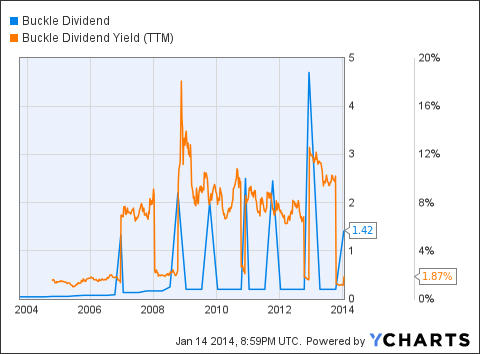 December 2013 Sales
BKE has seen an approximate drop of 8% in its share price since it released its December 2013 sales numbers on January 9, 2014. It closed at $46.79 on August 13, 2014. Net sales in December 2013 for comparable stores opened at least one year declined 2.8%, and its total net sales were down 2.2%. On a slightly more positive note its comparable store net sales for the 48-week period ending January 4, 2014, increased .4%, and its total net sales for that period were up 2.5%, which is in line with the full year average estimate of analysts at Yahoo Finance. Although these figures are disappointing, at least they show some growth in what has turned out to be a very weak year for many apparel retailers, with teen-oriented stores being hit particularly hard. As such, BKE's recent performance appears to be an industry trend rather than company specific.
Valuation
In determining the intrinsic value of BKE, I first used a present value model of total owners' earnings (earnings plus depreciation minus capital expenditures) over a ten-year period. Determining the current intrinsic value of BKE is difficult because of its rapidly declining growth. Its four-year average growth on earnings is 12%, but in fiscal year 2013 it was only 7%. Yahoo Finance analysts estimate zero growth for 2014. F.A.S.T. Graphs' estimate for future earnings (based on S&P's IQ analysts), is 6%. Normally I would use the average growth of 12%, but because of the recent decline, I believe the 6% growth rate is more appropriate, and that is what I used in my calculations.
The total ten-year earnings (using the 6% growth rate and 2013 owners earnings of $3.50 per share), came to $48.90. I then added the current share price of $46.79 to get a total of $95.69. The share price is added to the total earnings for the reason that without it there would be an assumption that the company goes out-of-business, and has no value at the end of 10 years. I believe such an assumption is unreasonable. I look at the share price as I would the principal of a loan that will be paid back when the term of the loan ends. I then computed the present value of $95.69 using a 7% discount rate. The results of the calculation was a intrinsic value price of $48.64, which is 4% higher than the price it is selling for today. Using a 5% discount rate the intrinsic value comes to % 58.75.
I next used a simplified intrinsic value formula suggested by Benjamin Graham in his book The Intelligent Investor (fourth revised addition - chapter 11). According to Graham this is a foreshortened evaluation method that can be used for growth stocks. The following is the formula and my calculations for BKE using a 6% growth of earnings rate:
Value = Earnings X (8.5 +(2 X future growth))
Value = 3.44 X (8.5 + (2 X 6))
Value = 70.52
In this formula, if one assumes zero growth the intrinsic value of the stock would be 29.24.
Value = 3.44 X (8.5 + (2 X 0))
Value = 3.44 X 8.5
Value = 29.24
One can also determine the growth rate the market presently gives to the stock at its current price of $46.79 by changing the unknown in the formula as follows:
Value = Earnings X (8.5 +(2 X future growth))
((Value / Earnings) - 8.5) / 2 = future growth
((46.79 / 3.44) -8.5) / 2 = future growth
5.7 / 2 = future growth
2.5 = future growth
As one can see the intrinsic value is very much dependent on the future growth rate. However, with the current price, the bar is set very low and it does not require much growth for BKE to be determined to be substantially undervalued.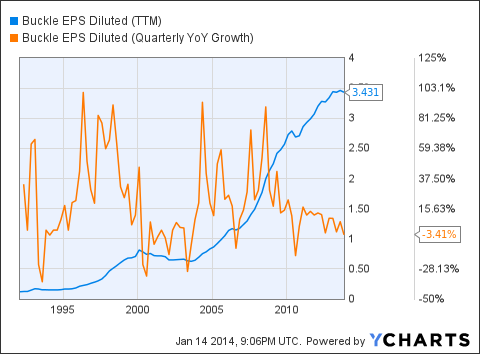 BKE EPS Diluted (TTM) data by YCharts
Conclusion
There is no question that BKE's 2014 fiscal year (which ends on January 31, 2014) has been extremely weak. If it is able to have any growth, it will be minimal. The lack of growth, however, is not unique to BKE and many other retailers are experiencing the same weaknesses. There were many macro events during the year which could be partly to blame, such as the political climate in Washington which caused a stalemate on economical issues, uncertainty on the debt ceiling, and a government shutdown. The continued high unemployment and even the inclement weather during the all important holiday season probably also played a part. BKE, with excellent management, a healthy balance sheet, and a record of strong earnings growth, should bounce back quickly with a growing economy.
At BKE's current price, the bar is set very low for any earnings growth and it should be able to beat future expectations. It should also have no problem in continuing to pay out regular and special dividends. This is a good stock to buy and collect your dividends while waiting for BKE to return to its normal growth rate.
Disclosure: I am long BKE. I wrote this article myself, and it expresses my own opinions. I am not receiving compensation for it (other than from Seeking Alpha). I have no business relationship with any company whose stock is mentioned in this article.