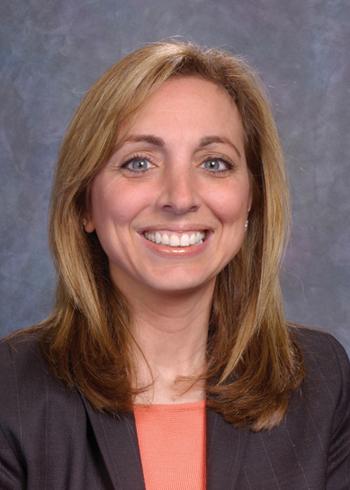 Click to enlarge
Michelle Girard is managing director and senior economist at Royal Bank of Scotland. She appears often on NBC, CNBC, Nightly Business Report, Bloomberg, and Fox News.
Harlan Levy is a business reporter and columnist at the Connecticut daily newspaper the Journal Inquirer.
H.L.: How much does the bitter tug of war between Republicans and Democrats in Congress over health care reform affect prospects for the U.S. economy?
M.G.: In my opinion the uncertainty that has been emanating from Washington over future policy has been a drag on U.S. growth and particularly hiring. Firms are unsure about what the cost of hiring an additional worker will ultimately be. They're unsure about the taxes that they will face, and as a result many are simply waiting on the sidelines for more definitive information before expanding operations.
At this point this wait-and-see attitude is undermining efforts that the Obama administration is undertaking to boost job growth. I've argued that rather than spending so much time and effort to develop a jobs bill that promotes hiring, it would be better if Washington policy-makers simply got out of the way and let the private sector operate on its own and let the recovery continue unhindered.
H.L.: Do you think the problems in Europe over debt crises in Greece, Italy, Portugal, Ireland, and Spain will seriously impair the U.S. economy's recovery?
M.G.: I think there's no direct risk from European troubles for the U.S. economy. The threat comes indirectly if the debt crisis leads to a broader financial contagion that undermines the improvement in U.S. financial markets. At this point we believe the odds of that outcome are still relatively low, but we are watchful and don't discount the fact that many countries are going to be dealing with debt issues in the coming years.
H.L.: How is the U.S. dealing with its deficit issues?
M.G.: The U.S. must clearly get its fiscal house in order. The ability of Congress to restrain spending remains to be seen. However, clearly Congressmen recognize there's no appetite among the American public for spending to continue to grow unchecked. Thus, we do not expect that there will be more stimulus measures undertaken, and, going forward, government spending will be under much closer scrutiny.
Of course, in terms of the deficit, the resumption of economic growth which will lead to stronger tax revenues will be a significant plus. The benefits will be seen with a lag, so while this year's deficit figures may not look much improved versus last year's, in 2011 we do expect that the deficit to come down.
H.L.: When the stimulus funds stop pouring into the economy later this year, are you concerned that the economic recovery will trend toward a relapse?
M.G.: We do not believe that the stimulus boosted growth meaningfully in 2009. Most of the transfer payments that went to individuals were saved and not spent. The Cash-For-Clunkers program boosted auto sales, but demand was met with a drawdown in inventories so that on net, there was very little Gross Domestic Product impact. Therefore, we are not particularly concerned that the lack of fiscal stimulus going forward presents a risk to continued recovery.
H.L.: Job losses are not abating nearly as quickly as optimists hoped. How severely does the job problem hamper the U.S. economy?
M.G.: I disagree that job losses are not abating quickly enough. I think if not for the blizzard that hit the East Coast during the February employment survey week the Bureau of Labor Statistics would have likely reported a job gain in February for the second time in four months. Anecdotal evidence on the labor market has strengthened noticeably in the last month or so. All of this suggests to me that firms are now beginning to hire back some of the workers that were laid off during the recession.
We continue to expect that job growth in 2010 will be relatively robust. We expect 2 million to 2.5 million new jobs to be added this year, although admittedly this is only a small portion of the 8 million jobs lost during the downturn. Two and a half million jobs this year would more than offset the number of new people entering into the workforce, so you will see the unemployment rate move lower over the course of this year. We see it down to 9 percent by the end of this year.
H.L.: What do you see happening with the value of the dollar and its effect?
M.G.: The dollar has actually strengthened, in part because of the overseas problems with the euro and Greece, but also because the U.S. fundamental situation is improving. The economy is strengthening, and market participants are beginning to look toward the time when policy-makers start raising interest rates. As a result, we think the dollar has bottomed. The lows are in, and we've made a sustained turn to the upside.
H.L.: What do you see ahead for the economy?
M.G.: We continue to expect the economy to grow at a healthy, above-trend pace throughout 2010. We expect Real GDP growth of 4 percent this year. Unlike in late 2009, when GDP was boosted by inventory rebalancing, in 2010 growth will reflect a sustained upturn in domestic demand. It will be sustainable and self-generating. We continue to be upbeat about the prospects for the economy this year and next year as well. The economy has a long way to go to get back to where it was prior to the recession, and there's a lot of monetary stimulus that's been put into place which will continue to provide a boost to growth, and I would say it would boost growth to an increasing degree as the banking and credit channels heal, and the stimulus can really start to flow through.
H.L.: Do you see meaningful financial reform occurring to prevent the financial crisis from reoccurring?
M.G.: I don't believe financial regulation would have prevented the crisis. Still, we will see financial regulation, but it's going to take a long while to work through the details and for everybody to agree. It's just hard to assess now what the final regulations will look like, but there will be a lot of changes, and they'll be a long time coming.
Disclosure: No positions