By Platinum Tiger

After running up 10 percent during March's first 10 trading sessions, Chinese small caps gave up ground last week, significantly under-performing against other major market indices and dropping 2.3 percent for the frame.

Though the index is still in an uptrend for the year, last week's action was sufficiently negative to raise concern about the life of the rally. Nearly two-thirds of the index stocks were down, with virtually every sector except consumer issues losing ground.

A key factor behind the turn in sentiment was last Wednesday's announcement by FUQI International (OTCPK:FUQI), one of last year's high-flying Chinese small caps, that it had significantly missed estimates and that previous quarters' earnings would be restated. The stock lost half its value and spurred investor concerns about the reliability of other Chinese companies' reporting.

The negative spillover overwhelmed the Chinese small cap market for several days, dampening what might otherwise have been a rousing response to L&L Energy's (NASDAQ:LLEN) stellar earnings report, also on Wednesday. Despite a 440 percent year-over-year earnings increase, LLEN's stock actually dropped by 3 percent for the week.

For the first time all year, the Shanghai Composite Index out-performed our China OTC Player Index by a wide margin, rising 1.8 percent for the week. During the same time frame, the S&P 500 picked up 0.9 percent, while the Russell 2000 recorded a modest loss of 0.4 percent.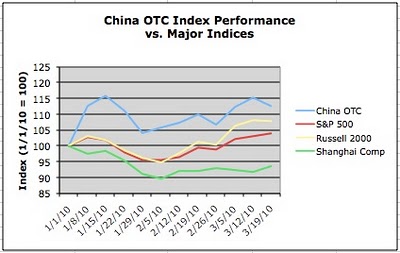 A couple of stocks managed to buck the trend, with China Shuangji Cement (OTC:CSGJ) extending its big run by another 16.9 percent, culminating a doubling in price in less than 3 weeks. Home System Group (OTC:HSYT) and Jingwei International (NASDAQ:JNGW) both also experienced double digit gains. The biggest decliners were China Electric Motor (OTCPK:CELM) and ZST Digital Networks (NASDAQ:ZSTN), each of which lost about 16 percent.

I remain in bull mode for the moment, expecting positive earnings reports in the coming weeks to propel Chinese small caps to more fresh highs. But given the persistence and breadth of selling this past week, I'm keeping a closer eye on overall market action just in case the recent uptrend has run out of steam.
Author's disclosure: Long LLEN