Enough already! How many Annaly Capital Management (NYSE:NLY) articles can there be on Seeking Alpha? One of my New Year's Resolutions was to be nice to Mortgage REITs, that is, to try not to throw darts at the market timers that try to capture large returns by jumping in and trying to accurately time short-term trades.
But so far this year (15 days into 2014) there have been six articles on Annaly, and I just had to break my silence (so this marks the 7th article on Annaly this year).
One article that caught my attention and gave me the willpower to come out swinging was titled: Annaly Has Bottomed: Multiple Reasons to Buy. Of course, It was easy coming up with a catchy title to my article: Annaly Has Bottomed: Multiple Reasons to Run for The Hills.
Why Run For The Woods?
The best place to start on looking at Annaly is the most recent quarter's financial supplement HERE. I have summarized below as follows:
Commercial investment portfolio grew 28% during the quarter and now represents 11% of stockholders' equity.
Expected levered return on equity of 13% to 16% on purchase of Agency mortgage-backed securities ("Agency MBS") in current market environment.
Q3 Realized losses on interest rate swaps: $227,909
Core earnings (loss) $283M (down from $294M Q2'13 and $306M Q3'12). Driven by $96M in trading gains.
One third of repurchase agreements ($24MM of $69MM) mature within 30 days.
What Do These Bullets Really Tell Us?
Annaly, like many mortgage REITs, realizes the agency mortgage mREIT model is not yielding, or expected to yield, the same results that investors have become accustomed to and has had to add the element of credit risk to the portfolio.
Levered returns on agency securities have been flat to decreasing.
Interest rate swaps continue to cost the REIT; this is the cost of protecting the portfolio from further volatility due to rate changes and/or mortgage spread widening.
Trading gains and losses continue to add volatility to results, making the predictability - and repeatability - of earnings and dividends difficult.
Should demand for mortgage collateral in repurchase agreements change, the amount of repo due in 30 days and less could be an issue. As we learned in the last crisis (and all prior ones) - in times of trouble liquidity is king. This is why many financial companies have been terming out their debt and/or raising money in the preferred stock market.
So What is the Catalyst for Growth?
If we were to look at the performance of mREITs during the last year, it is easy to say what caused them to go down in value. The question that is not asked enough is "what has changed to make them go up in value or maintain their dividends and book value?" Stated differently, "what is the catalyst that will drive prices or dividends higher?"
Many have pointed to the rise in interest rates as the cause of the weakness in earnings. Looking at Annaly's supplemental, however, one realizes that interest margin (the source of "real" earnings) actually increased as rates went up. During this time, however, the stock did not go up, nor did dividends. In other words, if an increase in rates didn't help them before despite the margin increase, why should investors expect a steeper curve to help them now? What has changed? Nothing.
Earnings have been volatile due to gains and losses on the portfolio and trading. This earnings component is necessarily discounted as it is rarely repeatable. As the rates market continues to fluctuate (think 15 bps since Friday's employment numbers) why should investors expect the quality of earnings to increase? What has changed? Nothing.
Many have pointed out the hedging activities of the mREITs as a means to guard against the risk of rising rates (again, not looking at the curve, but the rates). What will occur if rates did not increase as much as many investors expect? What will occur if rates stay flat or even decrease? Note that Annaly's hedges continue to cost them money through realized and unrealized losses.
If the path of rates does not follow their model (and does anyone recall a time when models were dynamic and adaptable?) the hedges will continue to cost them money - well, cost the investors money. When viewing the cost of hedging and the volatility dampening nature of hedging (or lack thereof), what has changed to benefit shareholders going forward? Nothing.
As Annaly increases the amount of non-agency securities (commercial real estate, mezzanine debt, preferred equity…), they are exposed to more than just rate risk - they have added credit risk to the mix, and this can be very costly if not done properly or should the environment change. Many reference the history that Annaly (especially) has in the mortgage markets. In their history, they have never had non-agency securities in the portfolio … so is history a guide? This is a change, and it could drive the stock price and book value in either direction. Can investors consider this a catalyst?
Finally, investors must consider the mortgage market. The largest buyer of mortgage securities, the Fed, has announced reductions in their purchases of MBS. Without this artificial price support, should investors expect prices to go up or down on MBS? It is often stated "don't fight the Fed." Is this the time to start? Similarly, there have been new appointments to the FHFA, most notably Mr. Mel Watt. Mr. Watt has shown an inclination to keep fees low on mortgages with a bias toward principal forgiveness. If PIMCO and BlackRock are concerned about the wide scale effect on the MBS market, shouldn't mREIT investors be likewise concerned? What has changed to be a positive catalyst? Nothing.
Another oft mentioned approach and thesis on mREITs has been the "their prices have bottomed" approach. This approach often uses simplistic price support/resistance measures which have failed so many in the mREIT market. When Annaly lost only 10% of its value, many were singing the "we're at the bottom" song - only to find out that they were wrong. This approach might help traders moving in and out of the various equities/markets, but investors are a different breed with different needs and a different philosophy. "A" low price does not mean "the" low price.
A Safer Way To Stay on High Ground
As I mentioned at the outset, I'm not writing to bash the "market timers." If that's how you play the game, go for it. However, some of us are more comfortable in a less turbulent setting where the powers of compounding and asset growth trump immediate gratification.
The truth is, there is simply no way to pick a bottom. Whether you use ancient mathematical ratios, astrology or a crystal ball, there is absolutely no way to predict short-term market movements. It's much simpler to be in the market, invest in value stocks and ignore the drama unfolding on a regular basis (and believe me, there is a lot of drama with Annaly lately).
I see no "margin of safety" in owning or investing in an asset class that is highly vulnerable with massive risk and high probability of loss. I'm certain that 2014 will produce some home runs in the mREIT sector; however, I think there's a greater opportunity in the mREIT Preferred shares.
To understand REIT preferred stock, one must understand where they fall in the capital structure and why this is important. REITs have limitations on the amount of capital that can fall within the debt portion of the capital structure, while preferred stock and common equity can be used in limitless fashion. The reason behind this is that preferred stock dividends have to be declared by the Board and can be suspended should a REIT encounter financial stress (although it rarely is in practice), so it is debt like, but a suspension of the dividend is not an event of default.
As evidenced by the snapshot below, REIT Preferred spreads remain reasonably attractive based upon historic terms: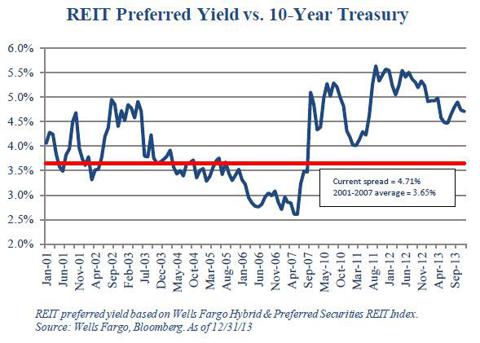 I recently ran across an excellent website with considerable information on REIT Preferred shares. You can visit the website of the company, LDR Capital Management HERE. Here is chart that I found in a white paper on LDR's website: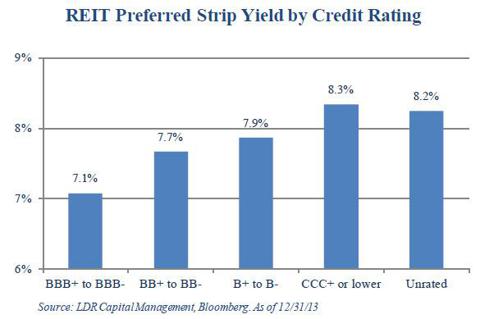 Another interesting chart (provided by LDR below). As you can see around 73% of REIT Preferreds are trading BELOW par.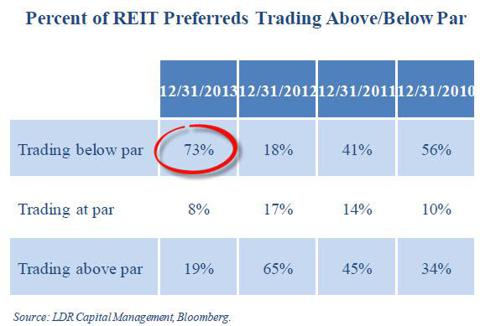 Finally, the chart below provides a list of the most recent REIT Preferred Offerings, many of which are mREITs.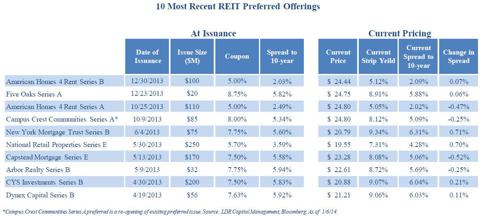 As far as Annaly or the traditional mREIT model, I gotta tell you, the best way for me to describe Annaly is the "creed of the speculator" offered up by Frank J. Williams (If You Must Speculate, Learn The Rules):
I want to make a lot of money on little capital in a short time without working for it.
So I will conclude my article (yes, it may be a rant) by saying that this is impossible. An intelligent investor is one who buys sound securities where he (or she) knows his (or her) principal will be safe and he (or she) will get a fair return. As Frank Williams wrote:
The speculator is he who buys today with the hope of selling tomorrow or next month at a higher price.
So for what it's worth, I would run for the hills... and you'll sleep well at night.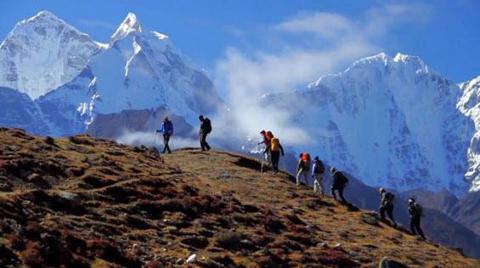 Make sure to check out my REIT newsletter - iREIT Investor - the source for intelligent REIT investing (the newsletter does cover REIT Preferred Shares).
Source: LDR Capital Management
REITs mentioned: (NYSE:AMH), (NYSE:OAKS), (NYSE:CCG), (NASDAQ:NYMT), (NYSE:NNN), (NYSE:CMO), (NYSE:ABR), (NYSE:CYS), and (NYSE:DX).
Disclaimer: This article is intended to provide information to interested parties. As I have no knowledge of individual investor circumstances, goals, and/or portfolio concentration or diversification, readers are expected to complete their own due diligence before purchasing any stocks mentioned or recommended.
Disclosure: I am long O, DLR, VTR, HTA, STAG, UMH, CSG, GPT, ARCP, ROIC, MPW, HCN, OHI, LXP, KIM. I wrote this article myself, and it expresses my own opinions. I am not receiving compensation for it (other than from Seeking Alpha). I have no business relationship with any company whose stock is mentioned in this article.