I don't issue these kinds of warnings very often, and I really don't like to be this bearish on a name unless there is some large fundamental reason. But as those who follow me on this site know, I've become increasingly concerned about Intel (NASDAQ:INTC) stock in recent days. By Wednesday morning, there were 5 positive notes out on the stock in just three days; four from analysts and one from Jim Cramer. Intel shares have rocketed higher to new yearly highs, and the "buy the rumor, sell the news" theory seems to be very much in play. Today, I want to discuss the analyst notes, quickly recap my stance on Intel's earnings, and discuss why Intel is no longer the value it was just a few months ago. For those that missed it, here is my official Intel earnings preview article.
Everyone is so happy!
In the above linked article a few days ago, I covered the first positive report which came from Goldman Sachs. The firm did reiterate a Sell rating and $16 price target, but stated that Intel could beat earnings this quarter. I don't know why GS still has such a low target on Intel, and while I might agree with a Sell rating on Intel currently, this price target has been there for the entire run. So take that at face value.
On Tuesday, the analyst chatter really picked up. We first had a huge upgrade from JP Morgan. Not only did the firm upgrade Intel from Neutral to Overweight, but the price target was raised from $20 to $29. That's a huge raise. The firm believes that PC stability plus more realistic guidance from Intel's new CEO will help to improve margins and returns, and that better spending habits will lead to multiple expansion. Intel's multiple has already expanded a bit, and I'll get to that later. Later in the day, Jim Cramer referenced the JP Morgan call, stating that Intel was becoming aggressive on mobile and that the JP Morgan call represented "a trend of analysts trying to find resurgent tech companies".
Well, there certainly has been a trend at this point. While Cramer did not reference this note, Jefferies was also out with a positive note on Intel Tuesday morning. The analyst reiterated his buy recommendation and $32 price target, with a bull case of $3.00 in 2016 earnings per share. That would be up significantly from the $1.90 or so analysts are looking for in 2014 currently. The analyst believes investors will like Intel's bottoming margins, although you could make the case that those margins bottomed in early 2013. Intel is the top big cap pick for this firm, and the analyst said that the firm would be buyers ahead of Thursday's report.
Just when you thought we had seen enough, Wednesday saw another analyst call. BMO Capital upgraded Intel from Market Perform to Outperform, and raised its price target from $21 to $31, another huge raise. Most of the reasons cited were the same as other analysts: stabilizing PC trends, management optimism, and valuation.
Even on Wednesday when we got a negative note on Intel, it seemed to get buried. MKM reiterated its Neutral rating and $25 price target, stating that Intel's progress won't come until the second half of 2014. This was the first negative analyst note, but even with this one analyst going against popular opinion, the stock really shrugged this one off, as evidenced by Wednesday's early rally. That rally fizzled a bit late in the day with the overall market, but Intel finished higher on the day.
I wouldn't normally make such a big deal about all of these analyst notes, but this is not something we normally see with Intel. In 2013, we sometimes saw a note or two out about 1-3 weeks prior to earnings, kinda like the early January Wells Fargo one. This was usually about the time we got quarterly PC data, and so the analysts would comment on how the data would benefit/hurt Intel. Then, there was maybe one or two more notes as we approached earnings, but not four, and then add in Cramer. Intel closed last Friday at $25.53, and the stock closed Wednesday at $26.67. That's a big rally into earnings, especially when you consider the run this stock has had already. Intel is up 5.7% since warning at its Investor Day, and up 14% since the after-warning low. So much for the bad news.
Looking at earnings:
I don't want to spend a ton of time repeating my earnings preview and guidance discussion, so here are the highlights:
Revenues of $13.974 billion, earnings per share of $0.56.
Guidance for flat 2014 revenues, 60% gross margins, $18.5 billion in R&D plus MG&A spending, $600 million amortization/intangibles expense, tax rate of 24%-25%, capex of $11 billion.
No dividend raise (at earnings report), buyback similar to previous quarterly rate throughout 2013.
Those are my basic estimates for Intel on Thursday. Current analyst estimates call for Q4 revenues of $13.72 billion and earnings per share of $0.52. For 2014, analysts are looking for 1.2% revenue growth and earnings per share of $1.90, which would match the currently expected $1.90 in 2013. These estimates could easily change by Thursday, especially with all of the analyst activity we've seen lately.
One important point, and that's the dividend. Intel usually announces the dividend a week or so after earnings, so I won't be looking for a dividend announcement on Thursday. I do expect (really hope) that Intel will raise the dividend this year, and my guess is that the dividend decision comes sometime in the next week or two.
Where is the value now?
This is where I think things get a little tricky for shares of Intel. I think we can all agree that Intel is no longer a growth stock. Yes, Intel might have some growth in the next few years from the transition to mobile, but Intel is certainly not a Google (NASDAQ:GOOG), a Facebook (NASDAQ:FB), or any name like that. Intel could definitely be considered a value stock, but that value isn't what it used to be. That's why I don't necessarily agree with all of these "multiple expansion" comments from analysts, because Intel's multiple has expanded a bit already.
So why do I say Intel is not the value it used to be? Well, back in August 2013, I had an article discussing Intel cracking the 4.00% dividend yield level. At that point, Intel had a market cap of about $110 billion dollars, and the stock was trading around $22, which was about 11 times 2014 expected earnings. In August, expectations were calling for much more growth in 2014, with revenue estimates about $1.75 billion higher than they are now, and estimates for almost a dime more of EPS. With a dividend yield over 4.00%, a buyback around $500-$600 million a quarter, reasonable growth expectations, and a stock trading at 11 times 2014 expected earnings, Intel sure seemed like a value.
So fast forward to present. Intel's stock is nearly $5 higher with expectations for 2014 a bit lower. The dividend yield is now just 3.37%, and with a market cap of more than $132 billion the buyback is not as powerful. Intel now trades for more than 14 times expected 2014 earnings. The multiple has expanded by 3 entire points, and Intel's overall package is much less than you got back in August. That's why the "value" argument doesn't work that much for me anymore. Even if Intel raises its forecast, upps the dividend by 10%, and increases the buyback rate, you'd still be getting less than what you did back in August, and probably at about a 20% premium to then.
If my wording was a bit complicated, here's what I'm talking about in table form. The table below shows the average analyst estimates for revenues and earnings, along with the associated growth percentage, going back to April 2013. The P/E number is based on the closing price and 2014 estimate for earnings as of that day. The yellow line is the day when Intel held its Investor Day, and essentially warned for 2014. Share prices are actual closes from that day and are not dividend adjusted. The revenue number is in billions.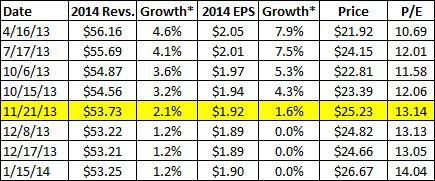 *2014 growth numbers are based on the estimate for 2013 revenues/earnings per share on that given day.
So where does Intel stand now against some other top tech names? Well, the following table shows current expectations and valuations for Intel up against Apple (NASDAQ:AAPL), Microsoft (NASDAQ:MSFT), Cisco Systems (NASDAQ:CSCO), and Qualcomm (NASDAQ:QCOM).

*EPS growth and P/E numbers are non-GAAP.
Intel's valuation has certainly stretched, again trading at a 10% plus premium to Apple. Intel is also trading at a premium to Microsoft again, and this time it's a bit larger than the last few updates. This is also the closest Intel's P/E has been to the non-GAAP one of Qualcomm. Yet, Intel's revenue and earnings growth don't show anything that spectacular. Intel still has the dividend yield advantage, but Apple and Qualcomm have the growth. Apple also has the much more powerful buyback. In early December, Microsoft traded at more than a 15% premium to Intel. Now, Intel trades at almost a 2% premium to Microsoft, and yes, Microsoft has come down. My hope here is that Intel's guidance will allow the chip giant to pull away from Cisco. Bad guidance would cause estimates to go lower, and be more in-line with the struggling Cisco. Don't forget, Intel came well off its highs late Wednesday. The valuation was even higher earlier in the day.
One other note on the Intel/Apple correlation here. There have been some times in the past where Apple's expectations got so high into earnings that even massive beats weren't enough. Apple's stock sold off afterwards, even with great numbers. As good as Intel's numbers are on Thursday, it's possible that profit taking might occur. I wouldn't have been sounding this alarm last week, but approaching $27 a share I have become a bit more skeptical.
Technical trouble for Intel?
I don't want to focus too much on the technicals, but Intel has jumped above its upper bollinger band. Usually, this means a stock has run a bit much, and for Intel, means a pullback could be coming. As you can see in the chart below, the last time that Intel broke above this bollinger band was at its Investor Day. We all know how that turned out. I'm not calling for Intel to crash here, but even a pullback to $25 or $26 might put the stock more in-line with realistic expectations.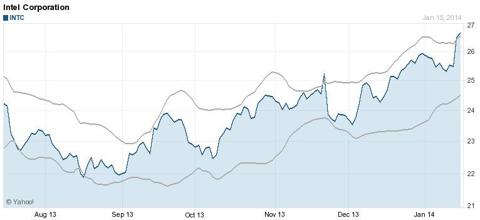 (Source: Yahoo! Finance)
Final thoughts:
There's been a lot of optimism regarding Intel going into Thursday's earnings report. While I do believe the PC market is improving, I believe that Intel shares have gotten ahead of themselves. While I expect a good report from Intel, investors may be expecting way too much, leading to disappointment afterwards. This is a stock that has continued to race higher, especially after all of this week's analyst commentary. I don't think a pullback would be bad for the stock, as it would allow the stock to become more in-line with realistic expectations. I have considered Intel a short at $27, and I believe that continues for the reasons stated in this article. I just don't see the value that Intel provides right now with a much lower dividend yield, weaker buyback, and valuation much higher despite lower expectations.
On a related note, a couple of my readers have asked me about my personal position regarding Intel and earnings. Over the past few weeks, I stated that I would consider shorting Intel if it approached $27 into earnings, if I had the funds to do so. Unfortunately, I found a different trade with a little more profit potential that's a 1-2 week thing, and some of my excess funds got pulled into that one. I do consider Intel a short through earnings after this entire frenzy, but I don't have the funds necessary at this point to short as much Intel here as I would have liked. This is not me changing my tune about Intel in the slightest. I just don't think it is wise to sell another position at a loss, a trade that has much more potential than an Intel short would, just to say I am short Intel. For that reason, I will not be shorting Intel through earnings, but I would consider shorting Intel if the stock is still a bit inflated once I complete my current other trade.
So what should investors do? Well, if you are long Intel and you want to take some profits (which is never a bad idea), you could take some Intel off the table, or maybe buy some put protection if it is cheap enough. For those looking for a quick trade, the short trade seems to be the logical one given the tremendous rally. Again, I think that Intel will have a solid report on Thursday, but I think the stock has rallied just way too much for the moment.
Disclosure: I have no positions in any stocks mentioned, and no plans to initiate any positions within the next 72 hours. I wrote this article myself, and it expresses my own opinions. I am not receiving compensation for it (other than from Seeking Alpha). I have no business relationship with any company whose stock is mentioned in this article.
Additional disclosure: Investors are always reminded that before making any investment, you should do your own proper due diligence on any name directly or indirectly mentioned in this article. Investors should also consider seeking advice from a broker or financial adviser before making any investment decisions. Any material in this article should be considered general information, and not relied on as a formal investment recommendation.