Bank of America (NYSE:BAC) delivered fourth quarter results and shares of the banking giant rose 2% as a result. In my opinion, the positives clearly outweighed the negatives. BofA beat revenue- and EPS estimates and made progress on a variety of fronts:
BofA produced revenues of $21.7 billion in the fourth quarter of 2013 which compares to analyst estimates of $21.2 billion. Q4 2013 diluted EPS was reported at $0.29 vs. analyst estimates of $0.26: An earnings beat of 12%.
BofA's 2013 net income stood at $11.4 billion which compares to $4.2 billion in FY 2012 and $1.4 billion in FY 2011. The company already has achieved a major turnaround in profitability and has steadily worked through its bad asset portfolio.
BofA was among the companies, if not the company, whose asset quality was scrutinized the most. Its Countrywide disaster acquisition and related settlements have caused the investing public to place BofA's assets under the microscope. However, the company has made meaningful progress as evidenced by the quarter-by-quarter comparison of net charge-offs and credit losses (see chart below). Net charge-offs declined from $3.1 billion in the fourth quarter of 2012 to $1.6 billion in Q4 2013 (a decline of 48%). Provisions for credit losses slumped from $2.2 billion in last year's fourth quarter to $0.3 billion in the most recent quarter (a decline of 86%). BofA's improving asset quality has been a major theme in past earnings presentations and the trend points toward even better results in the coming quarters. Allowances for loans and leases remain high although the bank has presented continuous progress over the last year as well: Allowances stood at $24.2 billion in the fourth quarter of 2012 and have sequentially decreased during the fiscal year. Allowances for loans and leases reached $17.4 billion in Q4 2013 and reflect a y-o-y decrease of 28%. Overall, BofA is on the right track to deliver higher asset quality and lower charge-offs in the coming quarters which will positively impact earnings.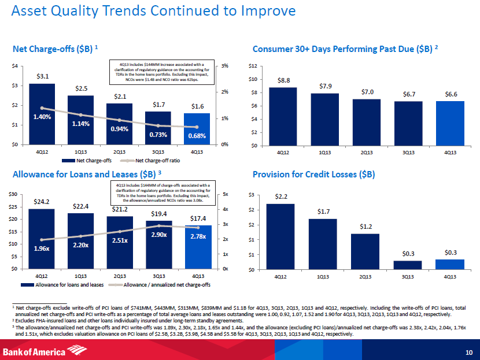 BofA's Consumer and Business Banking division helped to drive Q4 2013 group results: Net income in the volatile division increased $521 million to $2.0 billion driven by higher net interest income, cost savings and lower provision expenses. Deposits also developed favorably during 2013: Average deposits increased $44.7 billion y-o-y to $528.8 billion at the end of 2013. BofA is among the top deposit-catching franchises in the financial sector and its most aggressive competitors are Wells Fargo (NYSE:WFC) and J.P. Morgan (NYSE:JPM)).
Strengthening capital ratios point toward a developing fortress balance sheet: BofA's Basel 1 Tier common capital ratio stood at 11.19% in Q4 2013 compared to 11.06% in Q4 2012 and 9.86% in Q4 2011. Higher capital ratios will make it more likely that BofA will eventually adopt a more favorable shareholder remuneration policy. Higher dividend payments to shareholders could be a substantial catalyst for BofA shares in 2014/2015.
Two negative themes in BofA's earnings relate to ongoing litigation expenses and a loss-making CRES division:
BofA's litigation expenses for the fourth quarter came in at $2.3 billion with litigation expenses increasing $1.2 billion from the previous quarter and $0.3 billion from Q4 2012. High litigation expenses with regard to residential mortgage back securities have been somewhat of a headache for BofA and inflate company expenses and had a sizable effect on the bank's past earnings. Ongoing litigation clouds BofA's otherwise positive earnings outlook and I see them as a major risk factor in evaluating the company.
Another cause for concern has been BofA's Consumer Real Estate Services unit (CRES) which posted another hefty quarterly loss of $1.1 billion. First mortgage originations decreased 46% to $11.6 billion vs. $21.5 billion in Q4 2012. However, the mortgage business could do substantially better in the coming years as mortgage demand will increase due to a booming housing market.
Background
Clearly, BofA was a great contrarian BUY in 2011 when shares quoted just above the $5 mark. Shares quickly doubled in value when the market realized that a near 70% discount from book value is too pessimistic and the company just might be able to work its way through its Countrywide mess. Shares subsequently consolidated for a short period of time as a flurry of negative mortgage-related news emerged, but BofA quickly managed to turn around and is now on its way to double once more to $20. After the company presented Q4 2013 results yesterday, shares reached a new 52-week and two-year High at $17.42.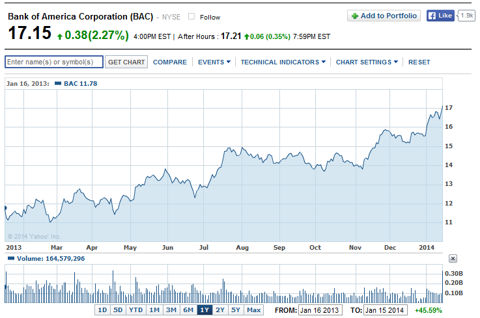 Market valuation
BofA's share price has shot up 165% over the last two years and has made the US deposit giant much more expensive compared to the bargain basement price levels of 2011 and 2012. However, valuations are far from being excessive and BofA still represents great long-term value for investors desiring exposure in the financial services sector. BofA achieves a market valuation of 13x forward earnings which is comparatively high when benchmarked against other large-cap financial services providers but still seems to undervalue the earnings prospects and earnings growth prospects of BofA. Citigroup (NYSE:C) has a similar risk/return profile than Bank of America and is also great long-term value for shareholders who don't mind a couple of bumpy quarters.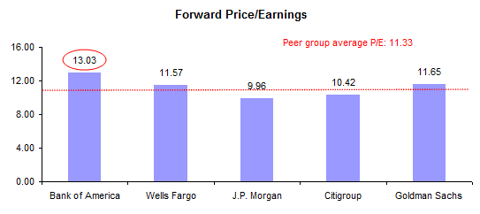 Book value per share slowly increasing
BofA's Q4 2013 book value per share stood at $20.71 which compares to $20.50 in the third quarter of 2013 and $20.24 in the fourth quarter 2014. The bank's tangible book value per share increased to $13.79 in Q4 2013 vs. $13.62 in Q3 2013 and vs. $13.36 in Q4 2012. Correspondingly, BofA trades at a 17% discount to total book value and at a 24% premium to tangible book value.
Conclusion
BofA still needs a couple of quarters more to work through its legacy issues and improve its asset quality further. However, the company is on the right track, has a strongly growing deposit base and its balance sheet looks much better than just a few quarters ago. With a Basel 1 Tier 1 common capital ratio of over 11% the bank actually belongs to the better capitalized financial services providers in the large-cap sector. BofA has achieved quite a decent comeback with an outstanding capital return for shareholders in the last two years. I also stand by my prior projection that BofA can achieve an EPS of $1.64 in 2014 which I think will be a turnaround year for bank stocks due to the impending tapering of the Federal Reserve. Applying a forward earnings multiple of 15 would yield a target price for BofA common shares of $25 representing about 46% upside potential. Major catalysts in 2014 could be a meaningful dividend resumption, share repurchases, EPS surprises and faster-than-expected tapering actions which would favor large-scale banks like BofA. Long-term Buy with 12-month price target of $25.
Disclosure: I am long BAC, C, JPM, WFC. I wrote this article myself, and it expresses my own opinions. I am not receiving compensation for it (other than from Seeking Alpha). I have no business relationship with any company whose stock is mentioned in this article.