Thankfully for Kinder Morgan Inc (NYSE:KMI), Q4 2013 was a relatively uneventful quarter. The stock did see some weakness during early December as a side effect of the disappointing guidance from El Paso Pipeline Partners (NYSE:EPB). However, these losses were quickly recovered. Kinder Morgan is the general partner, or GP, of Kinder Morgan Energy Partners (NYSE:KMP) and El Paso Pipeline Partners, and hence receives significant IDR payments from both. The company also owns large limited partner stakes in each of these MLPs as well as a sizable chunk of Kinder Morgan Management (NYSE:KMR).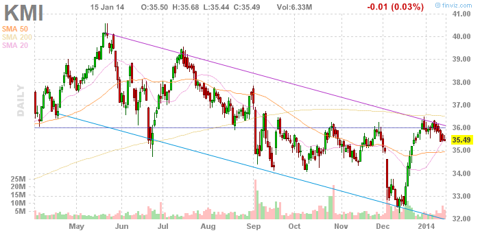 Click to enlarge
Kinder Morgan's Q4 2013 Highlights
Unlike Q3 2013, when Kinder Morgan faced a serious bear attack from Hedgeye, Q4 2013 did not see as much volatility. The stock did suffer a minor correction related to the above mentioned weak guidance from El Paso. However, the stock was able to recover the losses, ending the quarter up about 1%.
The major news event for Kinder Morgan in Q4 was its projections for 2014. Overall, not much came as a surprise. Kinder Morgan is projecting dividends of $1.72 per share in 2014, which is about 8% dividend growth from the prior year level.
The company also noted that it expects to dropdown various assets to El Paso in 2014. Among them are its 50% interest in Ruby Pipeline, its 50% interest in Gulf LNG and its 47.5% interest in Young Gas Storage. I suspect Kinder Morgan may need to waive large amounts of its IDR payments to make these dropdowns accretive for El Paso given the plunge seen it its unit price during Q4.
A Look at Kinder Morgan's Q4 2013 Earnings
On January 15, Kinder Morgan reported its Q4 2013 results. Overall, the company posted a decent quarter, with key metrics such as the dividend payout ratio much improved. As of this writing, shares of Kinder Morgan are down about 1% in the aftermarket. However, this is not much of a surprise given the lack of a dividend hike.
For the quarter, Kinder Morgan saw its cash available to pay dividends, a non-GAAP figure, increase to $482M, up 10% from last year's $439M. On a per share basis, cash available to pay dividends increased to $0.46, up $0.04, from $0.42 last year.
One disappointment from the report is in regards to Kinder Morgan's dividend. The company has decided not to increase the quarterly dividend from the current level of $0.41 per share. This marks the first quarter without an increase since Q3 2011. However, even without a dividend boost this quarter, Kinder Morgan was still able to meet its previous target of $1.60 per share in dividends for 2013. Also note that the current Q4 dividend is still 11% higher from the prior year level.
As noted above, Kinder Morgan's payout ratio improved greatly in Q4. Due to the increase in cash available for dividends, the dividend coverage ratio improved to 1.12x, a large increase from the prior quarter's 1.00x. Do note that Kinder Morgan's coverage ratio various greatly quarter to quarter due to interest expenses relate to the acquisition of El Paso's GP and the timing of cash taxes. Kinder Morgan generated roughly $1.65 per share in cash available for dividends and paid out $1.60 per share in dividends resulting in a 1.03x coverage ratio for the full year.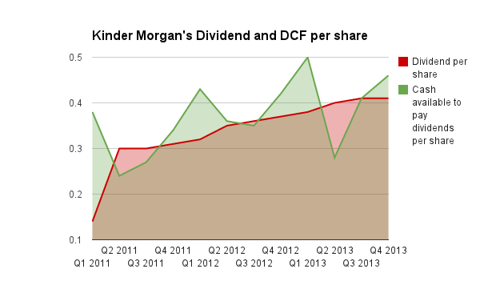 Click to enlarge
By far, the biggest component to Kinder Morgan's cash available for dividends is the cash generated by its GP and equity stakes in El Paso and Kinder Morgan Energy Partners. As shown below, these assets continue to generate ever increasing amounts of cash for the company. Kinder Morgan's IDR payments and distributions/dividends received from its MLPs increased to $635M, 15% higher from the prior year levels.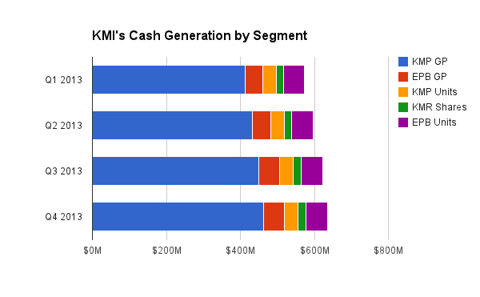 Click to enlarge
Update on Kinder Morgan's stock repurchase program
Kinder Morgan was also quite busy on the share repurchase front this quarter. The company bought back about 5.2M shares for $172M. This equates to an average price per share of $33.08 and about 0.5% of the current float. I would imagine the majority of these shares were bought back during the early December correction, as this price is 7% lower than the current share price. The company also noted that it has about $94M remaining on its $250M share and warrant repurchase authorization announced in October 2013.
Final Thoughts and Conclusion
Overall, I am pleased with Kinder Morgan's results. The company saw both its cash generation increase and coverage ratio improve. While the dividend remained flat compared to Q3, Kinder Morgan was able fulfill its previous dividend guidance.
Kinder Morgan continues to be a good choice for dividend-growth investors. The company's long-term target of double-digit dividend increases and the current 4.62% yield make it one of the best values out there.
Disclaimer: The opinions in this article are for informational purposes only and should not be construed as a recommendation to buy or sell the stocks mentioned. Please do your own due diligence before making any investment decision.
Disclosure: I am long KMI, . I wrote this article myself, and it expresses my own opinions. I am not receiving compensation for it (other than from Seeking Alpha). I have no business relationship with any company whose stock is mentioned in this article.
Additional disclosure: I may go long KMR at any time