It is astonishing to think that just over two years ago, there were people questioning whether or not Bank of America (NYSE:BAC) could survive, which precipitated Warren Buffett's preferred stock and warrant investment. At that point in time, the banking giant was ensnared in a never ending storm of litigation, and while credit trends were even then improving, there was still considerable doubt that the real estate market had reached bottom. Under the leadership of Brian Moynihan, Bank of America has bolstered its capital position and resolved a great deal of its issues, clearing the way for robust future profitability. To be clear, Bank of America has much more to clean up still than its major competitors do, but the underlying strengths of the business and the low relative and absolute valuation make for a better investment opportunity than its peers.
The history of banking is filled with examples of institutions that due to poor management and underwriting have underperformed the industry as a whole for a prolonged period of time. Because banking is essentially a commodity business, returns on equity tend to converge towards the mean over time as the issues are resolved. Few if any of these underperforming banks in years past had the problems or the high quality of assets, which Bank of America possesses. For Bank of America shareholders, the acquisition of Countrywide was likely the most damaging acquisition of all time. It is incredible to think that now we are more than five years past the worst of the Financial Crisis and there is still an ongoing witch hunt in relation to the sins that contributed to the Great Recession. This noise has overshadowed the fact that Bank of America and its closest peers have actually increased their competitive position dramatically through consolidation.
The acquisition of Merrill Lynch was certainly not done at a bargain price considering the circumstances, but it along with the other moves that Bank of America has made, have put the institution in line to increase its wallet share with clients via cross-selling. Every quarter costs and the problem legacy assets that led to elevated costs are being trimmed at an accelerated rate. These cost savings and the eventual return to normal litigation levels alone would bridge much of the gap between Bank of America's profitability and that of the other big banks. Merrill Lynch is one of if not the most profitable investment bank based on capital employed, and its size contribution in addition to the core of Bank of America make an ROE of 12-13% on stated book value a manageable task. At T&T Capital Management (OTCQB:TTCM) we took a very large and concentrated position in the bank at less than half current prices, but we've felt comfortable adding to that consistently over the last year or two, as the valuation still does not properly represent intrinsic value.
On 1-15-14, Bank of America reported financial results that exhibited the excellent progress the bank has made over the last few years. The company reported net income of $3.4 billion, or $0.29 per diluted share on revenue of $21.7 billion. These numbers are even more impressive when you consider that the company faced a pretax negative DVA/FVO adjustment of $0.6 billion due to tightening credit spreads and a staggering $2.3 billion of pretax litigation expense. The company did benefit from a low tax rate in the quarter of 10.6%, which will typically be higher on an ongoing basis. Consolidated deposit balances increased by $14 billion in the quarter to a record $1.12 trillion, exemplifying the increased market share and earnings leverage for when net interest margins expand. In the 4th quarter, net interest margins rose to 2.56% from 2.35% for the same period last year.
Similar to the other big banks, increased loan demand allowed Bank of America to increase its period-end loan balances by $20 billion year-over-year to $928 billion. Period-end commercial loan balances increased by $42 billion to $396 billion and combined debit and consumer credit card spending rose 4% to $123 billion. Bank of America's Global Wealth and Investment Management business continues to post some of the best returns in the industry with a pretax margin of 26.6%, which was up from 21.1% at the same time last year. These returns are the envy of the industry and reflect Bank of America's successful integration of Merrill Lynch and the benefits of the cross-selling business model and culture that Brian Moynihan has been able to implement.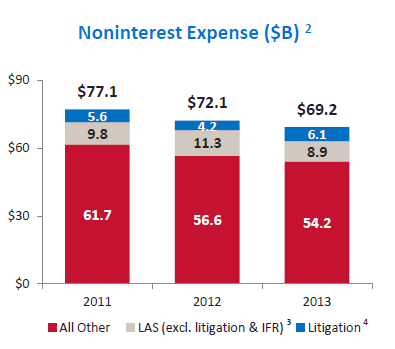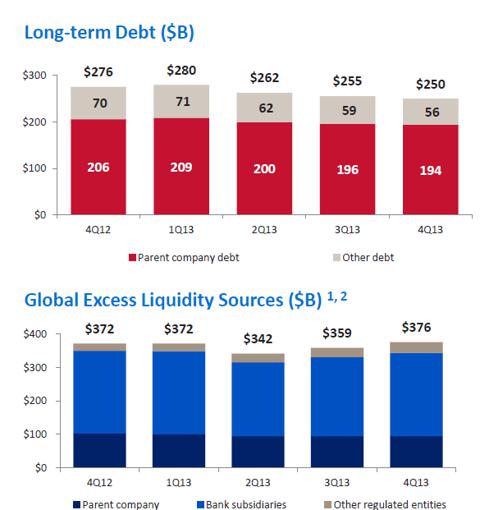 Source: BAC 4th Quarter Investor Presentation
For the full year, Bank of America generated $11.431 billion in net income, or $0.90 per diluted common share on about $90 billion of revenue. This was up from 2012 net income of $4.2 billion, or $0.25 per diluted common share, on $84 billion of revenue. The big story was the improvement in credit where credit losses decreased to $3.556 billion from $8.169 billion in 2012. Moynihan has aggressively pursued his cost savings plan and Bank of America continues to see material benefits with noninterest expense down about $3 billion YoY. There is still a tremendous amount of cost savings that can be achieved, and I suspect that Bank of America will lead the way in terms of industrywide margin improvement, albeit from a lower base. Bank of America ultimately has the most leverage to the troubled mortgages and real estate portfolios that have benefited from the improvement in the U.S. housing market.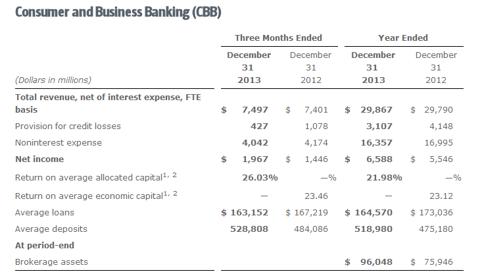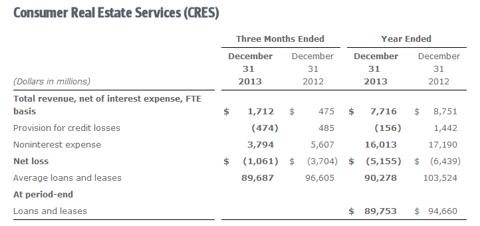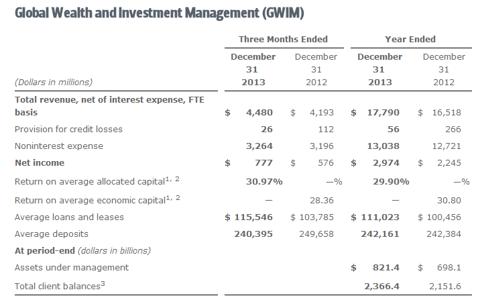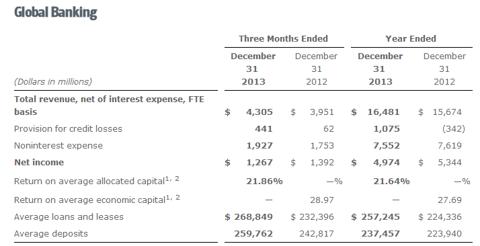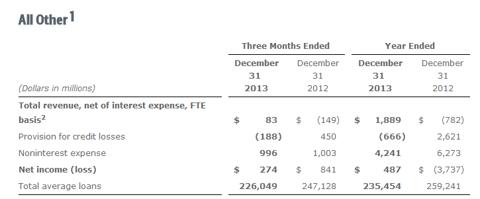 Source: Bank of America 4th quarter 2013 Press Release
As of December 31st, 2013, Bank of America's tangible book and book value per share were $13.79 and $20.71, respectively. Book value has been negatively impacted by the increase in interest rates and just this quarter, earnings were partially offset by a $1.6 billion decrease in accumulated other comprehensive income (AOCI) and common share repurchases. Bank of America bought back about 92MM shares of common stock in the 4th quarter for about $1.4 billion, which I view as the best utilization of capital given the recent stock price. The company has done a great job in improving its liquidity and capital position, which at one point was the weakest of all the big U.S. banks. With $376 billion of liquidity, parent company time-to required funding improved to 36 months from 33 months. The Basel 1 Tier 1 Common Capital Ratio stood at 11.19% and the Basel 3 Tier 1 Common Capital Ratio stood at 9.96%. This positions the company to be in an excellent position to return more capital to shareholders during this year's CCAR process.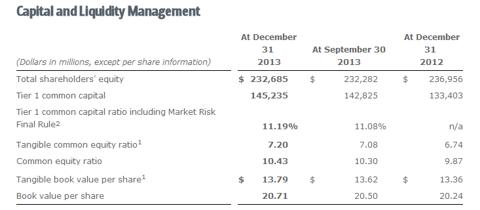 Source: Bank of America 4th quarter 2013 Press Release
At a recent price of $17.24, Bank of America still trades at about 83% of book value. The bank has a huge amount of tremendously valuable assets that are under-earning due to litigation and additional costs still stemming from the Financial Crisis. In 2013, BAC's ROA was only 0.65% and the ROE was 5.76%. These numbers are less than half of where they should be in 2016, assuming net interest margins improve slightly and the economy remains decent. If one believes that Bank of America can't earn greater than 10% on equity, this discount seems reasonable, but I believe that Bank of America can eventually earn in excess of 12-13% on equity over the course of a business cycle. If they were to achieve this return on equity, that would put normalized earnings at around $2.50 per share. Because of BAC's strong capital position, at least 50% of normalized earnings would likely be distributed to shareholders through dividends and stock buybacks, which would give the company about a 7.3% dividend and buyback yield at current levels. I believe that investors at current price are buying a top-notch global institution at a 20% discount to intrinsic value and that the bank can grow intrinsic value, adjusted for dividends by 10-13% per annum moving forward.
Disclosure: I am long BAC. I wrote this article myself, and it expresses my own opinions. I am not receiving compensation for it (other than from Seeking Alpha). I have no business relationship with any company whose stock is mentioned in this article.