The recovery of potash firms is in full mode. Unfortunately, or fortunately, depending on the site you are on, many investors still associate nightmarish earnings scenarios with potash firms such as Potash Corp. of Saskatchewan (NYSE:POT), Mosaic (NYSE:MOS) and K+S (OTCQX:KPLUY). Potash Corp. and Mosaic are industry-leading fertilizer companies. K+S is a German potash company with a significant salt business which mitigates risks coming from the fertilizer side of the business.
Fertilizer companies Potash Corp., Mosaic and K+S were thrown off a cliff in July 2013 as Russia's Uralkali (OTC:URALL) announced it will leave the Belarusian Potash Company and break up the cartel structure in the industry. Uralkali ultimately decided to strike out on its own and initiate a price war which would allow the company to compensate lower prices with higher volumes. As a result of this announcement, share prices of potash firms lost staggering amounts of market capitalization in a matter of weeks including Uralkali.
Behavioral investing
Analysts are usually fairly good in extrapolating normal business performance but are weak in forecasting inflection points. As a result of Uralkali's maneuver to reshape the potash industry, analysts fell over themselves issuing rock bottom target prices for the firms in the industry. The justification in broker reports and investor updates was usually a forecast of lower prices even though the companies themselves refrained from issuing any form of price guidance. Consequently, an extreme amount of uncertainty hit the sector and sent shares down to unreasonable levels.
The chart below depicts the charts of potash companies, the steep decline in their share prices in July as well as the profound recovery which has picked up steam in the last two weeks.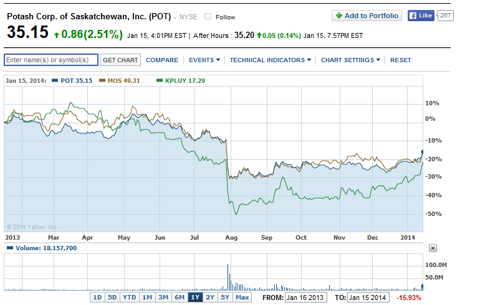 Click to enlargeAfter the sector-meltdown in July and August I have aggressively recommended potash firms for investors with a longer time horizon and the stomach for short-term volatility as the value proposition of these companies seemed to extraordinary at the time. It also appeared that volatility markedly decreased and shares were bottoming out adding to the appeal of these contrarian bets.
Hefty market corrections often offer the potential for an equally forceful reaction and I judged at the time that the market errs in its assessment about the future earnings picture of the potash industry. As such, I recommend an investment in Potash Corp (here), Mosaic (here) and K+S (here). I am long all those companies but am most optimistic about K+S. The company has a strong salt business which helps to diversify its revenue base and, in my opinion, has the strongest rebound potential. K+S has lost 56% of its market capitalization over the last three years and the majority of the decline is attributable to the Uralkali announcement. In addition, K+S is completely off the radar although it is the fifth largest fertilizer company in the world.
I also argued at the time that the sell-off, which was basically driven by fear that prices will fall to unsustainable levels and may even push a few companies out of the market, was mindless and driven by panic. Potash companies across the board, including Uralkali, were Buffett-style value investments at a time when the market replaced critical thinking with emotions (same happened in the financial sector in 2008/2009 and the US healthcare industry in 2010). Six month later, Potash firms stage, predictably, a massive rebound as the market reassesses its assumptions from August 2013.
Price fears overblown
The Moscow Times reported today on the increased buyer interest for Uralkali after shares soared 7% in yesterday's session:
The rise in Uralkali's share price on Wednesday was partly caused by speculation that it may increase its price for customers in Brazil and was supported by a large number of short positions in its shares, the head of sales at a foreign bank told Reuters.

Shares were also supported by the producer's ongoing negotiations over its Chinese contract, which could set a price floor, said Boris Krasnojenov, an analyst at Renaissance Capital in Moscow.

The contract with China, the world's largest potash consumer, is seen as a benchmark by the bulk of market participants.

"There are rumors that Uralkali will sign the contract with China for the first half of the season soon and that China could agree on the price of $300 per ton, which would mark the price bottom," Krasnojenov said.

Uralkali is signaling that Brazilian buyers will have to pay $350 to $360 per ton on a cost-and-freight basis for granular potash for March volumes compared to the current $320 per ton, JP Morgan said in a note.

JP Morgan said it had seen the first clear evidence of a return to the price-over-volume strategy due to speculation that Uralkali has joined a group called Canpotex, the world's top export group, in pledging that prices below $300 per tonne in Southeast Asia would not be supported.
I have argued that it is highly uncertain whether Uralkali's abandonment of the price-over-volume strategy will pay off. Rising prices driven by growing world fertilizer demand should provide boosts to market prices of potash and related products such as phosphate and nitrogen and ultimately fundamentally support the share prices of fertilizer companies.
Long-term fundamentals intact
The sector meltdown was precipitated by fears about plunging fertilizer prices in the future. While lasting supply increases may or may not happen, demand will most certainly increase as the world population grows and agricultural land remains limited. In addition, the desire to lift millions of people out of poverty and feed the growing populations of emerging market economies posts a huge incentive for farmers to increase crop yields. Fertilizer companies will profit from these trends in the long-term independent of short-term swings in supply and prices.
The chart below highlights that food production in the last decade barely held up with food consumption. The supply/demand picture supports an investment in fertilizer companies.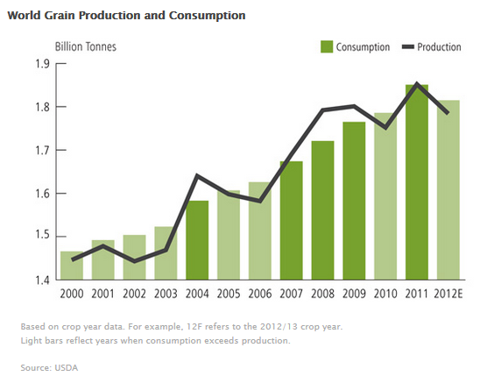 Click to enlarge
It already is difficult for food production to keep up with food consumption but population growth challenges ahead are likely to increase the strains on the food production system. Population growth in emerging market countries will increase the need for higher crop yields while at the same time agricultural land remains limited. Fertilizer companies should do well in a scenario of increasing food consumption and limited land supply.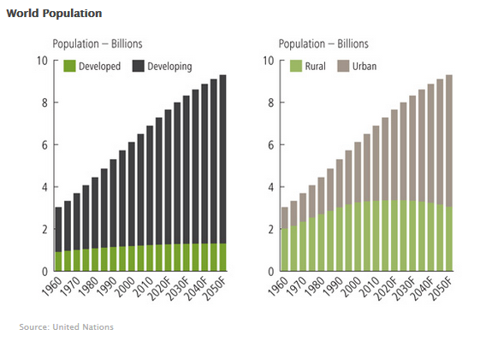 Click to enlarge
Conclusion
Potash firms like Potash Corp. of Saskatchewan, Mosaic and K+S still offer investors outsized return potential. Should Uralkali proceed in sending stronger price signals to the market, fears about an impending disastrous price war might longer be justified. From a behavioral standpoint, I believe the sell-off in July was way too hysterical and current market prices still reflect deep pessimism about the future earnings picture of such companies. While not all uncertainty will completely evaporate, it does offer investors with a long-term mindset a chance to participate in a healthy rebound. With a recovery in share prices in the potash industry already under way and with prospects of a more dynamically growing economy in 2014 and beyond, I think many fertilizer companies can return to pre-crisis levels and provide investors with returns of up to 100% over the next 24 month.
Disclosure: I am long POT, MOS, KPLUY. I wrote this article myself, and it expresses my own opinions. I am not receiving compensation for it (other than from Seeking Alpha). I have no business relationship with any company whose stock is mentioned in this article.