SUPERVALU's (NYSE:SVU) new CEO has drastically overhauled the company's executive management team. We believe that Sam Duncan and his team are making progress in stabilizing SVU's sales results. We were surprised that Goldman Sachs recently downgraded SVU since the company is making progress in improving its operations and financial performance. We think that a potential 10% cut in food stamps is overblown considering that food stamp spending will have still doubled since 2008. With the recent 10% decline in SVU's share price, we believe that investors interested in special situations and turnaround plays should selectively accumulate shares in SVU.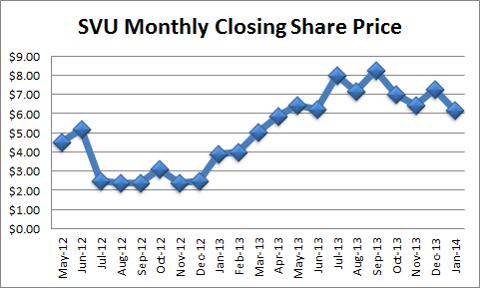 Click to enlarge
Source: Morningstar Direct
Save-A-Lot: SVU's management discussed its efforts to improve the performance of its Save-A-Lot hard discount business earlier in the year and we could see these efforts have resulted in tangible progress and improved results based on the following observations:
Positive 5.4% identical stores sales growth from its corporate owned Save-A-Lot stores, versus +4.6% in Q2 2014 and -1.2% in Q1 2014
Save-A-Lot's overall identical stores sales growth was +1.7%, versus -0.3% in Q2 2014 and -1.9% in Q1 2014.
Save-A-Lot's overall revenue increased by +2.6%, (versus -0.1% in Q2 2014 and -1.6% in Q1 2014) due to incremental store growth and the aforementioned identical stores sales increases.
Targeted cost cuts helped boost Save-A-Lot's adjusted EBITDA by $3 million (5.8%)
Meat department identical store sales growth was +10% higher than the rest of the store and produce ID sales growth was 8% above the rest of the store.
SVU's Traditional Retail Food business continues to face the most challenges amongst SVU's business units even after SVU sold its New Albertsons Inc store operations (Albertson, Acme, Jewel-Osco, Shaw's and Star Market) to Cerberus. Q3 2014 revenues from this division were $1.06 billion and represented a 2.6% year-over-year decline versus last year's comparable quarter due to negative Identical-Store sales of 1.9%. Identical-Store sales declined due to the impact of incremental price investments resulting from competitive pressures. However, Q3 2014 gross margin increased by 100bp versus Q2 2014. Retail Food's adjusted EIBTDA was $63 million in Q3 2014 versus $64 million in Q3 2013. The decline in adjusted EBITDA was driven by incremental investment in price and store labor partially offset by the benefit from SVU's cost cutting initiatives.
SVU has been focusing on its meat and produce departments in order to differentiate itself from its peers. SVU's banner teams are focusing on better operating procedures, including produce and meat merchandising, proper product rotation, consistent crisping of greens and getting its banana programs correct. SVU is working hard to instill a new sense of urgency and discipline in its stores. We agree with SVU's management that its stores are moving in the right direction and were pleased at its increased private-label penetration year-over-year (up 75bp). Part of this growth is due to the rollout of 250 new private-label products in the first half of FY 2014 and improved product promotion and positioning.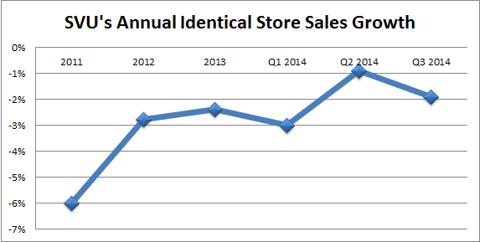 Click to enlarge
Source: SVU's 2011-13 Annual Reports plus its FY 2014 quarterly earnings calls
SVU's Independent Wholesale Grocery Distribution Business's revenue of $1.912 billion in Q3 2014 declined by $74 million (3.7%) versus Q2 2013 ($1.986 billion). The division saw incremental growth in its adjusted quarterly EBITDA ($68 million) in Q3 2014 versus Q3 2013 ($67 million). The division's reported operating earnings increased by $2 million as a higher level of professional services income, strong expense management and $4 million in reduced charges for depreciation/amortization offset its sales declines. Now that SUPERVALU has shed the stores it acquired from Albertsons, SVU's Independent Business is once again SVU's largest business segment as measured by revenues.
SVU Independent Business's revenue declined by 3.7% year-over-year in Q2 2014 due to a decline in military volume caused by government sequestration and the loss of customers that decided to go in a different strategic direction. This volume loss will be a headwind for the next three quarters. Partially offsetting these declines were net new business from new customers. Over the past couple of years, the SVU Independent Business consolidated the volume from warehouses in Ohio and Wisconsin into other facilities to lower its overall operating cost. Another recent cost saving initiative by the division was the investment in 35 semitrailer trucks powered by compressed natural gas, compared to traditional trucks the CNG fleet is expected to lower SVU's overall annual operating expenses, while reducing oil consumption by 1 million gallons and lowering greenhouse emissions by 1,300 tons per year.
The SVU Independent Business is working on a new "single source" initiative in which it is working with retailers who currently source their products more than one supplier, most typically in the perishable departments. Under single source, SVU's independent retail customers concentrate their primary business with SUPERVALU. SVU ensures that its customers get the right item at the right price at the right time, which allows them to concentrate their efforts on selling product and taking care of their customers. The retailers SVU converted to single source have seen improved sales trend and better profitability due to reduced shrink and improved overall cost of goods. SVU gets greater efficiencies and more predictability around demand knowing consistently who will be buying from it. 75 customers are on the single source program as of Q3 2014.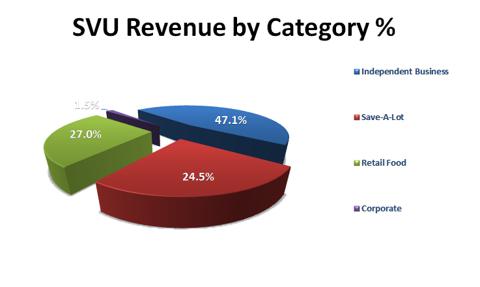 Click to enlarge
Source: SVU's Q3 2014 Earnings Report
SVU Corporate received $48 million in transition fees from New Albertsons Inc during the quarter as part of the Transition Services Agreement between SVU and NAI. The NAI TSA provides NAI and Albertsons LLC with certain administrative and other services following the closing of the NAI stores for an initial term of two and a half years following the sale. The agreement is subject to certain adjustments under the terms of the agreement, such as a decrease in the number of stores and distribution centers operated by NAI and Albertsons. SVU's continuing operations had negative free cash flows of $172 million in YTD 2014 due to $531 million in working capital investments. SVU also made $105 million in cash tax payments settlements reached within the IRS for prior year audits. Because of these settlements, we do not expect SVU to make further cash tax payments in FY 2014.
In conclusion, we still believe that SVU's shares are still undervalued. While we were shocked at the regression of the company in 2013, investors in SVU were able to salvage value from their positions in the company because it was able to shed its New Albertsons Inc stores as well as $3.2 billion in debt that was associated with that awful acquisition. We don't think that SVU is anything like blue-chip grocery retailers Wal-Mart or Kroger. However, we don't think that SVU is like Winn-Dixie, which went bankrupt in 2005. SVU has been more aggressive in reducing its operating expenses and capital expenses and reinvesting those savings in lower prices for its customers. We like the back-to-basics strategy announced by SVU's new management and we like that it has respected investors like Cerberus and Jana Partners backing it. We also believe that SVU's management should retain Goldman Sachs and Greenhill in order to discuss strategic alternatives with its remaining operations because we believe that SVU's remaining assets are still worth more than its $6.34/share price on a sum-of-the-parts enterprise value basis net of its applicable remaining debt and pension liabilities as well as using a discounted cash flow model.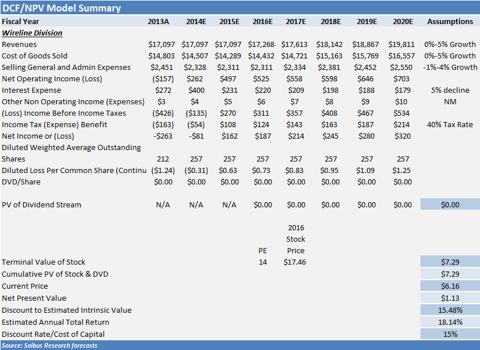 Click to enlarge
Disclosure: I am long SVU, . I wrote this article myself, and it expresses my own opinions. I am not receiving compensation for it (other than from Seeking Alpha). I have no business relationship with any company whose stock is mentioned in this article.