Factor 1: Swing Trading Psychology
Unfortunately much of the day-to-day action in the stock market has nothing to do with fundamentals and is instead a game of poker. Fluctuations which occur over the course of several days align with principles of "swing trading". Market participants are feeling each other out to gauge digestion of existing news.
Intercept (NASDAQ:ICPT) has cooled down in the last couple days. The original rally occurred due to an FDA determination of efficacy during Phase II testing of obeticholic acid (OCA) for NASH. The BofA analyst assigned a $4B peak sales estimate to this drug as it would be unique in a very large market.
(Courtesy Google, click to enlarge)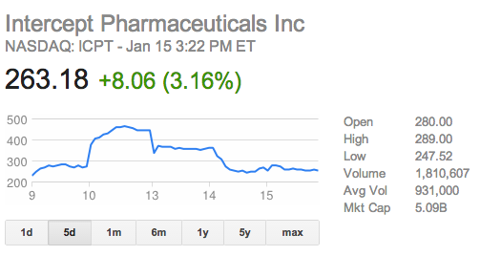 From a swing-trading perspective which optimizes for weekly variations, this may be an ideal time for a long-term investor to jump in or add to existing long shares.
Factor 2: Rachel McMinn Says This Stock Should Triple Yesterday
News coverage of Intercept frequently mentions the fact that a lone BofA analyst has a much more aggressive valuation on the stock ($872 per share). However this coverage typically omits the fact that Dr. McMinn is one of the best biotech analysts in the world based on a 2011 survey.
Ms. McMinn prefers to make calls after immersing herself in the nitty-gritty of particular diseases, industry research into new treatments and the companies behind that work. "I don't want to be scattershot, covering every company I can. I really want to make sure I understand a field," says Ms. McMinn, a senior analyst at Bank of America Merrill Lynch.
Okay, so what, she did well in 2011? Well it's not just that. It's her style of research. She analyses less stocks than most, but she forms strong opinions on the stocks that she analyses. To me, that says a great deal. It suggests the other analysts are missing something in Intercept.
Factor 3: Fibrosis Uncertainty Is Already Priced In
NASH is highly correlated with obesity and insulin resistance. There are many drugs (and lifestyle modifications) which treat these problems. As NASH progresses it can cause liver fibrosis. Fibrosis is important because it can lead to liver failure.
So far existing non-surgical treatments for NASH do not target fibrosis directly. Existing treatments only work if NASH is diagnosed early, but NASH is difficult to diagnose unless one is looking for it. Thus fibrosis is the unique endpoint which Intercept may target directly.
According to Intercept, they are the only company that can "selectively and potently" target the receptors which regulate bile circulation. This is the scientific basis for their treatment of fibrosis. Efficacy of this treatment will either be proven or disproved in upcoming trials.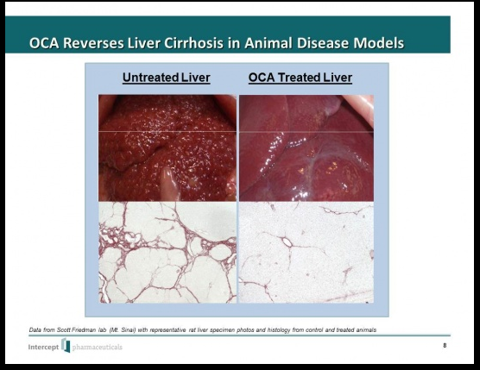 Bears and bulls in this stock are working with the same data set. Nobody knows whether OCA will treat fibrosis in humans, and this is the area which will determine whether or not OCA is a blockbuster drug.
I confirmed this in a recent exchange with fellow SA contributor Paul Nunzio, who is a pharmacist and has a somewhat bearish outlook on the stock.


Nunzio's answer to my question emphasizes the importance of insulin resistance in early manifestations of NASH. But in later indications treatments must target fibrosis directly. Nunzio and others have expressed skepticism about Intercept's rally due to the fact that OCA won't necessarily treat fibrosis directly in humans.
Successfully met endpoints in the Phase II trial which sparked the rally did not say much about fibrosis; bears assert that bulls have gotten ahead of themselves. It is true that bulls on StockTwits, and financial journalists copying and pasting press releases, are not talking very much about fibrosis. But scientifically trained analysts such as BofA's Rachel McMinn are entirely focused on the issue. And Intercept executives will be the first to mention fibrosis because that is what differentiates OCA.
The institutional investors who read McMinn have more money than the hobbyist day traders on StockTwits. Thus McMinn readers are the ones moving the stock. Ergo, it is safe to assume that fibrosis uncertainty is already priced in. The real debate is about what kind of discount rate should be applied to this uncertainty. But I have not seen a nuanced debate of this sort in the financial media; instead I have seen a binary oversimplification of the issues and bull-bear caricatures of analysts. This distorts the image of Intercept's shareholders and falsely suggests that the stock is overpriced due to hype.
In conclusion, I believe bulls have behaved rationally, and thus bears looking for a hype-based stock are wrong to target Intercept. If you are a long-biased investor who thinks OCA will work in humans as it works in rats, you should not be deterred by the accusations of hype.
Disclosure: I have no positions in any stocks mentioned, and no plans to initiate any positions within the next 72 hours. I wrote this article myself, and it expresses my own opinions. I am not receiving compensation for it (other than from Seeking Alpha). I have no business relationship with any company whose stock is mentioned in this article.