Potash producer stocks rallied across the board on a report from Bloomberg's Moscow office that leading player JSC Uralkali (OTC:URALL) is seeking a $40/mt increase to $350 for Muriate of Potash from Brazilian buyers.
This would be an about face from Uralkali's "volume over price" strategy unleashed on July 29.
I'm not convinced this rally is really going to amount to anything other than a stabilization of the international price of potash. And it's one thing to get a price hike, it's quite another to cut mine capacity and get others to follow suit, so that the price hike sticks.
Here were the stock movements today, led by Uralkali itself, which trades mianly on the Russian Micex and London international boards (symbol: URKA).
URKA $27.50 up $1.60 or 6.2%
Potash Corp (NYSE:POT) $35.15 up $0.86 or 2.5%
Mosaic Co. (NYSE:MOS) $49.31 up $1.28 or 2.7%
Agrium (NYSE:AGU) $94.70 up $1.04 or 1.1%
Soquimich (NYSE:SQM) $28.46 up $1.97 or 7.4%
Kali+Salz (OTCQX:KPLUY) $17.29 up $0.57 or 3.4%
Here's the production capacity of the biggest potash producers as I estimated them about a year ago. There may be a few changes, but basically, the major players remain the same.
Estimated Global MOP Production Capacity*
2013
2015
2017
2023
Company/
Est
Est
Est
Est
or Nation
Cap
Cap
Cap
Cap
PotashCorp
15.0
17.1
17.1
17.1
Uralkali
13.0
13.5
15.6
19.0
Mosaic
10.4
11.5
13.0
15.0
Belaruskali
9.0
9.0
9.0
9.0
K+S
7.0
7.5
7.5
10.4
ICL
6.0
6.0
6.0
6.0
China
4.0
4.5
6.0
5.5
Agrium
2.0
3.0
4.0
5.0
SQM
2.0
2.5
2.5
2.5
Intrepid
1.0
1.1
1.1
1.1
Vale
0.7
0.7
4.3
4.3
EuroChem
0.0
0.0
5.0
8.0
BHP
0.0
0.0
3.5
7.0
Total
70.1
76.4
94.6
109.9
Copyright BCMI Research April 2013
*Million of Metric Tons Annual Capacity
If you are out of the biggest potash stocks, as I have been, you might want to consider a few ways to play the rally if it continues.
I notice Israel Chemicals (OTCPK:ISCHY) still looks buyable. It's a lower cost brine evaporation potash producer and number six in the world in capacity, with diversification into phosphate, magnesium and bromine products. The company does have some ongoing labor and phosphate permitting problems. But it is seeking an NYSE listing and its parent, Israel Corporation, is planning to reorganize. These are all potential catalysts for a rebound. ICL's stock on Tel Aviv exchange had little chance to move the ADR's in the USA, as the Tel Aviv exchange closes early our time. The shares on the OTC Bulletin Board are somewhat illiquid but closed at $8.69 up 2% on 64,000 shares.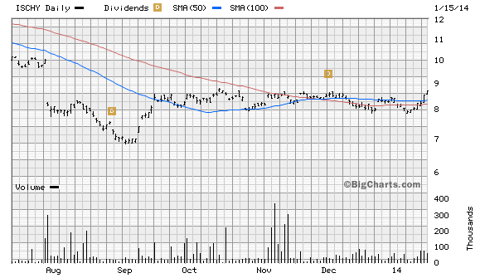 Another mid-sized potash player is Soquimich of Chile , with interests in iodine and lithium mining. I wrote about this company in a previous article on Potash Corp's minority equity investments. The election in Chile is out of the way, and the ADR's of the "B" stock had a decent rally today, but seem to still have room to move.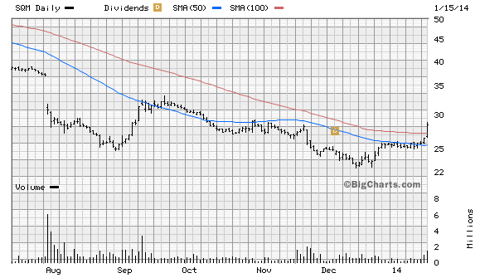 If you are a believer in electric cars, you might remember that Tesla's (NASDAQ:TSLA) founder Elon Musk said he was contemplating starting a lithium battery plant with Panasonic, that would conceivably use all the lithium available in the world.
I'm not sure that battery plant is going to be built tomorrow, but that seems like an interesting possibility for Soquimich.
Another idea, if you have the risk tolerance, is to buy one or two of the small cap potash plays that might have a nice move if the big caps extend their rally. The press will soon start talking about a potash bull market again if I know them. The penny potash plays have been really beat up since July 29, and most for good reason (no real chance of financing a mine and beneficiation plant). I have panned all these plays since the BHP Billiton (NYSE:BHP) bid for Potash over three years ago.
However, I have been following one of the better ones, Karnalyte Resources (OTC:KRLTF) since it was creamed from over $6 down to $1.50 after the Belarusian Potash Company organization was split up.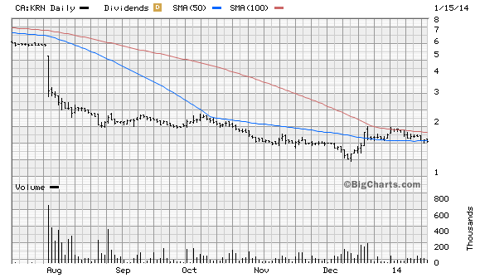 The company has an estimated $50 million in the bank ($1.81 CAD per share) with no debt but closed at $1.52 on the TSX where it has been hovering most of the second half of 2013. Karnalyte has a good deposit of carnallite which is a combination of potassium and magnesium chloride ore, and therefore a source of more than one useable product.
Last March, Karnalyte received $44.7 million from Gujarat State Fertilizers & Chemicals Ltd, a fertilizer and chemical company owned 38% by the state of Gujarat of India, for 19.98% of the equity. The shares were issued at $8.15 so you might want to bet the Indians might double down on the stock, which is 1/5 the price they paid, if the price of international potash starts rising again significantly.
Gujarat, by the way, is home to Narendra Modi, the leader of the opposition B.J.P. party, and is often mentioned as an economic miracle state. Modi could be a possible winner in the national elections this spring, and with him may come a restructuring of the subsidies that have hampered India's ability to buy more potash and phosphate.
A final way to buy into fertilizer potash but hedge your bets is to buy one that makes other salts. Both Kali+Salz and Compass Minerals (NYSE:CMP) sell highway and road de-icing salt as well as potash fertilizers.
I have my eye on Compass Minerals in particular, as they have a big salt mine at Goderich on Lake Huron in my home province of Ontario.
The CEO of Compass was on CNBC two weeks ago saying the monster winter storms that have hit the US and Canada will lead to higher prices for road salt contracts in the 2014 bidding season.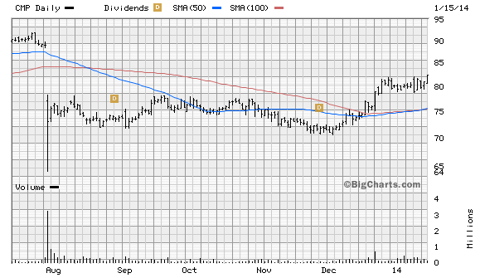 As I said, I think it takes more than a press article that a major supplier wants more money for its product, to take away the oversupply that is rife in the potash business. Specifically, Uralkali and Belaruskali would both have to curtail production and limit supply to decrease inventories, a coordination that they haven't enjoyed lately.
Political pressure to reform the BPC is high, but take with a grain of salt when the Putin-controlled news services run articles suggesting a rapprochement is imminent. He's pumping the stock for his buddies.
The Uralkali board of directors has effectively called a March meeting to announce its own resignation, one sign that the state is going to impose its will here.
But no government can completely control or manipulate the free market for long. In my view, low crop prices dictate economics which cannot easily support much higher potash prices.
Disclosure: I am long ISCHY, . I wrote this article myself, and it expresses my own opinions. I am not receiving compensation for it (other than from Seeking Alpha). I have no business relationship with any company whose stock is mentioned in this article.