Realty Income (NYSE:O) has been considered a cult income security for years. Safe net-leased portfolio of real estate, continuously increasing monthly dividend, attractive dividend yield and astute management are just some of the features that draw investors' attention.
We will have a look at multiple relevant metrics: portfolio quality, dividend, current FFO yield, corporate structure, management and growth prospects. We will then consider investment risks and draw an actionable conclusion.
Portfolio quality:
Realty Income: The company acquires and owns real estate that generates dependable lease revenue. Currently it owns and manages a real estate portfolio of over 3,800 commercial properties located in 49 States and (to a very small extent) Puerto Rico. The tenants are mostly of high credit rating and are very capable of paying rent:

Historically, the company maintained excellent portfolio occupancy: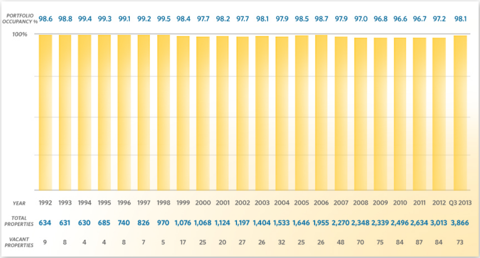 The company also has good geographic and industry diversification.
Dividend:
Realty Income: The company's track record is excellent and speaks for itself: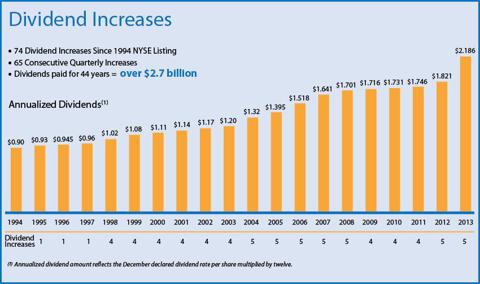 521 dividends were paid
74 dividend increases occurred
65 consecutive quarterly increases were made
Dividend growth has been 142.9% since 1994
Average annual dividend return has been 7.4% since 1994 (through 12/31/12).
The current yield is about 5.7%, which is excellent. The dividend is paid monthly. The payout ratio is about 90%.
Current FFO yield:
Realty Income: My projected AFFO for the full year 2013 is $2.40. On the current price of $38.25, this represents a yield of about 6.27%.
Of note, there has been good recent growth of FFO per share: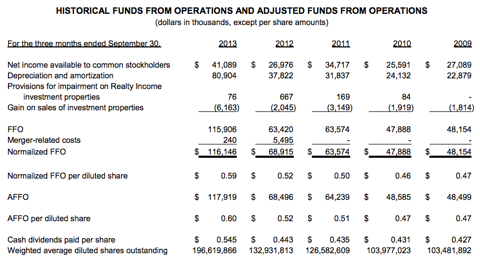 And as one can see, FFO cover the dividend well.
A word about corporate structure:
Realty Income is a REIT. REIT structure necessitates a high, at least 90%, payout ratio. Therefore, to access capital, Realty Income must sell existing properties, borrow money or issue shares. This is not a problem in itself, as long as the use of capital is accretive and not dilutive to shareholders. There are 3 variables involved: properties' cap rate, interest on debt and cost of equity capital. In an accretive acquisition, the acquired property's cap rate must exceed the interest on debt if property is financed with borrowed money. Similarly, in an accretive acquisition, the acquired property's cap rate must exceed the cost of equity capital if property is financed through share issuance. Realty Income has thus far been successful at making accretive acquisitions.
Management:
The company's management has a truly enviable track record. The company paid and grew distributions for 44 years, through several recessions and a few wars. The current management is focused (CEO letter) on increasing tenant quality, expanding property types and pruning the existing real estate portfolio. The company clearly understands the definition of an accretive acquisition, and they clearly explain it on their website (excellent reading, by the way). Realty Income achieved 16.8% total return since 1994.
Growth prospects:
There is probably plenty to do in the US and Puerto Rico. However, absence from additional international markets may cause the company to miss some opportunistic acquisitions. Realty Income may enter global markets in the future, but does not have a track record in successfully operating on a global basis.
Risk and its consideration: Increasing interest rates may lower investors' interest in REITs due to perceived higher safety of bonds. Higher interest rates can also increase the cost of debt capital to the company. However, increasing interest rates usually occur in inflation and company's assets may prove a good inflation hedge. Also, rent increases can help the company cope with inflationary and increasing interest rate environment. The company may also choose to recycle capital instead of borrowing it.
Other risks may include, but are not limited to:
Lack of demand in areas where the properties are located;
Inability to retain existing tenants and attract new tenants;
Oversupply of space and changes in market rental rates;
Declines in our tenants' creditworthiness and ability to pay rent, which may be affected by their operations, the current economic situation and competition within their industries from other operators;
Defaults by and bankruptcies of tenants, failure of tenants to pay rent on a timely basis, or failure of tenants to comply with their contractual obligations; and
Economic or physical decline of the areas where the properties are located.
Conclusion: For an investor who depends on current income but is mindful of the risk, Realty Income remains a solid choice due to its higher yield and more frequent monthly payouts.
Disclosure: I am long O. I wrote this article myself, and it expresses my own opinions. I am not receiving compensation for it (other than from Seeking Alpha). I have no business relationship with any company whose stock is mentioned in this article.