Novatel Wireless (NVTL) could bring investors attractive gains as Machine to Machine (M2M) targeted verticals are projected to grow at 20% or more over the next few years. The company expects revenues of $66 to $78 million in the fourth quarter. With expense cutting measures underway, Q4 company guidance is for a non-GAAP EPS loss of $0.14 to breakeven. On the earnings side, this could be one of the best quarters in years.
The company operates in two main segments: M2M and mobile computing. Total 2014 revenues are expected to be $343 million with the majority coming from mobile computing. In Q3, $84.1 million of the company's $92.7 million total quarterly revenue came from mobile computing, which includes the MiFi mobile hotspot business and many patents.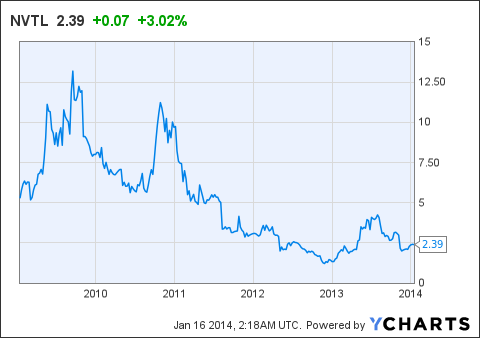 Mobile Computing Catalyst
Novatel Wireless' mobile computing business has been a sore point for many investors. Competition from international players has left revenues choppy year to year. However, with $300 million of projected 2014 revenues coming from mobile computing, the company has marked value from this division. It is unusual that a company like Novatel Wireless continues to trade at a market cap less than $100 million with a sizable cash position and no debt. Some could say that Novatel Wireless' mobile computing business is completely discounted at the stock price. Without management looking for strategic alternatives to increase shareholder value, the company is a target for activist investor groups to step in and forces change.
Novatel Wireless' current situation is not unlike that of the recent meteoric rise of Adept Technologies (NASDAQ:ADEP). Similar to Novatel, Adept's share price was holding around $3 with a market cap lower than revenues with no debt. An activist investor group, the Hale Group, took a position and changed the culture into one where cash flow is king. In the past year, Adept Technologies, through the guidance of a new executive team has helped increase the share price from the low $3's to the mid-teens where it stands today. Like Novatel, Adept was also in a hot industry, (robotics), and a wasteful culture was pushed out by a board and executives with a more focused goal. The combination of undervalued technology and potential catalyst for executive change make Novatel a potential Adept success story in the waiting.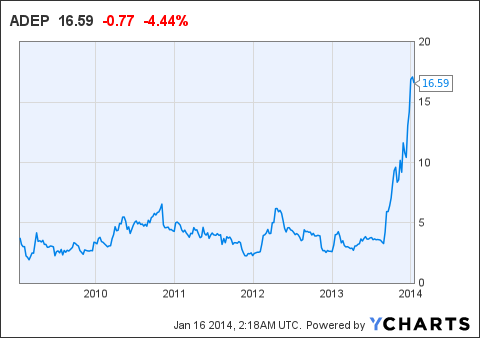 M2M Catalyst
A change in the executive team aside, there is still hope for M2M growth being a catalyst as it becomes a more substantial part of Novatel Wireless' revenues. NVTL has recently received AT&T (NYSE:T) network approval and M2M prospects are accelerating every day. M2M technology is heating up this year, as can be observed by looking at a company like Sierra Wireless (NASDAQ:SWIR). Sierra sold much of their non-M2M business and became a pure play leader in the industry. The company began 2013 trading at $8.05 and made big moves last year trading to a 52 week high of $26.56 before the recent consolidation. Sierra Wireless could still bring in big gains in 2014 as it is seen by many as one of the few pure play M2M stories on Wall Street in a fast growing industry.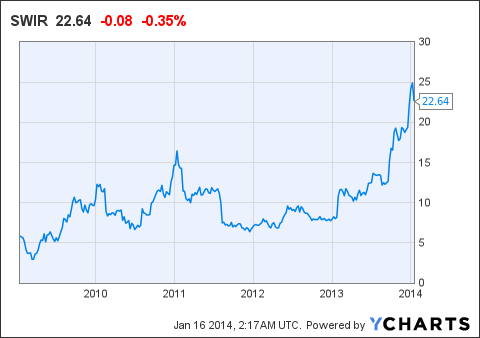 Either way Novatel Wireless has become a laggard and makes for a good speculative position while trading so low. Still, for those risk adverse its best to stay away. Otherwise Novatel Wireless might become quite rewarding this year if the company can catch up with its peers.
Disclosure: I am long NVTL. I wrote this article myself, and it expresses my own opinions. I am not receiving compensation for it (other than from Seeking Alpha). I have no business relationship with any company whose stock is mentioned in this article.