Buying Intel (NASDAQ:INTC) stock around $19 or $20 per share was the easiest thing to do in the past year. Generally, I find buying shares relatively easy but timing the selling of shares is hard. Now that Intel's share price is passing $26, the decision to sell becomes very complex. I have had previous success in the past two years, selling the highs and buying the lows. But things are changing, and I need to reassess my strategy.
The table below shows the transactions from my portfolio in the past 30 months. I have been using the fact that Intel's share price has been range bound for some period of time.
| | | | | |
| --- | --- | --- | --- | --- |
| INTEL CORP | INTC | Nov. 15, 2012 | BUY | 20.03 |
| INTEL CORP | INTC | Nov. 2, 2012 | BUY | 22.39 |
| INTEL CORP | INTC | Feb. 22, 2012 | SELL | 27.08 |
| INTEL CORP | INTC | Aug. 29, 2011 | BUY | 19.96 |
Previous decade
Over the previous decade, the share price has been range bound between approximately $20 per share and $26 per share. It has only reached $20 per share twice in the ten-year span dating back to 2004. While past performance is never a future indicator, it does however provide some insight. One argument that has been made by many bulls in the investing community is that Intel is undervalued. With the dividend over 3%, the stock is acting more like a commodity stock. Ever since the stock bubble of the year 2000, Intel has been under the thumb of decreasing PC sales. With the push into the tablet and mobile markets, Intel may be changing that perception. This is also assisted by the new CEO, and his decision to open up the foundries to other companies in their manufacturing processes.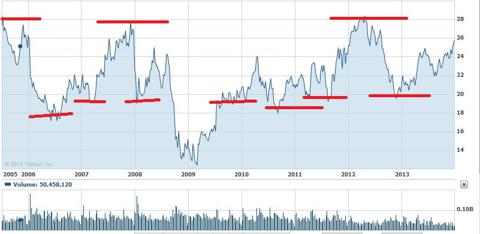 Data provided by Yahoo Finance
This raises the ultimate question - Is Intel range bound as a commodity stock, or is this the floor for the share price, as Intel ventures into new markets? As a long time bull, I feel Intel will grow into many things in the years to come. As for when, I would like to think it will be sooner than later, but changing course on an ocean tanker is no small feat.
Upgrades
This week, J.P. Morgan upgraded their outlook to overweight from neutral. This is significant because J.P. Morgan has been continuously bearish for a long period of time. The price target prior to the upgrade was $20 per share. The new price target has been set at $29 per share, which is a substantial increase. J.P. Morgan's Christopher Danely noted the contract manufacturing services will bring in annual revenues upwards of $6.3 billion by 2017.
We believe way for Intel to gain material revenue and earnings from the "mobile" market (tablets/cell phones) is via foundry since x86 processors are not competitive versus ARM processors in non-Windows applications, i.e. almost every tablet and phone. We believe Intel is generating interest in its foundry business due to a combination of TSMC missteps and Intel promising a one year lead over TSMC and others at 10nm, which would reach production in 2016. Since Altera was announced in February 2013, Intel added Microsemi, and we believe Cisco and Brocade will follow.
Dividend
Some investors view Intel as a commodity stock, relying on a substantial quarterly dividend that grows over time. Intel has been paying a dividend of 22 ½ cents per quarter for nearly 2 years. This equates to 3.4% annualized dividend rate based on today's price. Intel does have a history of raising its dividend fairly regularly; yet, we are overdue for an increase. A typical increase on a year-to-year basis is approximately 1 ½ cents. This would increase the annualized dividend rate to 3.6%. While this in itself will not support a higher stock price, it will help to mitigate the downside risk involved with the stock.
Chip factory delayed
It was reported on Tuesday, Intel will not be opening its new manufacturing facility in Arizona. Existing plants will be upgraded to meet the demand for new processor technology. It is not currently known, how much of the five billion-dollar project cost will be taken as a loss. Much of the capital costs have not been incurred as of yet. This appears to be a cost cutting strategy for Intel moving forward.
Valuation
Within the technology sector, valuation metrics have been very low signifying undervalued opportunities. When Intel was hovering around the $20 per share price, the P/E metric indicated an undervalued company. Currently, the P/E is 14.3 and the forward P/E is 14.03. In my opinion, Intel is approaching fair market value and would require good guidance or increased revenues to warrant a higher share price.
Short interest
Downward pressure is never desirable for investors that are bullish on the stock. The percentage of shares shorted relative to the float is 4.3%. This is the smallest number of shares shorted in the past 12 months. With the recent increase in the stock price, the number of shares shorted should increase creating more downward pressure on the stock. If we do not see an increase in the amount of stock shorted, it is conceivable that Intel will break the $29 per share level.
Conclusion
I truly believe in Intel as a company, and its capacity to grow into new areas. But I cannot ignore the past history, and when I balance the risk / reward ratio I am compelled to take some money off the table. Having said that, I did utilize the same strategy with Microsoft (NASDAQ:MSFT), and sold the stock around $31 per share. Hindsight is always 20/20, and I feel comfortable with the decision to reduce my risk moving forward.
I will be taking 20 to 30% off the table before the earnings call on Thursday. The remainder of the stock will be reevaluated after the earnings call.
Disclosure: I am long INTC, . I wrote this article myself, and it expresses my own opinions. I am not receiving compensation for it (other than from Seeking Alpha). I have no business relationship with any company whose stock is mentioned in this article.
Additional disclosure: I am long INTC, but downgrading from Overweight to Neutral