Who is TJX?
The TJX Companies, Inc. (TJX) is an off-price apparel and home fashions retailer that operates 3000 (2012) stores in the United States, Canada and Europe. It offers stylish apparel and decorative home goods at prices selling for less than traditional department and specialty stores.
The TJX Companies include two domestic and two foreign divisions:
The Marmaxx division, which consists of 1940 Marshalls and T.J.Maxx stores along with 415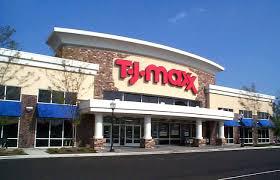 HomeGoods division stores in the United States. TJX also operates 367 retail stores in Europe and 324 stores in Canada under the brands HomeSense, Marshalls and Winners.
Marshalls and T.J.Maxx sell family apparel, footwear, home fashions, accent furniture, lamps, rugs, decorative accessories, giftware and other related merchandise. The two stores each offer a different product mix. T.J.Maxx offers a greater selection of men's apparel while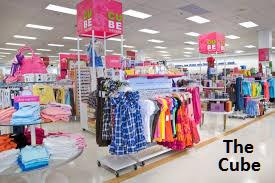 Marshalls has a juniors department called 'The Cube.'
HomeGoods specializes in home furnishings and accessories.
T.J.Maxx Europe operates in the U.K., Ireland, Germany and Poland and, in addition, runs 24 HomeSense Stores. It follows the same merchandising pattern of selling off-price goods as does its American counterpart.
All divisions attempt to create an atmosphere of excitement and limited availability of merchandise to promote immediate sales. They disperse a selection of irresistible bargains throughout their stores to entice shoppers to visit regularly.
Marmaxx's management claims it is the largest off price retailer in the US.
One should certainly examine financial data about TJX. I have included a few links at the end of this article to assist in finding this data. The sales and gross margin trend chart below will provide you with an overview of TJX's steady growth during the past few years.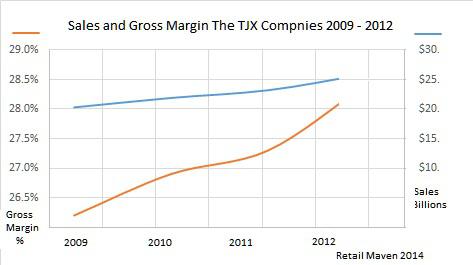 Financial data displays past happenings. We need to know what will occur in the future in order to best determine how to invest. This understanding is best achieved by investigating present business operations and philosophy.
TJX cost control and capital preservation
Temporary and part time associates represent a large portion of TJX staff. They do not require expensive benefits, which provides large savings. Stores are located in older shopping plazas. High rental costs are lower than those at premium shopping malls.
Advertising costs are minimized. TJX relies on being a self-branding retailer whose big draw for shoppers is its discounted pricing. Low advertising cost insures that TJX stores can offer lowest prices.. Energy costs are decreased by the use of properly placed efficient lighting. Leased real-estate allows capital to be saved for expansion instead of being invested in real-estate.
Operational and merchandising strategies
Operational information gained in daily activity is pooled between divisions. Software and developed technology are distributed among all stores. This sharing results in a larger cost savings than if each division created its own methods for operation.
Leasing of real-estate that has been negotiated with lease exit clauses allows rapid adjustment to market requirements.
Collective merchandise purchases allow products to be sold in any division or store group. This freedom of merchandise use promotes lower inventory levels, increased turn over, a quick rebound of inventory levels during rapid selling periods. Substitute merchandise may fill-in for that which is sold out. A great benefit of joint merchandise availability is the possibility of wide distribution among different store types when a 'Hot' selling item is discovered.
TJX had no extensive past expansion into Internet selling. This was a positive decision because closeout merchandise is not easily sold unless it can be handled and seen.
Nonetheless TJX is about to experiment with the Internet. This is important because a lot of future retail selling will be on-line. The entry into on-line selling should hopefully be a well thought-out endeavor that is not based solely on previous merchandising experience. It may represent a new profit center for TJX.
Questionable practices and problems facing TJX
TJX companies believe in banner advertising, the use of a splash of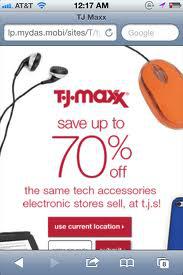 color and text that announce a percentage price discount. Banner advertising has become cliché.
Internet notification, newspaper announcements and TV showing of large, limited time discounts passes before consumers' eyes as if the customer was not there. Customers want to purchase merchandise. They want to see what product is available, be offered a great price and receive the immediate gratification of making a purchase and bringing it home.
Targeted merchandise promotions are less costly than blanket, fixed percentage discounts since customers often purchase merchandise where no discount is offered in addition to the bargain item that drew them into the store.
A change of Internet presentation from banner to specific merchandise would involve little cost, and would drive Internet traffic toward the TJX site by customers continually searching for the latest offerings, further enticing customers to visit stores.
The downside of specific merchandise promotion is that coordination of merchandise distribution to all stores is difficult, the difficulty being why merchants seek the easy way of promotion - offer a big discount when they would better serve themselves and their customers by offering specific merchandise at a discount.
TJX does not extensively use pre-printed coupons. Coupon usage may be costly for a retailer since it offers a set percentage discount that may be used on low margin merchandise. However pre-printed coupons are much more effective when measured against banner discounts since they are distributed to customers for easy use, and then become a constant reminder for the customer to visit the store. There is no need to download or print them oneself.
Coupon use may be extraordinarily successful, as they are with Bed Bath and Beyond (NASDAQ:BBBY). I find it remarkable that Bed Bath and Beyond achieves a 39% gross margin considering its wide distribution of its 20% discount coupons. The amount of regularly priced product sold to customers using these coupons must be quite large.
A business that ignores coupon use has not learned the lesson that has been taught by the redemption of billions of coupons over the years.
Stores located in secondary locations such as TJX don't gain the traffic that prime mall stores do. TJX should look more at having a better mix of locations. Of course stores in secondary locations don't have the competition that would be located in a premium shopping mall. Better locations, of course, increase occupancy costs that may offset the benefit of low rental cost.
Heavy reliance on part time employees noted above is a money saving practice. The downside is that employees are not as loyal, well trained or knowledgeable as full time employees.
Recommendation
When I evaluate the positive aspects of TJX's business in relation to difficulties that may befall them, I see great positive future growth and profitability. I do not like to purchase equities that have a large P/E ratio as does TJX, but its prospects look very good for both the near and distant future that I may make an exception.
TJX 10-K 2012
TJX Comparatives
Disclosure: I have no positions in any stocks mentioned, and no plans to initiate any positions within the next 72 hours. I wrote this article myself, and it expresses my own opinions. I am not receiving compensation for it (other than from Seeking Alpha). I have no business relationship with any company whose stock is mentioned in this article.