On December 1, 2013, I wrote a piece called "A Potentially Low Risk Pairs Trade Opportunity Using The S&P 500" where I used PowerShares S&P 500 Low Volatility (NYSEARCA:SPLV) and PowerShares S&P 500 High Beta (NYSEARCA:SPHB) to form a pairs trade against the S&P 500 (NYSEARCA:SPY). Since then, SPHB has further extended its recent outperformance versus SPLV and SPY. SPHB is up 4.0%. SPLV is exactly even. SPY is up 2.0%.
Even more importantly, the pairs trade has performed exactly as I could have hoped (although I threw in a twist I will explain soon). The following graph shows that the difference between SPY and the optimal linear combination of SPLV and SPHB approached the bottom of its recent range and triggered a trade going long SPHB and SPLV in the ratio 2.57/3.24 respectively versus short 1 SPY as described and calculated in the previous piece. The trigger occurred on December 11, 2013 and in a month's time, the combination has reverted to flatline, returning a little over 1% in gains. (In good news for the potential sustainability of this pairs trade, my recalibration of the ratio using all of 2013 data produced almost identical parameters.)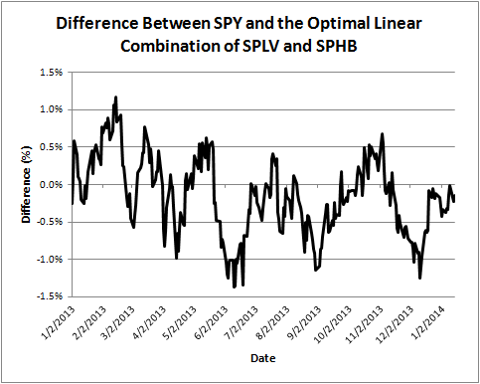 Difference Between SPY and the Optimal Linear Combination of SPLV and SPHB
Source for price data: FreeStockCharts.com
I would have of course preferred to just buy SPHB or even SPY, but the point of this trade was to create a (pairs) trade with low risk. Along with limited downside naturally comes smaller upside. Next, this trade needs a continuation of the cyclic behavior. Recall that at the top of the range, the trade is to go short SPHB and SPLV using the given ratios versus 1 long SPY.
I added a twist to the trade by purchasing put options on ProShares Ultra S&P500 (NYSEARCA:SSO) instead of shorting SPY outright. Interestingly, the net on the trade stayed very close to zero for the first few weeks. With the S&P 500 breaking out to fresh all-time highs going into the end of the year, being led by SPHB, I decided to add to the SSO puts for firmer protection for the position. Since then a drop in volatility, some time decay, and little progress in the shares this year have thrown off the trade and put it into a small loss. While missing out on the theoretical gain is disappointing, I am still encouraged that the conceptual approach seems to have passed its first test.
As I have discussed elsewhere, I think the market is around the corner from a big move either up or down. Using options on at least one side of the trade allows for the possibility of capturing a large portion of the gains of a large move.
I am also taking some cues from Joe Duran, CEO of United Capital Financial Advisers who appeared on Nightly Business Report on January 3, 2014 (at 4:00 in the video broadcast). Duran has a bullish forecast for the economy in 2014 but is still on the lookout for a sizeable correction.
On the economy…
"I think we've seen a very nice recovery, especially the back end of the year and it`s broadening and the Fed hinting at tapering is also telling us they are seeing things that we're not yet seeing, which makes me feel very optimistic about the economy and a broader and stronger recovery, maybe even 3 percent and approaching 4 percent for this coming year, which is quite encouraging…"
As a result of his bullishness on the economy he thinks this will be a year to invest less in speculative, high-octane stocks and more in steady, large companies.
"… what you had for most of last year was a stagnant and slow and disappointing recovery. And in times like that, people pay up for high growth/high revenue growing companies.

When the broad economy starts to grow more, it changes and people then shift to more industrial names, less exciting names like General Electric (NYSE:GE) or United Technologies (NYSE:UTX) that provide infrastructure. So the larger not so exciting names often do better than in the early stages as we saw last year."
Duran is basically saying invest in SPLV-like companies over SPHB-like companies. As I stated above, the year has started out just as things played out last year with SPHB outperforming. When/if SPHB does lag, I expect a recalibration of the pairs trade to produce different parameters.
Most importantly, Duran points out that by historical standards, the stock market is long overdue for a significant correction:
"Well, it's very unusual to go through six quarters where you do not have a 10 percent decline. Historical average is every 18 months, you have two 10 percent declines. We've not had that for 18 months, and people have become very complacent.

So, I think the first pull back we have, which could be caused by almost anything, while not a reason to sell, will be a cause for a lot of new investors to get nervous once again. And so, the first decline will probably be 10 percent to 15 percent decline, and we think very likely it will happen in the next six to nine months because it`s been so long since we've had one and the longer we go without one, the sharper the decline is likely to be and the more scary the first drop will be."
In this case, I like being positioned in puts on the short side of the pairs trade. The relative protection/profits grow the steeper the correction gets. Timing will be everything of course. If the correction happens in the weeks leading up to expiration of the puts, they may not provide much downside protection much less profit potential. To eliminate these concerns, traders can stick with shares on the long and short side, leaving low risk of downside even in a steep correction. Depending on conditions during the sell-off, it could even make sense to close out the short-side and wait out the recovery on the long side. But, one step at a time, and we will cross that bridge when we get there.
Be careful out there!
Disclosure: I am long SPHB, SPLV, . I wrote this article myself, and it expresses my own opinions. I am not receiving compensation for it (other than from Seeking Alpha). I have no business relationship with any company whose stock is mentioned in this article.
Additional disclosure: Also long SSO puts