It seems like only yesterday (but really it was 8 months ago) I wrote my article, Apple's Story: Only the Beginning?, in which I outlined that Apple's (NASDAQ:AAPL) story was not plateauing like many had then predicted, but only at the beginning of an important long-term phase.
At the time my article was published, Apple's stock was taking a beating, sliding from a per share price of $700 to a near 52-week low of $400, as pundits, analysts, journalists, and bloggers all ganged up on the tech giant in their attempt to explain the irrational price movement and in the process created a narrative for investors: Apple was losing share in its smartphone and tablet markets and the only solution for a rebound was to introduce new products.
The narrative was wrong. Aside from a refresh in existing products, no new products have been released!
And since my article was published in April 2013, Apple's stock price has surged by more than 28%, beating both the S&P 500 (+16.0%) and the Nasdaq (+27.7%).
At this point, I'd like to consider my long position once again. Is Apple still a screaming "buy" as it was 8 months ago? I'll address the question by examining Apple's fundamentals and its main drivers. I will begin with its ecosystem.
Ecosystem
As I've mentioned in the past, Apple's ecosystem is perhaps its most undervalued asset. I will reiterate what I stated in the above mentioned article.
A future Apple might unite with credit card companies to give us the ability to make payments using an iWatch through the cloud. A future Apple might be a cable company that allows us to watch ESPN through an "a la carte" service without paying for Bravo. An Apple TV might also mean that Apple will truly revolutionize the way we use our televisions versus current methods. Point to some of the millions of iTV apps and play Angry Birds while Skyping with your girlfriend. Yes the technology is there. So was the MP3 player before the iPod was rolled out. The smartphone also existed before the iPhone revolutionized that market. I owned a tablet long before the iPad was introduced (which is why I doubled down on Apple after negative iPad sentiment during days following the release caused the stock to sell off by 10%).
The bottom line is this: an ecosystem is a very important barrier-to-entry and while competitors are catching up by introducing substitutes to proven Apple products, Apple is building new products around its ecosystem. This is what many market participants who trade Apple have trouble "valuing," but it is an essential piece.
This was 8 months ago and technology is rapidly evolving. My little cousin tells me that Angry Birds has since been replaced by Candy Crush Saga!
I will now go a step further and try to introduce how the value of the ecosystem could produce aggressive revenues for Apple in the longer term. While the estimated $3 billion 2013 app revenue (customers spent $10 billion in 2013 x 30% retained operating profits by Apple) isn't exactly the bulk of Apple's $171 billion revenue, it does likely flow into operating profits with minimal operating effort (so $3 billion of 2013's $49 billion operating profits is nice to have). However, more impressive is the 575 million iTunes customer base that Apple currently boasts. While $10 billion amounts to only $17 per customer (and $3 billion of revenue amounts to $5 per customer), that figure could obviously grow significantly with 575 million customers.
For example if Apple successfully introduces new ways to generate revenues in its app store and reaches a goal of $100/customer spend, it would be generating additional operating profits of $17.25 billion, or 35% more than its total annual profits today. One way to generate that kind of revenue growth is to introduce discounted subscription-based services by bundling content.
As Apple has a significant amount of premium content in its app store, the tech giant could negotiate flat fee subscriptions with top content providers, such as LinkedIn (NYSE:LNKD), Netflix (NASDAQ:NFLX), King, Zynga, etc. and allow customers to pay negotiated fees for bundled subscriptions.
For example, $40 per month could get you premium access to LinkedIn, Zynga, and Netflix premium services, cheaper than getting the content individually (LinkedIn $30 per month, Zynga $10, Netflix $13.99). Or customers can choose which negotiated price services to pick from (with a minimum of 3 or 5 or 10). So the customer saves by bundling services. If modeled, negotiated, and launched correctly, the subscriptions could create aggressive growth and revenues for Apple and content providers.
My point is this: Apple's ability to generate among the highest of margins in the industry while counting almost 10% of the world as their customers is a truly brilliant accomplishment and there is a lot that Apple could do with 575 million customers! At this point, Apple has only scratched the surface.
And by the way, to add to the tablet saga from my previous article, during the holiday season, at $500 to north of $900, the iPad Air products were selling like hotcakes. I bought mine on a Saturday night, weeks after the iPad Air was released, and I still had to wait in line! It was quite a scene: the Apple store was completely packed in an otherwise entirely empty mall.
Cash Management
And then there's their cash! $150,000,000,000! That's 10 zeroes!
I've maintained that Apple's cash position is entirely being overlooked by some in the investment community. The cash gives the Firm an opportunity to aggressively buy back its shares as long as their share price stays at a discount to peers. Apple's cash generation is so vast that the Company could afford to spend aggressively on buybacks and still maintain the same cash position in years to come. That is until their stock price trades at attractive levels relative to the market.
One thing to consider as well. If the U.S. enters a sudden recession and beta crashes, Apple is one of the few companies in the world that is in a position to take advantage. They will be buying aggressively! What will that accomplish? By lowering shares outstanding, Apple will generate extremely attractive growth in its EPS during the recovery stage.
For those who think Apple can't tap into its cash because the money is predominantly overseas, cost of debt is still extremely cheap and Apple's 10-year bonds were issued at 75 bps over the 10-year Treasuries. Since debt is so cheap, the benefits of a company utilizing its debt effectively and creating such high margins are extraordinary. There are also legal ways to utilize overseas cash without repatriating, but Tim Cook testified that Apple does not involve itself in tax gimmickry.
Fundamental Strength & Margins
Finally, the below table paints a good picture of Apple's fundamental strength relative to its close and/or relative technology peers.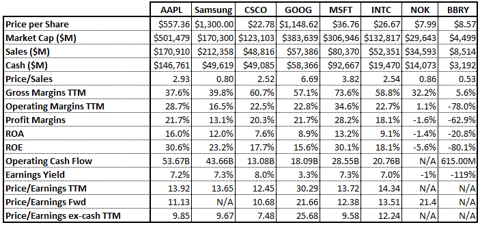 Click to enlarge
Apple's ROA and ROE, by far the highest among peers, are 16% and 31%, respectively. While gross margins are below peer averages, its operating margins, at 29%, are among the highest. What that means is for a company like Google (NASDAQ:GOOG) is that it's likely cheaper for Google to directly create goods to generate revenues, but pressure exists in creating profits at the operating level (i.e. salaries to employees, R&D, etc). For Apple, the opposite is true. While the majority of its costs are embedded in creating products (cost of goods sold), Apple's operating costs are minimal relative to peers. While some have connected such low operating costs to unfair treatment of employees at Apple's China factories, this is not an entirely fair view. While it's commendable for analysts to consider the needs of Chinese workers, these analysts have to also take into consideration what would happen if shareholders decided that Apple's China operations were unaffordable and these workers were faced with unemployment. Depleting excess cash on increasing salaries above market demand will not necessarily be in the best interests of shareholders and Apple could eventually find itself more dependent on debt to service operations, something that could hurt the jobs of Chinese workers in the long run.
Apple's current price/earnings ex-cash ratio, a measure I believe is a better way to gauge the company's current valuation than just P/E is among the lowest at 9.24X. Forward price/earnings (cash included) is at 11. Certainly for a company with an ROE of 31%, it trades at quite the discount. Its earnings yield is extremely competitive (notice that Google's earnings yield is almost at the same level as the corporate bond yield - an alarming signal).
Conclusion
The rhetoric in the investment community has now changed. Analysts, who only eight months ago were downgrading Apple to the low $400s, are now being forced to follow the markets and significantly alter twelve-month targets.
The Apple offense has finally arrived.
Disclosure: I am long AAPL. I wrote this article myself, and it expresses my own opinions. I am not receiving compensation for it (other than from Seeking Alpha). I have no business relationship with any company whose stock is mentioned in this article.
Additional disclosure: This article represents my views only and not the views of any company that I am affiliated with. This article is intended for informational and educational purposes only and shall not be construed to constitute investment advice. Nothing contained herein shall constitute a solicitation, recommendation, or endorsement to buy or sell any security or private fund.