One of the largest publicly listed pipeline companies, Kinder Morgan Energy Partners (NYSE:KMP), presented fourth quarter results yesterday and the master limited partnership delivered handsomely for unitholders.
The $35 billion pipeline company announced another distribution hike which will be much welcomed by investors who bought units of KMP on the expectation that future distributions will rise as much as they did in the past. As such, many investors in pipeline companies hold Kinder Morgan Energy Partners in their long-term income portfolios. Kinder Morgan Energy Partners is going to increase its quarterly distribution to $1.36 ($5.44 annualized) from $1.35 ($5.40 annualized) in the previous quarter. Kinder Morgan Energy Partners will have increased its quarterly distributions for eight consecutive quarters and has one of the most convincing distribution records in the pipeline sector. Investors in the pipeline giant are now profiting from a 6.76% yield which is a top-of-the-class yield. Kinder Morgan Energy Partners' 2014 outlook suggests that the company will declare $5.58 per unit in distributions in 2014 which brings the forward distribution yield up to 6.93%. Because of this steady distribution growth, Kinder Morgan Energy Partners made it on my list of 'Aggressively growing high-yield MLPs for 2014 and beyond'.
But not only distributions increased, KMP's distributable cash flow before items jumped 28% from $495 million in the fourth quarter of 2012 to $635 million in the most recent quarter. Distributable cash flow per unit (before items) rose 7% from $1.35 in Q4 2012 to $1.44 in Q4 2013. For FY 2013 Kinder Morgan Energy Partners reported distributable cash flow (before items) of $2.24 billion which is 26% higher than the $1.78 billion reported for 2012. Distributable cash flow per unit (before items) stood at $5.39 vs. $5.07 in 2012 (up 6%).
Kinder Morgan Energy Partners' segment results show that the company profited from strong business results across the board (with the exception of Kinder Morgan Canada). Kinder Morgan Energy Partners' segment earnings before depreciation, depletion and amortization (DD&A) for the most recent quarter as well as the fiscal year 2013 are presented below. Earnings from Natural Gas pipelines increased to $665 million in the fourth quarter of 2013 compared to $474 million in the fourth quarter of 2012 (up a whopping 40%). CO2 earnings jumped to $392 million vs. $337 million in Q4 2012 (up 16%) and earnings from Products Pipelines rose to $203 million compared to $176 million during the same period (an increase of 15%). Kinder Morgan Energy Partners' Terminals segment delivered 12% growth with fourth quarter 2013 earnings of $221 million.

Click to enlarge
All major business segments have delivered double-digit earnings growth and there is no reason to assume that growth is slowing down. In fact, Richard Kinder, Chairman and CEO of Kinder Morgan Energy Partners stated:
We are excited about 2014 and continue to see exceptional growth opportunities across all of our business segments. We currently have identified approximately $13.5 billion in expansion and joint venture investments at KMP that we are confident will come to fruition and drive future growth.
It is good to see that the company not only sees select growth opportunities, but does have a set of investment opportunities for all its segments. Kinder Morgan Energy Partners has an extensive acquisition- and a successful integration record. With $13.5 billion in growth projects, future distributions are likely to increase further as the company deploys more capital to grow its business.
US oil- and gas business is the place to be
The US energy bonanza keeps on rolling and the United States is on its way to achieve energy independence and will become an energy exporter in the coming years. Connecting shale plays to pipeline networks and providing access to terminals and storage capacity is a low-risk way of playing the ongoing US energy exploration boom. In addition, the majority of cash flows generated by KMP's pipeline business is fee-based and independent of price swings in the underlying commodities.
12-month trailing unit performance
I think shareholder returns will largely be driven by Kinder Morgan Energy Partners' distribution stream. KMP's units have been nearly flat over the last two years while Energy Transfer Partners (NYSE:ETP) gained 11%, Plains All American Pipeline (NYSE:PAA) 36% and Energy Transfer Equity (NYSE:ETE) 102%.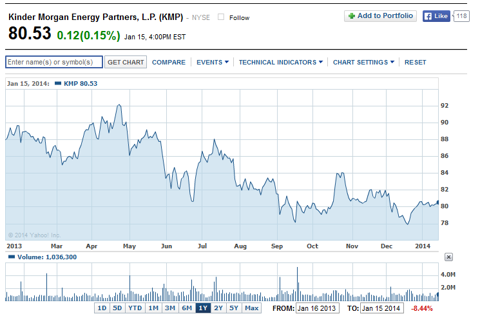 Click to enlarge
Summary
Kinder Morgan Energy Partners continues to deliver impressive earnings growth particularly in the natural gas business. Its recent distribution hike is another signal that management of the company sees future distribution coverage and potential to increase distributions even further. With $13.5 billion of growth projects at hand, the pipeline company sets the stage for sustained distribution growth. Double-digit earnings growth across all major segments indicates that management knows its business inside out and that it has made the right capital allocation decisions in the past. With a booming energy sector and likely higher demand for US oil- and gas infrastructure assets in the years ahead, Kinder Morgan Energy Partners is a great investment vehicle providing investors with recurring income and long-term distribution growth prospects. Long-term BUY.
Disclosure: I am long KMP. I wrote this article myself, and it expresses my own opinions. I am not receiving compensation for it (other than from Seeking Alpha). I have no business relationship with any company whose stock is mentioned in this article.