The Australian Bureau of Statistics (ABS) reported a loss of 22,600 jobs for December, 2013 while consensus expectations were for a GAIN of 10,000 jobs. The economy lost 31,600 full-time jobs and gained 9,000 part-time jobs. The number of unemployed increased by 8,000.
Even though the unemployment rate remained steady at 5.8% (after rounding), traders immediately and sharply sold off the Australian dollar (NYSEARCA:FXA). Against the U.S. dollar, the currency has now finally broken a critical support level. The 0.85 approximate target by Reserve Bank of Australian (RBA) Governor Glenn Stevens now seems within reach.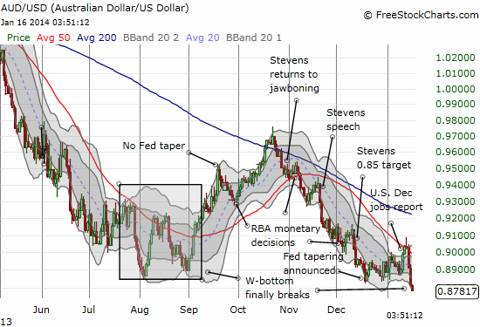 The Australian dollar finally breaks down
Source: FreeStockCharts.com
No surprise that this poor jobs report has driven upward trader expectations for a rate cut at the RBA meeting in early February (from 7% to 12%). This change seals my outlook going into the next RBA meeting from neutral to bearish (see "U.S. Jobs Report Pushes Australian Dollar Into Target, Australian Jobs Up Next" for my last positioning statement).
Amidst the doom and gloom, I like to look for a counter-claim or alternate story. I found an intriguing one in a piece titled "Crappy jobs data, but it is a lagging indicator" by Stephen Koukoulas, the former Senior Economic Advisor to Australian Prime Minister Julia Gillard MP. In this piece, Koukoulas argues that this poor report changes nothing about the overall economic outlook, an outlook that looks strong based on "… house prices, building approvals, retail sales, business expectations, exports share market prices, global growth." He still expects the RBA to HIKE interest rates soon; an expectation that had him predicting at one time a rapid rally for AUD/USD to 0.95.
RBA rate hike for Q1 2014 still very much in play. Activity very firm, inflation pressures inching up & global conditions still lifting

- Stephen Koukoulas (@TheKouk) December 2, 2013
To bolster his case for a trough in the unemployment data, Koukoulas points to RBA rate hikes in 2005 when employment was soft but ended up bottoming. He also notes that the current weakness in employment is a lagging indicator of a soft economy in the first half of 2013, a softness which is now in the rearview mirror.
These claims and arguments make the RBA meeting in February stick out even more as an important tone-setter for the year. If there were ever a time for Stevens and the RBA to help nudge the Australian dollar much lower, this is it. If the outlook for the economy is truly better, then the RBA may instead seek to assure even as it carefully steps around its sinking currency.
Be careful out there!
Disclosure: I have no positions in any stocks mentioned, and no plans to initiate any positions within the next 72 hours. I wrote this article myself, and it expresses my own opinions. I am not receiving compensation for it (other than from Seeking Alpha). I have no business relationship with any company whose stock is mentioned in this article. In forex, I am net short the Australian dollar