2014 is barely getting started, and shares of Advanced Micro Devices (NYSE:AMD) are already racing ahead, up around 11% year-to-date. Investors who bought AMD a month earlier will now be up 16%. Speculation could be helping AMD shares at this time. The company is scheduled to report quarterly results on January 21 2014, after market close. Bullishness is growing for an assortment of reasons. Most notably, strong console sales and graphics cards sales are giving investors a reason for optimism. AMD could sell-off on profit taking, but investors confident in the underdog's future could use the dip as an entry point. The reason to accumulate AMD is simple: Kaveri.
Kaveri makes AMD viable competitor
The thought that AMD and Intel (NASDAQ:INTC) are fierce competitors is a misnomer. Intel dominates the PC landscape for chips, and its low-end solutions are still preferable to AMD solutions. Intel's chips run much more efficiently, and are only marginally higher priced than AMD chips. Kaveri gives AMD an opportunity to offer basic gaming and graphically intense solutions for budget-conscious buyers. Kaveri chips are priced nearly $70 less than an Intel Haswell i5 solution. Kaveri also has up to 12 compute cores: 4 CPU and 8 GPUs (graphics processing units):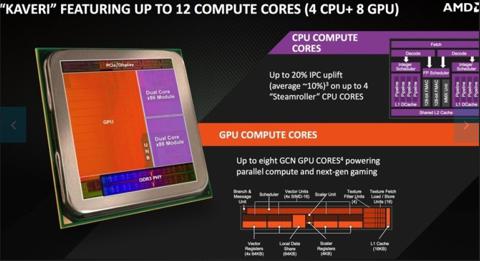 Source: AMD
Kaveri also takes a novel approach to the CPU/GPU architecture. The GPU may access system memory directly, making the system run well for parallel computing. The short term caveat for Kaveri's success is that software companies need to embrace HAS (Heterogeneous System Architecture), by implementing solutions in OpenCL.
Engadget reported that Kaveri's performance is on par for nearly every game compared to Haswell: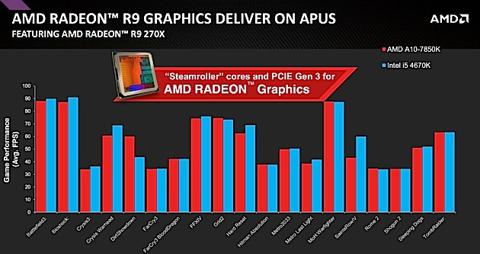 Source: Engadget
Investors should be aware that Anandtech comes up with a less colorful review for Kaveri. Intel outperformed AMD for an application like FastStone. FastStone supports image manipulation such as cropping, adjusting colors, or resizing: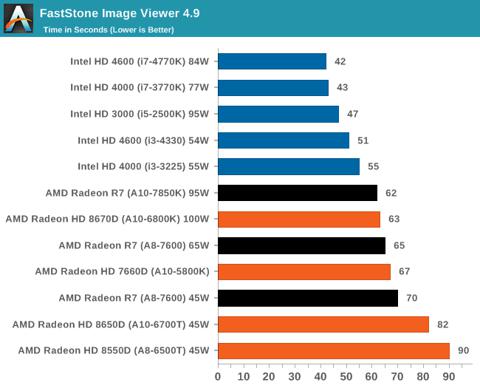 Source: Anandtech
Game Makers need to embrace Mantle
AMD is reversing its downward trend that began in 2010, but to reach $6.42 again (and a price / sales of exactly 1), developers will need to embrace Mantle: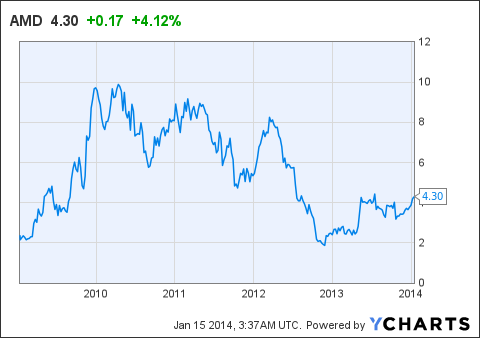 Mantle is a programming tool tailored for AMD chips based on GSN (Graphics Core Next) architecture. Electronic Arts (NASDAQ:EA) planned to release a patch last month that would add support for Mantle. Unfortunately, EA delayed any software development until EA fixed BF4 quality issues. The patch could be released this month. Despite the temporary delay, bears reduced their short position as AMD rose: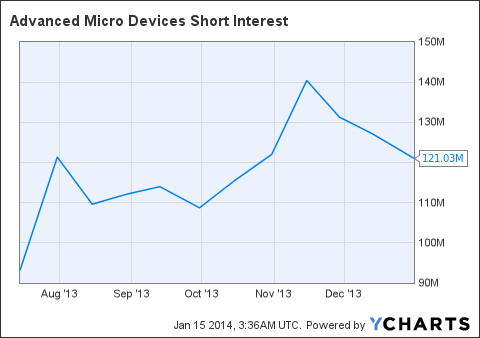 Bottom Line
A sharp selloff in AMD is possible as investors bid shares up ahead of quarterly results, but AMD is in a good position to grow revenues from multiple sources such as consoles and discrete graphics. Maintaining a position in the PC market remains an important strategy for AMD. Kaveri and Mantle are set to keep AMD thriving in this market in the quarters ahead.
Disclosure: I am long AMD. I wrote this article myself, and it expresses my own opinions. I am not receiving compensation for it (other than from Seeking Alpha). I have no business relationship with any company whose stock is mentioned in this article.