Energy XXI (EXXI) is an independent oil and natural gas exploration and production company whose growth strategy emphasizes acquisitions, enhanced by its value-added organic drilling program. The company has implemented an "acquire and exploit" growth strategy to build a geographically focused portfolio with some of the highest per-unit margins in the industry. It aims to develop the acquired properties while ramping up a complementary exploration program designed to provide organic growth for the future. The core properties are located in coastal and offshore Louisiana.
In an operations update on January 7, 2014, Energy XXI announced production rates of more than 30 MBOPD (average of 45 MBOEPD) for fiscal Q2'14 ended December 31, 2013. The amount is an increase compared to Q1'14's total of 29.7 MBOPD.
The company is currently operating three total rigs in the Gulf. Its horizontal drilling program in the West Delta blocks is garnering more interest, as one rig was added during the quarter and another is scheduled to arrive in late 2014. Due to the rig addition, a production target for the end of calendar year 2014 has not been announced.
In metrics compiled by EnerCom, Inc., the estimated enterprise value for Energy XXI in regards to a Permian multiple is approximately $6.1 billion. Approximately 75% of EXXI's reserve base is liquids, of which 95% is crude oil and condensate; only Athlon's percentage is more at 80%. For the trailing twelve months reported as of September 30, 2013 (the latest quarter for public disclosure), EXXI generated EBITDA per barrel of $47.88 (on a 6:1 gas to oil ratio), the highest level compared to the Permian companies shown in the graph below.
EXXI Enterprise Value to Production ($/BOEPD) Compared to Permian Operators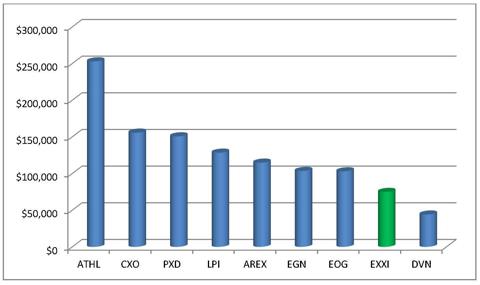 Source: Trading data from Bloomberg, production data compiled by EnerCom, Inc.
We note that EXXI traded at $74,826 per flowing BOEPD as of January 10, 2014. This is the second lowest trading multiple and 43% lower that the Permian group average of $131,624 per flowing BOEPD. Many may argue that this type discount is warranted for a Gulf of Mexico company due to the added dry hole risk associated with operating offshore. We offer that EXXI is not your average Gulf of Mexico Company. Because of the Company's acquire and exploit strategy, EXXI is estimating an 11% compound annual growth over the next three years focusing on a development program with "lower risk and higher return exploitation opportunities within areas with high historical record of successful results." These metrics look more like an onshore resource company that a traditional offshore company.
Energy XXI is scheduled to present at EnerCom, Inc.'s The Oil & Services Conference™ 12 in San Francisco on February 18, 2014. Click here for information on the conference.
Energy XXI's 2014 Drilling Schedule

Source: EXXI's December 2013 presentation
In an Investor Day on October 22, 2013, John Schiller, EXXI's President and CEO, said: "Our base production has remained strong, with only two rigs drilling development wells during the quarter. With drilling activity set to increase during our second half, we continue to expect year-over-year production growth."
West Delta Update
The initial rig was used to drill the Stricker exploration well in West Delta 30 (100% working interest, 87% net revenue interest) - the first to be drilled by EXXI on the block. More wells will be drilled as part of a long-term project once regional test results are received. The Stricker logged 79 net feet of pay across six reservoirs and is in the process of delineation through sidetracking. Additional development wells will likely be needed to expedite recovery, particularly since the area is largely untested. The company plans on moving its Vermilion Block 179 rig to the West Delta in order to expedite the program.
The Gunn well was brought online in West Delta 73 (100% WI, 83% NRI) in mid-December with a production rate of 300 BOPD (321 BOEPD). The El Diente well is planned to be drilled next, most likely from the Vermilion rig. Both wells have a true vertical depth greater than 8,000 feet. Seven additional horizontal well locations are planned to be spud in 2014 and 13 have been completed since the program's beginning in 2012.
The West Delta 73 and West Delta 30 were both purchased from Exxon Mobil (NYSE:XOM) in December 2010 for roughly $1 billion. At the time, the acquisitions included 20 MBOEPD of production, as well as proved and probable reserves of 60 MMBOE, nearly doubling the company's assets. The company has identified between 40 and 45 additional horizontal locations.
The West Delta Block 32 was recently acquired from Black Elk Energy for $10.4 million in cash. The area consists of 1,625 net acres, four platforms, and an estimated 1 MMBOE (89% oil) of proved, probable and possible reserves. Field production, prior to being shut-in due to an accident in November 2012, was 250 BOEPD. EXXI anticipates bringing the field online during the upcoming quarter. The company's internal estimate for potential resources exceeds 10 MMBOE.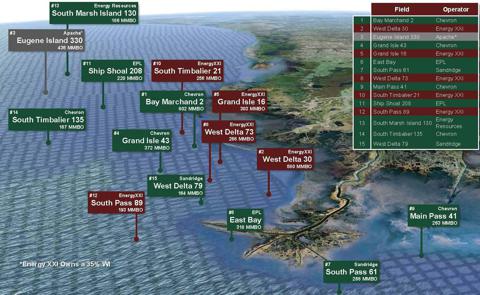 Source: EXXI's December 2013 presentation
Overview of Remaining Assets
The Don Carlos well in the Main Pass 61 field is the focus of EXXI's third rig. The well has been drilled to 8,161 TVD and was brought online shortly after the end of the quarter. Oil production currently exceeds 1,250 BOPD gross and is expected to increase once the unloading process is finished.
The Vermilion Block 179 is undergoing testing to determine future opportunities. The Merlin well (100% WI, 41% NRI) revealed no commercial hydrocarbons and will be plugged and abandoned. The region's rig will be moved after two other wells are completed.
As part of a joint ultra-deep program with Freeport-McMoRan (NYSE:FCX), the Davy Jones offset well is being completed. The nearby Lomond North prospect is nearing total depth of 30,000 feet. EXXI holds roughly 18% WI and 13% NRI in the plays, and tests on the Davy Jones discovered an estimated 200 feet of net pay.
Share Repurchase Program Continues, Hedging in Place
EXXI's Board of Directors approved a total of $326 million for stock repurchases in separate announcements in May 2013 and November 2013. As of January 6, 2014, the company has spent $222.8 million to reacquire roughly 11% of its common stock. The company currently has roughly71 million in common shares issued, pro forma for the buyback.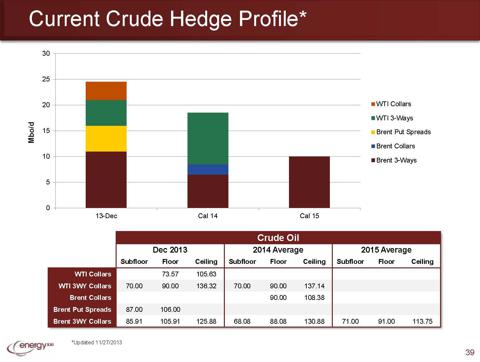 Source: EXXI's December 2013 presentation
As evidenced by the chart above, EXXI hedged roughly 80% of its oil production in December. Currently 60% of its 2014 calendar production is hedged, and OAG 360 notes more contracts are likely to come into play as the year progresses.
Disclosure: I am long EXXI, .
Business relationship disclosure: Oil & Gas 360® did not receive compensation for the publishing of this company note. Although Energy XXI pays Oil & Gas 360® a monthly fee to be a profiled company on the website, Oil & Gas 360® reserves the right to publish notes and observations on any company that is sees fit to distribute