Apple (NASDAQ:AAPL) is the only smartphone company that is making profits along with Samsung (OTC:SSNLF). While Samsung has faced profitability pressures in the last few months, Apple's stock price has not fallen due to the success of its new iPhone 5S and iPad Air. It is extremely difficult to make money in the smartphone market given the strong competition. Besides global players such as Sony (NYSE:SNE), LG (LG), Motorola (NYSE:MSI), there are a number of large Indian and Chinese companies too. Google (NASDAQ:GOOG) has become extremely influential in the mobile devices industry by giving its Android operating system for smartphones and tablets for free. This strategy has allowed Google to comprehensively beat other smartphone operating systems to become the dominant smartphone operating system company in a very short period of time. Android now commands 80% of the smartphone O/S market and over 50% of the tablet O/S market. Apple, which pioneered the touch screen smartphones and tablets, finds itself increasingly becoming a niche premium player. Open source Android is now extending its reach to set top boxes, game consoles and even PCs/laptops. iOS is not being able to match up to Android because of the "walled garden" approach followed by Apple. I think that Apple is currently in a precarious situation, as Android products become more innovative and cheaper. While Apple has managed to maintain its high gross margins until now, I think it won't be able to do so in the future. A lot of the Apple products are sold as "status symbols" rather than being superior to rival products. Given that technology trends are fickle, I think it might make sense to avoid Apple for now given strong risks and possibility of a big downside.
Android sells 1 billion products
Android has become the operating system of choice for hundreds of manufacturers around the world who are building innovative devices with Android as the operating system. Apple is losing out as iOS is proprietary. The number of developers working on Android is also larger than those working on iOS or Windows now. While Apple's high app sales ensure that developers also develop iOS apps, this is a risky situation. If Apple's high sales fall for some reason, then developers will have no reason to port their apps for iOS at all. They would develop their applications for Android only given the massive installed device base. Android is still not as good an OS as iOS, but it is getting there fast. The kinks are being rapidly removed by the newer versions of Android being introduced every month. Android is expected to increase its marketshare in the computing devices market to 45% in 2014 from 38% in 2013, as more than 1.1 billion Android products will be sold.
According to the 'Mobile App Developer Survey 2013', done by Vserv.mobi, Android is the platform of choice for app developers entering the development scene. Three quarters of app developers have been in this industry for less than three years, making this a young, but growing industry, says the survey. Also, app developers that enter this business primarily adopt the Android OS. Once they gain foothold, they start embracing other platforms.

Source - Economic Times
The other Google OS makes a dent in the PC market
Chromebooks have been a surprising success in the laptop/PC market last year. Major PC OEMs are getting into the Chromebook bandwagon. Acer (OTC:ACEIY), Asustek (OTC:AKCPF) etc., have all successfully launched Chromebooks last year and Toshiba is all set to introduce a Chromebook in March. Chromebooks are more of a threat for Microsoft (NASDAQ:MSFT) than Apple, given that MSFT dominates the PC/laptop OS market. However, Google's operating systems are increasing their marketshare in all major computing form factors and that should be worrying for Apple. Android is already dominant on mobile devices and Chrome OS is making a dent in the PC/laptop market.
Microsoft is spending big to become relevant in mobile devices
Microsoft has belatedly realized that it will become irrelevant in the computing OS industry if it does not aggressively attack the smartphone OS market. The company has bought Nokia and is looking to attract major smartphone vendors to use Windows OS. I think that MSFT will get more success in the enterprise market where Apple is currently gaining ground. BlackBerry's (NASDAQ:BBRY) meltdown has given an opening for other companies to capture the enterprise market, where security and reliability is more important than high megapixel cameras. Microsoft is also pushing out new Surface tablets to gain a foothold in the tablet OS segment.
Apple is making a mistake by leaving out Emerging market customers in the cold
Apple made a bold push into India (the fastest growing smartphone market), by introducing new EMI and cash back schemes to make its products more affordable. But after an initial increase in sales, the company has lost marketshare to Samsung and others. Apple sells in India and some of the other emerging markets because it is a "status symbol". It helps differentiate an Apple owner from the crowd, as Apple products are amazingly expensive compared to the per capita income. However, status symbols in the technology industry are not as long lived as in the fashion industry. Nokia was considered a status symbol from 2005-2009, while Blackberry was a status symbol from 2010-2011. Apple is the current flavor of the month but will it be sustainable, given that its products are no longer as big a differentiator as they were earlier.
Apple is seeing its margins decrease, despite not introducing a cheap smartphone for the emerging markets. The competition in the tablet and smartphone markets is simply too high for Apple to maintain its gross margins above 30%. Google is using Motorola as a loss leader to launch amazing products at extremely cheap prices (Moto X, Nexus 5 etc.). Asustek recently launched very good smartphones in a ~$100-200 price range. I don't think that Apple will be able to sell its iPhones at the $650-750 range for too long, as it's bleeding marketshare to Android and Windows.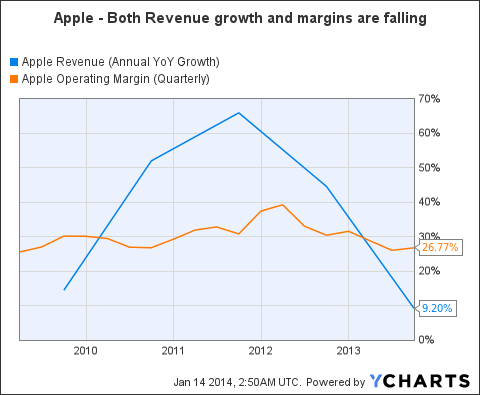 AAPL Revenue (Annual YoY Growth) data by YCharts
Google makes a big splash in the IOT Industry
Google keeps on increasing pressure on Apple by attacking it on different fronts. It bought home energy startup Nest Labs to enter the home energy industry. Google made a fast entry into the Internet of Things (IOT) space with this $3.2 billion acquisition. Google Glass is already considered a leader in wearable computing (though not launched commercially). Google also has a first mover advantage into the IOT industry with this buy. Microsoft has not been as aggressive in marketing its ecosystem as Google, but the Seattle giant is slowly waking up. The company has massive resources generating billions of dollars in free cash flow every year. MSFT is heavily pushing its Windows OS to its channel partners, as it struggles to stay relevant in the computing market dominated by small form factors. This will further increase the pressure on Apple.
Stock Price and Valuation
Apple's stock price has been stuck in a range between $500-550, even as the market makes new highs. The company has drastically underperformed the broader NASDAQ in the last one year, giving a return of just 5.3% compared to the 30% plus return for NASDAQ. I think that the stock has limited upside, given that it already has a $400 billion market capitalization and is operating in some of the most competitive technology segments.
The stock is not expensive with a forward P/E of ~11x but considering its declining revenue growth and falling margins, the valuation seems justified.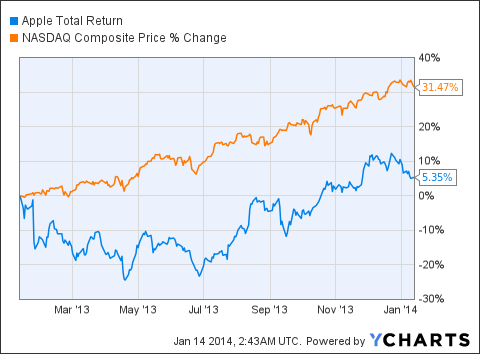 AAPL Total Return Price data by YCharts
Summary
Microsoft was able to lord over the computing OS market for almost two decades, as its competitors [Novell (NASDAQ:NOVL), Netscape] were not big and aggressive. However, Apple cannot hope to dominate the market with its "walled garden" approach for a long time. It has competitors which are equally big and good at marketing and R&D. Google makes some of the best software products in their category (Internet Search, Maps etc.). Samsung is also a formidable player and is pretty good at innovation (clamshells, phablets), though not given much credit by people. Apple is currently concentrating on maintaining its high margins, while letting the market being dominated by Google. I don't think this is the right strategy for Apple, as the long term winner will be the company with a dominant ecosystem. Apple has got a great product (iOS) but needs to get it to more people. I would advise investors to remain on the sidelines in case of Apple, as I see a higher risk of a downside than upside.
Disclosure: I have no positions in any stocks mentioned, and no plans to initiate any positions within the next 72 hours. I wrote this article myself, and it expresses my own opinions. I am not receiving compensation for it (other than from Seeking Alpha). I have no business relationship with any company whose stock is mentioned in this article.