The oil & natural gas production boom continues unabated in this country. Oil production is up ~54% over the past five years despite what could be considered as tepid at best support from an administration that is more focused on alternative energy initiatives.
In addition, interest rates have started to hold firm after having a substantial run from late May when the Federal Reserve started to talk about 'tapering'. The yield on the ten year treasury shot from ~1.6% in May to just over 3% earlier this month. However, the 3% level has proven to be a tough resistance level to breach especially after last Friday's dismal monthly jobs report.
I think high yielding energy partnerships should benefit from both developments. Below are two ~10% plus yielding energy holdings I have in my income portfolio that I believe will yield good returns in 2014.
BreitBurn Energy Partners (BBEP) is an oil & gas E&P concern organized a master limited partnership (NYSE:MLP) which came public in 2006. The company has mature long-lived reserves and has grown through acquisitions as well as organic growth. BBEP is up some 20%, not including dividends, since I first bought the shares in July. However, I still believe BreitBurn is attractively valued.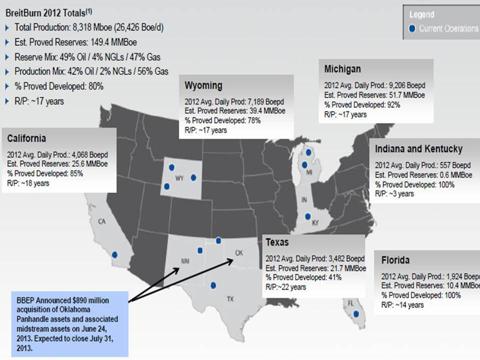 BreitBurn provides a distribution yield of almost ten percent (9.7%) and has consistently and incrementally hiked its payout over the past three years. It recently moved to a monthly payout earlier this year from a quarterly payout previously. It has one of the strongest distributable growth profiles in the upstream MLP piece.
The company continues to make strategic acquisitions which are driving cash flow and production increases. Since coming public in 2006, BreitBurn has grown both production and adjusted EBITDA at an impressive ~30% annual clip. 90% of the firm's capital budget is allocated to grow oil & liquids production and I expect the company to continue along this growth path. Analysts currently project BreitBurn will see ~30% revenue growth in FY2014.
I continue to like and hold QR Energy L.P. (NYSE:QRE). This is another master limited partnership that develops and produces oil, natural gas and natural gas liquids from a variety of properties in Texas, Mid-Continent and Gulf Coast regions. It also has a portfolio of stable, long-lived assets. The company gets over 2/3 of current production from oil & liquids, a higher ratio than peers (~50%).
It offers an even more generous distribution yield (11.3%) than BreitBurn. QR Energy also moved to a monthly payout in the New Year. The mean price target on the shares by the ten analysts that cover the MLP is $20 a share, ~20% above its current price. Wunderlich initiated the shares as a "Buy" in late October and QRE is one of the favorite upstream MLP's in 2014 at UBS as well.
QR Energy is not growing quite as fast as BreitBurn but still showing impressive revenue growth. The company is tracking to better than a 25% sales gain in FY2013 and analysts currently believe another 18% to 20% increase is in store for 2014. The firm has more than doubled operating cash flow since the end of FY2010.
After 2013's almost ~30% rise in equities, I believe 2014 will see more subdued returns as the Federal Reserve starts to withdraw liquidity from the market. I agree that the current consensus calling for 5% to 10% returns in the New Year is a realistic expectation. Given that forecast, getting a yield of ~10% and possible capital appreciation as well; seems like a very solid play.
Disclosure: I am long QRE, BBEP. I wrote this article myself, and it expresses my own opinions. I am not receiving compensation for it (other than from Seeking Alpha). I have no business relationship with any company whose stock is mentioned in this article.