When it comes to the three major U.S. automakers, the idea of taking big risks to improve one's best-selling models isn't always prescribed. However, the introduction of a much lighter, more fuel-efficient version of its F-Series pickup truck could bode well for Ford Motor Company (F), especially since these newer models are nearly 700 lbs lighter and are aimed at the small business owner. In the wake of Ford's recent announcement, I not only wanted to take a look at the new and improved F-Series but also highlight a number of reasons behind my decision to remain long on shares of this particular U.S. automaker.
Introducing A Lighter, More Durable F-Series
It should come as no surprise that Ford pickups have been doing this country's work for the past 66 years and over those 66 years Ford has understood how important it is to make changes that offer an improved product while satisfying the needs of its customers. In its latest modernization, the company's new F-Series models are built almost entirely out of aluminum and the series' engines and a number of other components will also be much lighter than they've been in the past. From a workload perspective, the lighter trucks will actually be able to tow better and handle larger loads while putting less stress on the engine which will allow for greater life expectancy when it comes to the life of the truck.
If Ford can demonstrate an increase of at least 3.5%-to-5.0% in its profit per unit sold, which currently stands at about $10,000 per F-series truck, as a direct result of its transition from steel to aluminum, I see no reason why potential investors should not establish a position at current price levels. Trading at just over 11.5x earnings, Ford offers a much better entry point then both Toyota (NYSE:TM) which currently trades at 13.9x earnings and General Motors (NYSE:GM) which currently trades at 17.0x earnings.
Thailand Continues To Serve As A Driving Force Behind Ford's Strong ASEAN Retail Sales
On Thursday January 9, Ford Motor Company announced that overall retail sales for the ASEAN region in 2013 rose more than 70% on a year-over-year basis to an all-time record of 95,906 units. Of those 95, 906 units sold, Ford Thailand was the biggest regional contributor to ASEAN retail sales as the segment was responsible for a total of 51,223 units sold.
According to the company's press release, "Ford Thailand continued to lead the overall sales volume in ASEAN by delivering full-year sales of 51,223 units, driven by the continued popularity and success of the segment-defining all-new Ford Ranger pickup, as well as continued strong demand for the technology-packed all-new Focus and segment-leading new Fiesta". I strongly believe that if Ford Thailand can continue to find success with the Ranger, Focus, and Fiesta models over the next 12 months the number of overall units sold could easily exceed 55,000. It should also be noted that Ford plans to launch its all-new EcoSport model sometime during mid-2014 which also expected to contribute to the company's sales growth over the next year.
Recent Trend Performance Signals Long-Term Buying Mode
On Tuesday shares of F, which currently possess a market cap of $64.65 billion, a forward P/E ratio of 10.99, and a dividend yield of 3.05% ($0.50), settled at a price of $16.40/share. Based on their closing price of $16.40/share, shares of F are trading 4.57% above their 20-day simple moving average, 0.09% above their 50-day simple moving average, and 3.33% above their 200-day simple moving average.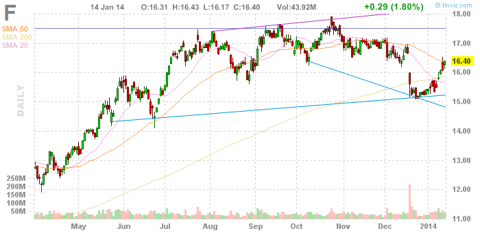 Click to enlarge
These numbers indicate a short-term, mid-term, and long-term uptrend for the stock, which generally signals a moderate buying mode for most long-term investors. If, over the next several months, Ford can demonstrate an increase of at least 3.5%-to-5.0% in terms of its profitability per unit sold its trends certainly have the potential to indicate a much stronger buying mode over the next 6-12 months.
24-Month Dividend Behavior
Since reinstating its quarterly dividend on January 27, 2012, Ford Motor Company has increased its quarterly distribution twice in the last two years, with the most recent increase having taken place in January of this year. The company's forward yield of 3.05% ($0.50) coupled with its ability to maintain its quarterly distribution over last two years, make this particular automaker play a highly considerable option, especially for those who may be in the market for a moderately-yielding stream of quarterly income.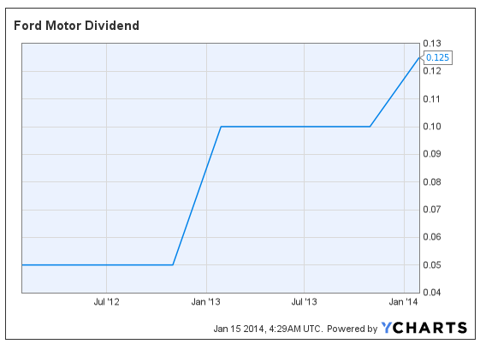 Click to enlarge
If Ford Motor Company can continue to demonstrate significant growth while enhancing its global footprint, as was the case in 2013, there's a very good chance shareholders could continue see increases in its dividends over the next several years.
Risk Factors (Most Recent 10-K)
According to Ford Motor's most recent 10-K, there are a number of risk factors investors should consider before establishing a position. These risk factors include but are not limited to:
#1 - A decline in industry sales volume, particularly in the United States or Europe, due to financial crisis, recession, geopolitical events, or other factors could negatively impact the performance of Ford's stock.
#2 - Work stoppages at Ford or supplier facilities or other limitations on production (whether as a result of labor disputes, natural or man-made disasters, tight credit markets or other financial distress, production constraints or difficulties, or other factors).
#3 - Unusual or significant litigation, governmental investigations, or adverse publicity arising out of alleged defects in products, perceived environmental impacts, or otherwise.
Conclusion
For those of you who may be considering a position in Ford Motor Company, I strongly recommend keeping a close eye on the company's ASEAN retail sales growth, its dividend behavior and its ability to enhance shareholder value over the next 12-24 months as each of these factors could play a role in the company's long-term performance.
Disclosure: I am long F, GM, . I wrote this article myself, and it expresses my own opinions. I am not receiving compensation for it (other than from Seeking Alpha). I have no business relationship with any company whose stock is mentioned in this article.