In a another article, I highlighted that Ubisoft (OTCPK:UBSFY) was one of the game publishers that I believed would do quite well in 2014 out of the 4 leading publishers that have mega franchises in market today (Activision - ATVI, Electronic Arts-EA, Take Two Interactive-TTWO, Ubisoft).
However, in addition to Ubisoft, there is also another publisher from the leading four that has positioned itself excellently in the market. This publisher is the owner of the franchise that nearly all of us have heard about (even if you have heard the name from a son/grandson/niece); that franchise is Grand Theft Auto and its publisher is no other than Take Two Interactive.
As of January 14th 2014, Take Two's share price closed at $17.17 and the company had a market valuation of $1.67 billion. Let's put this valuation into context:
1. Grand Theft Auto V (GTA V) has been a mega-earner for Take Two this year
The company released a game called Grand Theft Auto V in September 2013. In just 3 days after the game's release, the company announced that sales surpassed $1 billion, grossing much more revenue than any other game/movie in history.
In the company's 2nd quarter results, the company reported that the game had sold 29 million titles to customers since launch. The company confirmed that the title broke several sales records at launch and that it was expected that sales would continue well into the future.
2. Take Two has other franchises that earn revenue
Take Two Interactive has several franchises outside of Grand Theft Auto that can generate a considerable amount of revenue. Titles such as NBA 2K14 and WWE 2k14 were strong performers for the 3rd quarter (more details on this later). In addition, there were other titles released earlier in the year that performed very well; Bioshock Infinite is one such example. Each of these titles has been rated very highly by critics and can generate catalog revenue for Take Two Interactive in the coming months and years.
3. The revenue guidance for Take Two's 3rd quarter seems low.
The company has given a guidance range of only $650 - $750 million in revenue for the 3rd quarter in their half year earnings release.
Let's examine these points collectively in more detail.
As at the end of Sep 28th, VGChartz reported sales of Grand Theft Auto V at roughly 19.3 million titles across all platforms. As at the end of December 28th, sales of Grand Theft Auto V were reported at 30.2 million. These numbers result in 30.2 - 19.3 = 10.9 million titles sold for the quarter.
If we then examine the sales from the company's top 3 launch titles for the quarter Oct-Dec, total sales on VGChartz come in at:
GTA V (all platforms)- 10.9 million
WWE 2k14 (all platforms) - 1.36 million
NBA 2k14 (all platforms) - 3.94 million
The total sales from these 3 launch titles works out to roughly 16.2 million. VGChartz does not take into account digital titles and as a result usually understates sales numbers by at least 15%. However, for this calculation, I won't even extrapolate at all and will use the 16.2 million directly from VGChartz. If we take an average revenue from each title of just $40; that works out to 40*16.2 = $648 million; $2 million shy from the lower end of the guidance!
This $648 million does not take into account revenue for the quarter from the any of the following titles listed in Take Twos 3rd quarter release window; and Take Two released SEVERAL titles (see below).
(taken from Take Two's 2nd quarter press release)

Click to enlarge

Click to enlarge
In addition, the $648 million does not take into account back catalog sales from titles that were shipped earlier in the year such as Bioshock Infinite.
Given these points above, Take Two's net revenue for the 3rd quarter should outperform its guidance nicely and should also outperform its projections for earnings per share of $1.20 to $1.35 for the quarter.
Now that we've established that 3rd quarter should be an excellent one for Take Two, and that the earnings per share is likely to be high in comparison to the current share price, why then is the share price and market valuation so low?
What follows are some possible reasons for the suppression of the share price:
1. Icahn sold his shares
Carl Icahn is a veteran investor and when he does something, hedge funds and other investors usually follow likewise. He has made a name for himself as an astute investor and many times he's made the correct decisions. Most recently, Icahn pocketed $800 million after his stake in Netflix rose by 457%. It stands to reason that if Icahn decided that it was time to get out of Take Two stock, maybe the best decision is to get out as well; right?
Not necessarily. Everyone (including Icahn) has got it wrong before in the past with regards to the ideal time to sell a stock.
2. Can Take Two sustain its revenue or will Grand Theft Auto just result in a temporary spike in revenues?
In the past with previous Grand Theft Auto releases, Take Two usually experiences a spike in revenue when a Grand Theft Auto title is released. However, revenue usual drops considerably the following years. The past 3 years show this quite plainly as Take Two's EPS numbers for 2012 and 2013 fiscal years were negative. Analysts fear that something similar could happen with Grand Theft Auto V.
However, Grand Theft Auto V is a bit different to previous releases of Grand Theft Auto as the game wasn't released on its own. Grand Theft Auto Online was released as well which has the potential to be a significant revenue earner for Take Two going forward as a result of revenue from in game transactions.
3. Take Two has considerable short interest
Take Two has always been a play for the shorters in 2013 as punters awaited the release of Grand Theft Auto V with the hope that it would not perform in line with the high expectations that the industry had for the game. However, with all of the positive press around GTA V, the short interest numbers have been steadily decreasing since November 2013. Nevertheless, with the short interest at 10.8 million shares out of 97 million shares in total, roughly 11 % of the float is still shorted and this has possibly helped to keep the share price suppressed.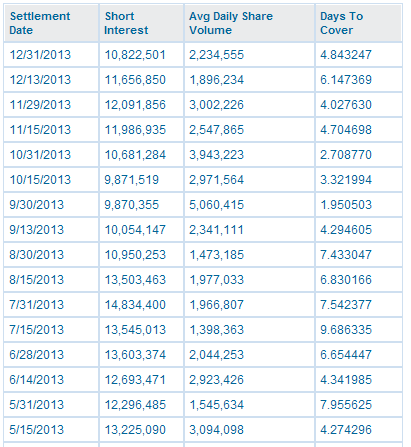 4. Take Two Interactive has an unusual commitment to quality
Take Two Interactive seems to have a mantra of only releasing games that are of exceptional quality. On one hand, such excellence keeps customers coming back to purchase Take Two's games. On the other hand, such a philosophy that's adamant on game quality has led to games being delayed. Investors love to see predictable revenue and income and as a result, such revelations about delays in the past have resulted in shocks to the share price. For example, when it was announced in early 2013 that Grand Theft Auto V was delayed, the price dropped 12 % in a single day. It's this type of unpredictability that investors tend to run away from.
Nevertheless, the investor must remember that Take Two has proven with GTA V that if they delay a game, revenue isn't necessarily affected negatively; rather, revenue may actually be increased significantly as a result of the delay.
Conclusion
All of the numbers point to Take Two having a phenomenal quarter and year. This is not surprising with the release of Grand Theft Auto V this year. However, there are some negative arguments against Take Two's stock and the veteran investor Carl Icahn has sold off a considerable % of his shareholding. Nevertheless, the stock looks very cheap to me at the moment and several other analysts seem to agree, as they have an average target price of just over $21 for the stock for the next year.
Disclosure: I am long UBSFY. I wrote this article myself, and it expresses my own opinions. I am not receiving compensation for it (other than from Seeking Alpha). I have no business relationship with any company whose stock is mentioned in this article.