BlackBerry (NASDAQ:BBRY) management has always cited its relationships with global telecom carriers as a key source of strength. However, the company's downward spiral of smartphone sales is making telecom companies wary of stocking up on BB 10 handsets. With volumes decreasing quite markedly in comparison to other smartphone companies, it is not economical for carriers to market BlackBerry or stock BBRY smartphones. Telecom carriers now have the freedom of choosing flagship smartphones from different companies, to sell to their customers for contracts. Even Apple (NASDAQ:AAPL) is seeing its bargaining power with major telecom carriers such as Verizon (NYSE:VZ), AT&T (NYSE:T) etc., decrease. Google (NASDAQ:GOOG) is trying to push the US market away from the contract model and selling extremely good smartphones (Moto G, Nexus) off contract for very competitive prices. AT&T management has also indicated that they want to move away from the subsidy model, as the US smartphone market becomes mature with a high degree of smartphone penetration. They would look to increase their margins by doing away with subsidies. This is bad news for BlackBerry, which has worked closely with telecom carriers to sell its secure BES platform. BlackBerry's stock has risen up sharply in the last month, due to a combination of short covering and news of the Foxconn (OTC:FXCOF) partnership. But the increasing marginality of BBRY's smartphones and OS means that the stock has limited upside as of now. With CEO Chen indicating that the company will turn profitable only in 2016, I would avoid BBRY stock.
UK Telecom Carriers give BlackBerry the short shrift
There were a number of SA articles to show BlackBerry smartphones were selling out in the UK when Z10 and Q10 were launched. The writers used anecdotal evidence to extrapolate the success of the new BB 10 smartphones. However, I have not seen any SA articles about how UK telecom carriers are now shunning BB 10 smartphone models. A couple of the telecom carriers have stopped Z10 sales and are also looking not to promote Z30. The number of smartphone companies and models has proliferated in the last couple of years, as the large growing smartphone industry has attracted all the major technology hardware vendors. BlackBerry with its unique operating system will find it increasingly hard to gain marketshare, as developers concentrate their app efforts more on the Android and iOS operating systems. BBRY also has lesser dollars to market and advertise its software which means that its sales will continue to go on a downward spiral.
BlackBerry's standing in the UK market has taken another hit as O2 and Three confirmed they won't be stocking its flagship Z30 smartphone... Meanwhile retail staff are reporting plummeting sales of BlackBerry devices as consumer confidence is hit by the struggling manufacturer's widely reported financial problems…An O2 spokesperson said the operator would not be stocking the device, but when asked about its future relationship with BlackBerry, he said: 'We stock a range of BlackBerry devices and continue to work with BlackBerry products for O2 customers.' Likewise, a Three spokesman said: 'We continue to work with BlackBerry and currently stock both the Q10 and Z10

Source - MobileToday
Why was another $250 million in convertible debt required?
BlackBerry recently issued $1 billion in convertible debt to a group of funds led by Fairfax. This bolstered the cash position of BBRY to more than $3 billion. The debt was issued to shore up BBRY's finance as it lost billions of dollars in the last two quarters. Now the company has again raised $250 million in another round of debt. This raises the question on how much cash is BBRY bleeding. Why does it require another $250 million, when it already has more than $3 billion of cash sitting on the balance sheet? The convertible debt is quite expensive at 6% interest rate and a conversion price of $10.The company has taken some major steps to stop the cash outflow by partnering with Foxconn, to develop new BB 10 smartphones and stopping the annual BBRY developer conference. However, the company continues to sell Q10, Q5, Z10 and Z30 which are losing money and for which the company has no clear game plan. BBRY has supplier commitments to procure components for these smartphones. It cannot put an end to the smartphone hardware losses in the short term, which makes the company transform into software and services player harder.
End of Carrier Subsidies means more pressure on BBRY financials
BlackBerry will find it harder to sell smartphones with telecom carriers looking to reduce/end subsidies for smartphones. Telecom carriers like Sprint (NYSE:S) have to pay a large portion of the smartphone cost, which is recuperated later in the form of monthly contract payments. This helps the smartphone companies at the expense of the telecom carriers. But AT&T has now decided that it will do away with the subsidy model to improve profitability. The smartphone market does not require too much incentive, as it has become more of a necessity these days. This will put pressure on smaller smartphone players such as BlackBerry, who will have to provide financial schemes to offset the large upfront cost of a smartphone. Bigger players such as Apple and Samsung (OTC:OTC:SSNLF) can easily use their massive balance sheets to provide financing to customers. In fact, these companies use financing and cash back schemes as a big promotion tool in the developing markets.
When you're growing the business initially, you have to do aggressive device subsidies to get people on the network. But as you approach 90 percent penetration, you move into maintenance mode. That means more device upgrades. And the model has to change. You can't afford to subsidize devices like that.

Source - 9to5mac.com
BBRY recent stock decline has a silver lining
BlackBerry's stock has climbed steeply from its depressed levels, mainly on account of short covering and as John Chen has laid out a tentative strategy for revival. The stock is currently trading near its 1 month high at $8.40. The stock is trading at a P/B of 1.1x and a P/S of 0.5x, but given the decline in sales and lack of profitability it is not cheap. There are many risks that the company faces as it tries to transform into software and services player. The company has to quickly decide on what it will do with its bleeding smartphone hardware business.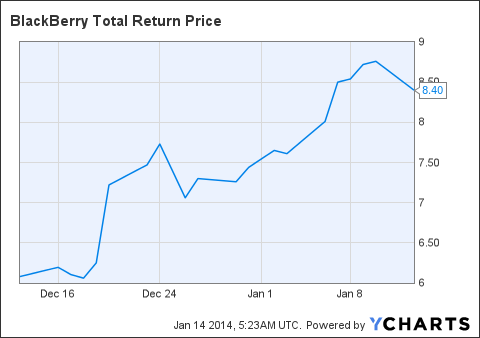 BBRY Total Return Price data by YCharts
Summary
BlackBerry is a great company with some excellent technology assets but the company's management has an extremely tough road ahead. The smartphone industry has become the toughest technology segment to compete, despite its huge size and growth. BBRY products are pretty amazing and offer an alternative in the Android/iOS dominated world. But the company does not have the resources to develop and market smartphone globally. As sales shrink, carriers and telecom retailers will dump BBRY in favor of faster moving inventory. The stock is not cheap considering that the company will not return to profits before 2016. I would remain on the sidelines, till more clarity emerges on how BlackBerry will stop the bleeding from its smartphone hardware segment.
Disclosure: I have no positions in any stocks mentioned, and no plans to initiate any positions within the next 72 hours. I wrote this article myself, and it expresses my own opinions. I am not receiving compensation for it (other than from Seeking Alpha). I have no business relationship with any company whose stock is mentioned in this article.