The entire silver and gold mining sector has been laid waste and is littered with the carcasses of once high‑flying equities. One has to look only as far as the Market Vectors Gold Miners ETF (NYSEARCA:GDX) to see a peak-to-trough decline of nearly 70%.
The early masters like Livermore, Wyckoff and Loeb used military terms to describe the market - words like "battle", "war", "survival" and phrases like being at the "danger point".
Not much has changed since their time. As we look at GDX, it appears that there has indeed been a battle with no survivors.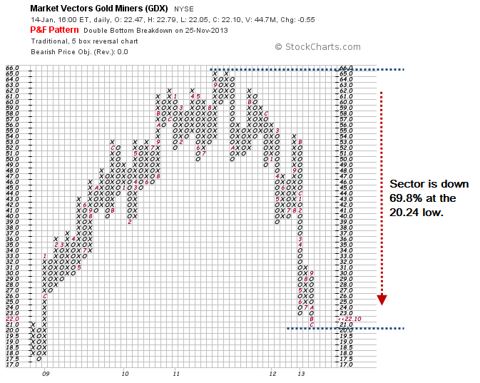 Click to enlarge
Charts by StockCharts.com
However, there is one that stands out amongst the senior miners: Randgold Resources Limited (NASDAQ:GOLD).
Before we get into the discussion on GOLD, let's look at a list of the senior miners in market cap order.
The Senior Miners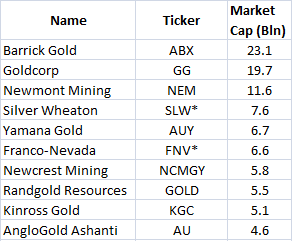 Source: Worden Bros.
Randgold falls at the lower end of the capitalization list. At first glance, we may think the lower capitalization corresponds to a large corrective drop during the past two and a half years.
Correction Pareto
The chart below shows that is not the case. This list graphs out the percentage correction of the seniors from their post 2008 highs to the correction lows: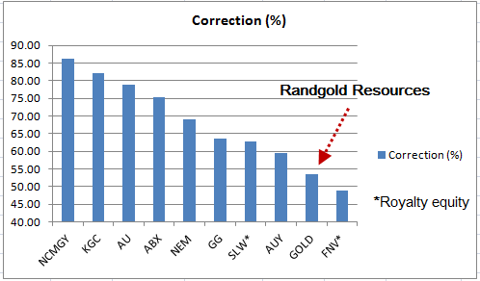 Click to enlarge
Source: Three Ten Trading, LLC
Randgold has corrected a little more than 50% over the period. The rest on the list have been hit much harder with corrections from 60% - 86%.
There are two royalty companies on the list, Silver Wheaton Corp. (NYSE:SLW) and Franco-Nevada Corporation (NYSE:FNV). They fall into the market capitalization of the senior miners but are not a mining operation in the purest sense.
Duration Pareto
The following chart takes a different look at the situation: How much time has been spent correcting off of the post 2008 highs. This gives us another view into the duration and extent of downdraft.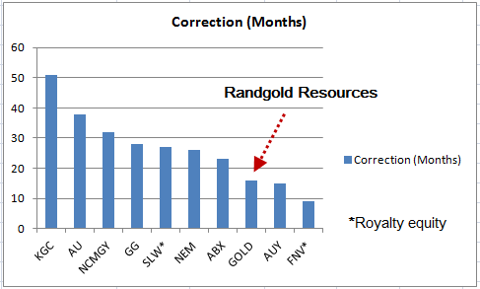 Click to enlarge
Source: Three Ten Trading, LLC
This chart shows the amount of time that each of the seniors has been in a decline from their post 2008 highs. Kinross Gold has encountered over four years of steadily declining price action and sure enough, is also the second largest percentage drop at a painful 82%.
Only one other equity, Yamana Gold (NYSE:AUY), comes close to being similar to GOLD as far as the correction is concerned (59.6% vs. 53.5%). However as discussed further down in this report, GOLD far surpasses AUY from a technical standpoint.
Political Risk
AUY operates in Argentina, Brazil, Chile and Mexico with a total of eight producing mines and three in development. GOLD has a total of five operating mines located in Mali, Cote d'lvoire and the Democratic Republic of the Congo. Development projects are located in Cote d'lvoire, DRC, Mali and Senegal. From a political stability standpoint, AUY ranks above GOLD.
With Randgold operating in West and Central Africa, the area is more unstable than Mexico or central South America. For example, in March of 2012 there was a military coup in Mali. Randgold experienced a significant gap-lower literally overnight: Closing at 103.40 one day and opening at 92.01 the next (down 11%). The equity eventually recovered to make new highs but it was not until it had gone through a two month process of correcting and digesting the situation and bottoming out at a 40% loss.
Technical Analysis: GOLD vs. AUY
From the 2008 lows, GOLD rose from 22.28 to a high of 127.27, for a 471% gain. During the same time, AUY rose from a 3.31 low to a high of 20.59, representing a 522% gain. Those are good percentage gains that are fairly close in value. We will call it even for sake of argument.
The real difference between AUY and GOLD is that the 20.59 high on AUY is only 3.3% above its previous high of 19.93 set during the month of March 2008. Because AUY has corrected 59.6%, it has declined back into its previous trading range. This is a weak (bearish) condition.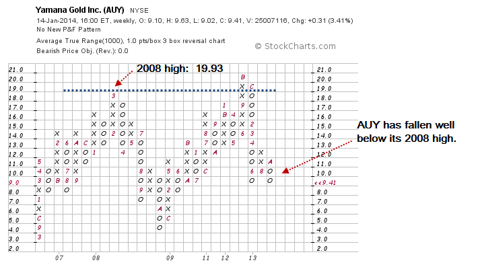 Click to enlarge
On the contrary, over the same time period, GOLD made a 2008 high of 56.28. It then went on to record a new high of 127.27 which is 126% above its 2008 high.
Since GOLD is now trading in the 60 - 65 area (with 59.19, the low thus far), it is above its previous trading range. This is a strong (bullish) condition.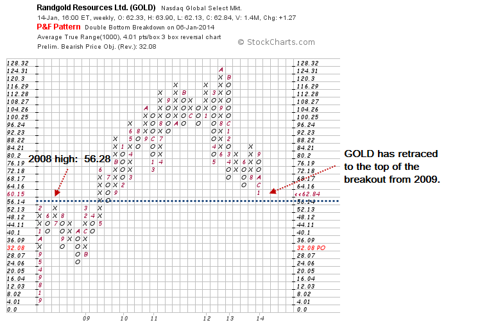 Click to enlarge
None of the other senior miners (excluding the royalties FNV and SLW) are in position above their highs set during 2008. Randgold Resources stands alone in this regard.
Daily Charts
Looking at the daily time-frame we can see the buoyancy of GOLD while at the same time there is heaviness to the price action of AUY.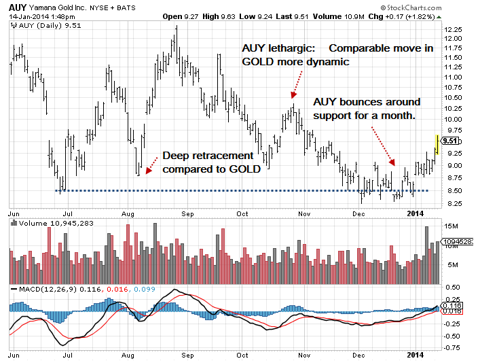 Click to enlarge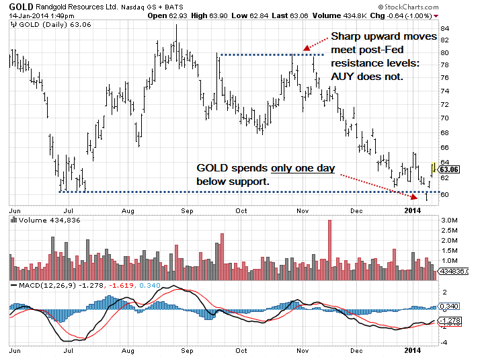 Click to enlarge
Summary
Corrections that last for years and drive some equities to all time lows also serve to reveal the next market leaders. It has been nearly two and a half years since the high in GDX. The smoke now appears to be clearing. What we can see is that Randgold has not only survived the attack but has maintained its bullish configuration at the same time. GOLD is indeed the battlefield victor.
Disclosure: I am long GOLD. I wrote this article myself, and it expresses my own opinions. I am not receiving compensation for it (other than from Seeking Alpha). I have no business relationship with any company whose stock is mentioned in this article.