Shipping stocks staged a rally this morning making large gains across the board. Shareholders of DryShips Inc. (NASDAQ:DRYS) have been on a rollercoaster recently; watching the share price trade from $3.52 to $5 and then back to $3.60 all in one month. DryShips sailed 8% higher today on hopes of continued economic improvement.
The rapid decline in the Baltic Dry Index has been dramatic to say the least. The beginning of the year saw the index facing downward pressure, culminating on Tuesday when Cape rates fell over 6K in one day to settle in the low 13K range. Panamax and Supramax are trading at $12.5k and $12.3K respectively. Let's take a look at the rise and fall of the BDIY. You can view more detailed information on ship class by clicking here.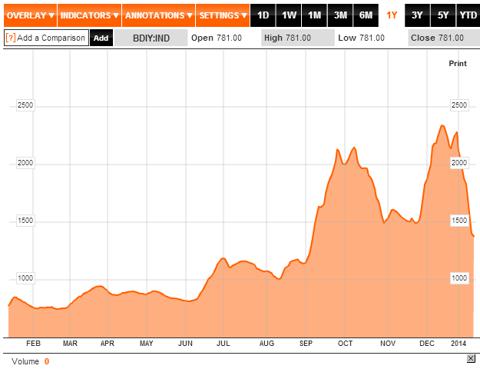 Talk about volatility! The ride since September has been very exciting to say the least. The Baltic Dry Index has traded from 1100 to 2350, only to give up a majority of those gains, settling today at 1374.
The question now is: where do we go from here?
The economy remains in focus, economists see coordinated economic global growth for the first time since the financial crisis. This is bullish for the shipping industry. It appears that DryShips' share price is basing in a 2nd stage and may trade sideways for a period of time while investors wait for the next earnings report. It's my view that we will see improved earnings from DryShips, which may move the stock over the $5 level.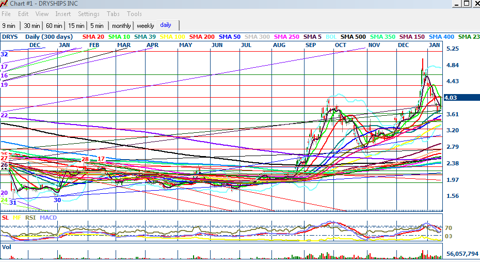 In my examination of the charts, I believe this stock will trade in a range along with the Baltic Dry Index until investors have more data points.
I see a silver lining here that some investors may be missing, while focusing on the seasonal drop in dry bulk rates. Rates for Suezmax are trading over 10 times where they were 5 months ago. This will go a long way towards restoring profitability for some in the sector.
Tankers
Shipping companies holding Suezmax and Aframax ships in their portfolio are seeing a continued spike in rates. DryShips has a mix of 10 in their portfolio. Frontline Ltd. (NYSE:FRO) and particularly Nordic American Tanker LTD (NYSE:NAT) also stand to gain from this recent activity.
Nordic American Tanker CEO Herbjorn Hansson recently wrote another brief letter to shareholders. I love the way he communicates to fellow owners of the stock. Let me share it with you. Potential investors can click here to view the letter from the web.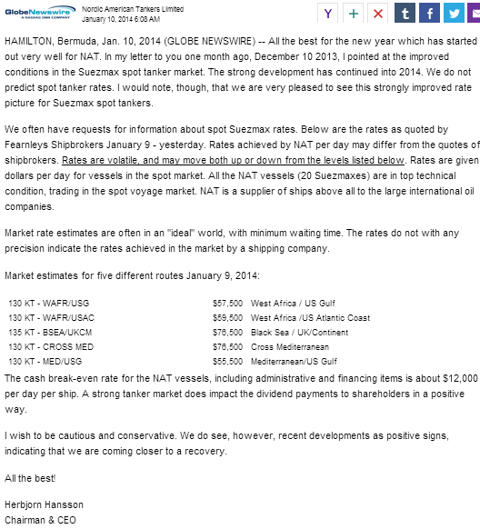 Communication
Every CEO could learn a lesson from Mr. Hannson. He is precise, to the point and willing to share information; these qualities are what I look for in a CEO. Nordic American Tanker is up over 25% since I wrote an article on 3 shipping stocks that could double in 2014. These spot rates go along with my thesis on why I like Nordic American Tanker. The company has 20 Suezmax in tip top shape. You can read more details from another article I wrote: All aboard Nordic American Tankers, by clicking here.
Look at the monthly chart.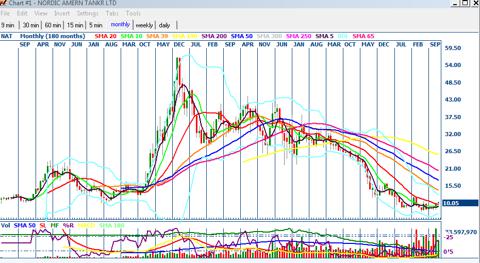 You can see large volume on a positive move. In my opinion, volume tells the story here; I believe this stock will reward shareholders in 2014. Nordic American Tanker announced today that Nordic American Offshore Limited (NYSE:NAO), took delivery of their 6th and final platform supply vessels. Nordic American Offshore Ltd is currently trading on the Norwegian OTC (over the counter) market with Nordic American Tankers Limited as its biggest shareholder, holding 26% of the company. They plan to take the company public on the NYSE in the first quarter of 2014.
In my opinion, DryShip's CEO George Economou has lessons to learn when it comes to shareholder communication and building trust. The after-hours surprise on December 31st calling for the re-opening of the $200M ATM caused the stock to lose momentum, and fall from $4.70 to $3.61 on January 13th.
Recently I wrote an article about a new trading range, and a consolidation of gains. I called on the stock to possibly trade down to the $3.80 level, which it did, undercutting that low to $3.61. In all actuality this was a healthy move for the stock, it may test and retest again. No one is sure if the company is done selling, but there is no doubt that with the recent plunge in shipping rates, the CEO was opportunistic. In a sense that is good for shareholders. Once potential investors feel they have found the range, the stock can base and make another run. That may be happening now. The stock is up 7% today. We may now be in the $3.82 to $4.24 range until further developments are revealed by management.
Shareholders will be looking for answers on the next earnings call as to the completion of the ATM, as well as an update on the deposits from the 4 ships that may or may not be built In China. The company should have answers to those questions and an update on the relaxation of covenants. In my view, communication with shareholders at this point and time is crucial to investor confidence in this company.
The Chinese New Year is a historically weaker period for shipping rates. Investors will have to wait and see how the spring season correlates with dry bulk rates going forward.
Conclusion
Shipping rates will have volatility for the near foreseeable future. Pick your entry points carefully, while keeping a close eye on rates. If you believe the economy is improving, then it would be wise to buy panic weakness in strong companies that can weather the storm. Continuing Global growth will continue to propel shipping stocks forward in the future. I encourage investors to crack open a 10Q and do your own research. Before purchasing any stock, have an exit strategy in place. Good trading and investing to you all.
Disclosure: I am long DRYS, PBR, KWK. I wrote this article myself, and it expresses my own opinions. I am not receiving compensation for it (other than from Seeking Alpha). I have no business relationship with any company whose stock is mentioned in this article. I may go long NAT and FRO at any moment.