From time to time the stock market serves up a true rarity of a stock that begs the question, "how in the heck did that happen?" While the stock of Tesla (NASDAQ:TSLA) which trades at an eye-popping 43 times 2015 earnings is absurdly expensive stock, at least the car company is doing something really unique. Or in the case of Organovo (NYSEMKT:ONVO) with a spectacular market cap approaching $1 billion, while there is virtually no likelihood of the company growing into its current valuation, at least it is based on some cool science -- three-dimensional (3D) bioprinting. But the stock in focus for this article is Azure Holding Group (OTCPK:AZRH), a true rare-find of a stock. The company currently has a market cap of $200 million with only $236 in its checking account, -$3,631 in negative equity, and no paid employees. Until recently the company had intended to buy used cars in the United States and sell them in Russia, actually selling one car in 2012 for $8,900. The company was run by Ms. Olga Chernetckaia, a 31 year old sole proprietor. From the S-1 filed by the company in October 2012 (link) we see Ms. Chernetckaia was "involved in the business of exporting and reselling of used Japanese cars in Russia. Ms. Chernetckaia intends to devote close to 50% (20 hours /week) of her time to planning and organizing activities of Azure Holding Group Corp." From this description it is fairly easy to see how the original business plan did not work out so well. Luckily for Ms. Chernetckaia, her 82 million shares of Azure Holding are now worth a cool $130mm.
How Does This Sort of Thing Happen?
Azure Holding sprang to life after incorporating in Nevada in 2012 and filed the S-1 document in October 2012 as a "development stage company". The filing enabled existing investors to sell 2.6 million shares of stock at $0.03. The shares had been purchased during private placements for the initial funding of the company. With 8.1 million total shares outstanding at the time of the filing, Azure Holding had a $240,000 market cap at the time. The filing also shows that the company had $31,000 in total assets at that time. With these modest assets and a plan for selling used cars, Azure Holding was simply a penny stock that was little more than a public shell company (link).
There appears to be only one trade for the stock of Azure Holding in 2013 prior to November. This trade took place on April 15 for 15,000 shares at a price of $0.0167. The stock of Azure Holding was bumping along with a valuation of $136,000 market cap that was fitting of a company in the form of a public shell with a distant plan. Then in June 2013 the company quietly split its shares in a 15 for 1 fashion, from the most recent 10K filing, "shareholders approved a forward stock split of our issued and outstanding shares of common stock on a 15 new for one (1) old basis, such that our issued and outstanding shares of common stock will be increased from 8,150,000 to 122,250,000 common shares, all with a par value of $0.001" (link). Then in late November of 2013, somewhat magically and off of the radar screen of most traders, Azure Holding started trading above $1.10 on a few thousand shares per day on no apparent news. Given the stock split, Azure Holding had catapulted to a market capitalization of $122 million based on no apparent news! In the final two months of 2013, the stock crept from $1.12 to $1.30 on slightly increasing volume. And since the start of 2014 the stock has continued to ascend on less than 100,000 shares per day to close at $1.62 last Friday. At this closing price this development company/turned auto exporter/turned shell company sports an unbelievable $197 million market cap. With a 1,000 times increase in its valuation over an 8 month period, the stock rise puts even TSLA to shame.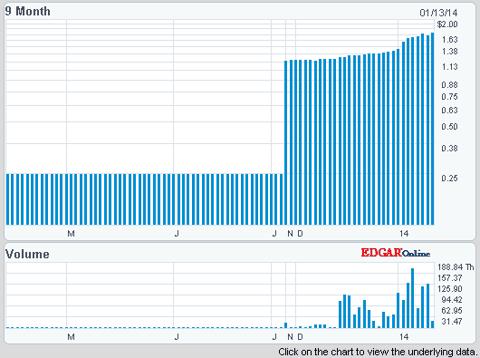 The entire magical act by the stock of Azure Holding is puzzling and appears to be enabled by the following: the obscurity of the company itself, the possibility a few parties interested in "walking" the stock price higher, and low trading volume. In particular, the ingredient of low trading volume is something that enables almost any stock to trade a shockingly high market cap. But at the present time, given the stock's rise and increased trading volume, it has surely been noted by penny stock traders wanting to get a piece of the positive action. Typically this crowd does not spend much time looking at SEC filings or asking how a stock price came to be. They only hope that the ride continues.
So How Does This End?
On January 8, 2014 Ms. Chernetckaia resigned as CEO of the company. The board of directors (consisting only of Ms. Chernetckaia) appointed Paul Martin as the new CEO and sole officer to develop a "plan of operations, based on developing marketing mobile advertising services that use audio watermarking technology to transmit advertising content to smart phones, tablets and other handheld devices." At least the new gig sounds sexier than reselling used autos into Russia. My guess is that company will use the inflated stock price as a starting point to raise money at a much lower price in a hope to finance the new technology aspirations. Whatever the new direction of the company real sellers will likely emerge in the near future and push the stock down far below $1 where the stock's valuation is more reflective of it actual prospects. I hope that Ms. Chernetckaia is savvy enough to soon find the sell button so she can realize some of her new-found fortune.
Sometimes, you just can't make this stuff up.
Disclosure: I am short AZRH, . I wrote this article myself, and it expresses my own opinions. I am not receiving compensation for it. I have no business relationship with any company whose stock is mentioned in this article.