Aluminum giant Alcoa's (NYSE:AA) fourth-quarter results left much to be desired. Revenue fell more than 5% from the same period a year ago, as a huge non-cash goodwill impairment charge tied to legacy smelting operations pushed earnings deep into the red. Though on an adjusted basis the firm generated net income of $40 million, or $0.04 per share, the performance was terrible and showed how weak aluminum prices, which were 7% lower than the year-ago period, can punish results. The aluminum giant earned $0.06 per share on an adjusted basis in last year's period. At the end of the quarter, Alcoa noted that 57% of its revenue and 80% of its segment profits came from value-add businesses (Engineered Products and Solutions and Global Rolled Products). Though the mix is improving, the shift is not enough.
More important from an analytical perspective was the company's outlook for specific global end market demand:
In 2014, Alcoa projects global growth in the aerospace (7 percent to 8 percent), automotive (1 percent to 4 percent), packaging (2 percent to 3 percent), and building and construction (4 percent to 6 percent) markets. After a strong 2013, Alcoa projects a steady commercial transportation market (-1 percent to 3 percent), and a decline in the industrial gas turbine market (-8 percent to -12 percent) on lower orders for new gas turbines and spare parts…Alcoa sees global aluminum demand growth of 7 percent in 2014, after 7 percent growth in 2013.
We believe aerospace via Boeing's (NYSE:BA) recent performance and automotive via Ford's (NYSE:F) future outlook (setting 17 million units as a target for US industry volume at the high end of the guided range) may suggest Alcoa's rosy forecasts for 2014 may still be too conservative. The outlook for a stronger North American heavy duty truck builds offset by weaker European performance is consistent with our view, and the gradual recovery in the North American construction markets is undeniable. Though there is continued pressure on packaging volumes and prices, modest growth should be anticipated for the year. We think Alcoa's forecast for a softening global industrial gas turbine market may be in part a result of market share losses. We don't think declines will be that steep.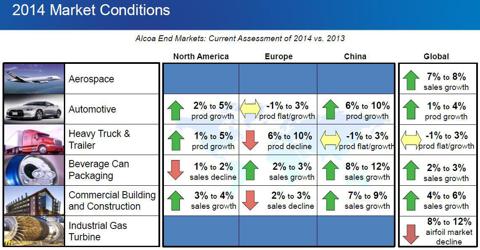 Image Source: Alcoa
The global aluminum giant continues to improve working capital turns, achieving a record low 'Days Working Capital' in the quarter (20 versus 24 in last year's quarter and 27 in the year before that). Alcoa also remains rightly focused on generating free cash flow and managing its leveraged balance sheet. The company's free cash flow (operating cash flow less capex) came in at a modest $385 million in 2013, and while that is better than burning through cash, it represented a mere 1.7% of annual revenue. And while the firm reduced its total debt to $8.3 billion in 2013 from $8.8 billion in 2012, with net-debt of $6.9 billion, the lowest since 2006, its poor cash flow generation means it will be a highly-levered entity in a wildly cyclical industry for some time to come. Alcoa's debt is rated junk.
Valuentum's Take
Alcoa's biggest operating challenges will be to lower the cost basis on its commodity segment and grow its value-add revenue streams. Though the company continues to generate positive free cash flow, its debt burden will eventually catch up to it during the next economic downturn, which will send both prices and volumes materially lower. We're not at all interested in Alcoa's shares, and we think investors will be hurt when global economic growth inevitably begins to slow. Our best ideas reside in the Best Ideas portfolio and Dividend Growth portfolio.
Disclosure: I have no positions in any stocks mentioned, and no plans to initiate any positions within the next 72 hours. I wrote this article myself, and it expresses my own opinions. I am not receiving compensation for it (other than from Seeking Alpha). I have no business relationship with any company whose stock is mentioned in this article.
Additional disclosure: F is included in the portfolio of our Best Ideas Newsletter.