The PIMCO Total Return ETF (NYSEARCA:BOND) was launched in March 2012, as an actively managed ETF using a similar strategy to its hugely popular PIMCO Total Return mutual fund. Both funds are managed by Bill Gross, one of the most prominent bond investors in the U.S. The strategy of both funds seeks to maximize total returns by holding a diversified portfolio of high quality bonds.
Since its inception to the end of 2012, the BOND ETF strongly outperformed its sister mutual fund by 444 basis points. Many analysts have attributed the ETF's outperformance on its smaller size, which allows the best individual bond selections to represent a greater proportion of the fund's holdings. For 2013, the ETF's outperformance narrowed to 77 basis points, with the ETF underperforming the mutual fund by 35 basis points during the second half of 2013. With increasing concerns over rising interest rates, the ETF saw modest net outflows of $197 million in 2013.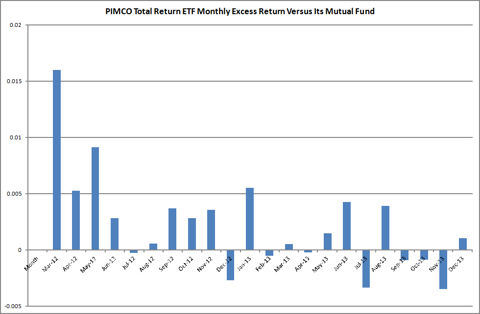 Nevertheless, the ETF still benefits from a lower annual expense ratio of 0.55% than the 0.85% charged by its sister mutual fund's A class shares, and investors of the ETF do not have to pay an initial sales charge of up to 3.75%. The institutional shares of the PIMCO Total Return mutual fund does have a lower annual expense ratio of 0.46%, but the minimum investment required is $1 million. So, for most individual investors, the ETF still benefits from a huge cost advantage over the mutual fund, and is worth a consideration even if the ETF no longer outperforms its sister mutual fund.
However, as the Fed tapers asset purchases, investors may want to avoid funds that are exposed to bonds with longer maturities. As of December 31, 2013, the ETF's portfolio had an average effective maturity of 7.10 years, with 14% of the portfolio in bonds with a maturity of 10 years or more. Even though the PIMCO Total Return mutual fund and PIMCO's BOND ETF may continue to outperform many of its peers, the performance of these funds cannot escape the effects of falling bond prices when interest rates rise.
Given current market conditions and expectations of rising bond yields, investors may instead wish to look at bond ETFs with shorter maturities for the near future. The Vanguard Short-Term Bond ETF (NYSEARCA:BSV) tracks the performance of the Barclays U.S. 1-5 Year Government/Credit Float Adjusted Index, and has an average maturity of less than 3 years. The BSV ETF is also quite attractive because of its low expense ratio of 0.10%. Investors with greater risk appetites may also consider equity ETFs, including the Schwab U.S. Broad Market ETF (NYSEARCA:SCHB), which has an expense ratio of only 0.04%. The Schwab U.S. Broad Market ETF offers broad exposure across large and small cap U.S. stocks, by tracking the Dow Jones U.S. Broad Stock Market Index.
Disclosure: I have no positions in any stocks mentioned, and no plans to initiate any positions within the next 72 hours. I wrote this article myself, and it expresses my own opinions. I am not receiving compensation for it (other than from Seeking Alpha). I have no business relationship with any company whose stock is mentioned in this article.