The nerves of the Herbalife (NYSE:HLF) longs continue to show themselves. The very same group hell-bent on pushing that Herbalife has a demonstrably legal, untouchable, ever growing business plan looks like they're selling off to the tune of 5% pre market this morning - on a headline that doesn't really even have Herbalife in the headline. Yet.
We talked in my last article about Herbalife longs who are starting to get the feeling of potentially having their hand caught in the cookie jar:
And, there's some longs that "have their hands in the cookie jar." I'm guessing that this group represents a majority of the longs in Herbalife stock - possibly inclusive of the billionaire investors, as well. These are investors that are either invested in the stock for its momentum or to ride the coat-tails of the billionaires invested as well. These people don't care about the viability of multi-level marketing companies, the people they prey on, or possible regulatory action. These people are investing strictly because they think the stock price will continue to go up, regardless of the business.
We saw a little nod to this skittishness two weeks ago when it was announced that the FTC was going to be investigating certain weight loss fads. Herbalife - which was never mentioned by name - dropped sharply on the day of the announcement.
The nerves are starting to get to Herbalife longs. Could I be wrong? What if that Ackman guy was right all along? These shakes taste like an old gym sock!
Incidentally, the following Tuesday, the FTC came out and announced that they weren't going to be investigating any public companies during this sting, and Herbalife subsequently shot back up - seemingly from investors looking to continue to ride the stock's momo. Only, the stock - for the first time on "good" news in a while - didn't have a ton of push upward.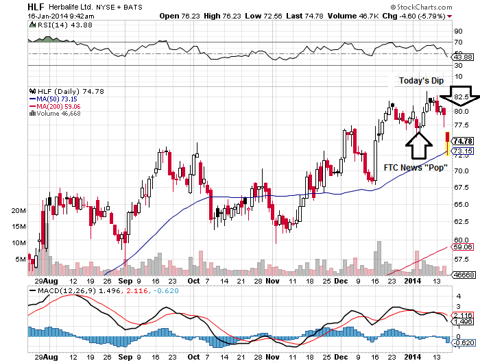 So, imagine my surprise when a Chinese op ed piece on Nu Skin (NYSE:NUS) - another MLM company - surfaced yesterday and pulled Herbalife down with it 1.8%. Today, it was announced that China was, in actuality, probing Nu Skin with a formal investigation, claiming the company is a "suspected illegal pyramid scheme".
Bloomberg reported:
The Chinese government will investigate the operations of Nu Skin Enterprises Inc. (NUS) after the People's Daily said the maker of skin-care and nutritional products is operating a "suspected illegal pyramid scheme." The State Administration for Industry and Commerce is treating the allegations seriously and has asked for an immediate investigation, it said in a statement on its website.

"If the situation proves to be true, the commerce department will deal with it according to the law and regulations," the department said. Shares of the Provo, Utah-based company plunged 16 percent in New York yesterday, the largest decline since October 2004, after the report by the People's Daily. The newspaper said Nu Skin brainwashes its trainees and sells 104 products in China, 20 more than the government allows.
Still think Ackman's first presentation didn't do anything? Wrong. It did one major thing - it put the spotlight on MLM companies in general and is forcing global awareness on the issue. Ackman's original thesis was step one in a long-term plan to shed light on MLMs and Herbalife.
And the same argument I got from longs on the FTC issue - which was basically that "Herbalife wasn't in the headline, so they're not involved" - seems to not be at play here in this particular case. I mean, really, where's the correlation? One sells beauty products, the other sells fitness and lifestyle products. It just happens to be a coincidence that they're both multi-level-marketing companies, I guess.
Quartz.com gives us a look into how China has felt in the past about multi-level marketing companies:
And despite their recent success, China has long been suspicious of direct sales companies. In 1998, Communist Party banned direct selling outright, "because they feared the gatherings might be a cover for religious or other rallies," as one Amway executive explained to Bloomberg. In fact it was even worse than that: Beijing said direct sales companies were the source of "evil cults, secret societies and superstitious and lawless activities."
Herbalife does a considerable amount of business in China. If the company were to implement stricter rules for MLMs - or bans altogether - it could not only set a precedent for other countries to do so, but it could hit Nu Skin and Herbalife's bottom line extremely hard. I'd avoid these companies at any cost as long-term investment vehicles.
Herbalife is a company I've been bearish on since viewing Ackman's original thesis in 2012. I am currently short Herbalife. I have no position in Nu Skin.
Best of luck to all investors.
Disclosure: I am short HLF, . I wrote this article myself, and it expresses my own opinions. I am not receiving compensation for it (other than from Seeking Alpha). I have no business relationship with any company whose stock is mentioned in this article.