H&R Block (NYSE:HRB) is already starting to get some attention from the rating agencies, as is usual shortly before the start of tax season. BTIG upgraded them from a Neutral to a Buy late last week on January 9th with a target share price of roughly $36.00. $36.00 would bring the share price to a multiple of roughly 15 times their future estimate for 2016 EPS which is $2.40. Barrington Research and Morgan Stanley also have H&R Block as a potential outperformer. Oddly enough, last year which was arguably one of the best for the share price of H&R Block, was preceded by downgrades.
This chart shows how price and EPS increased after the downgrade last year: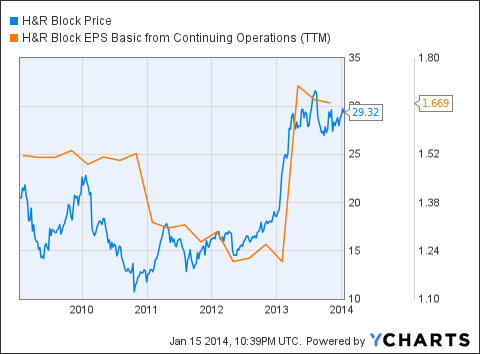 HRB data by YCharts
Also, for the most recently released January 10th earnings statement from H&R Block click here.
So why are the rating agencies so optimistic this year, and should they be?
BTIG's reason for the upgrade was as follows:
We believe the company should be able to sell H&R Block Bank in the not-too-distant future, and that the sale will open up a path to a much higher valuation.
Some of you might remember back in 2010, when HSBC Bank (NYSE:HSBC) stopped working with H&R Block to provide Refund Anticipation Loans which are a key service and competitive advantage within the tax preparation industry. As a result H&R Block, along with a few other tax chains such as Liberty Tax (NASDAQ:TAX), decided to create a separate entity to run banking products. The banking division referenced by the rating agency now runs the Emerald Card which offers 'pay-day-loans' in advance of the refund.
Despite the positive outlook that BTIG has for H&R Block, I still see some trouble for the immediate tax season coming. I can't be sure that it will hurt their share price significantly, as it is quite possible that their banking counterpart will wash out any losses they have from their core tax preparation business. But there are two qualitative factors that I don't like much this year for HRB.
1. The IRS RTRP Exam requirement: This requirement would have most likely decreased the number of people capable of preparing returns, thereby increasing demand for those still doing tax returns. However the jurisdiction of the IRS to regulate the industry was called into question in Loving vs. Commissioner. In this case, the court decided that the undue hardship on Loving's business and a lack of jurisdiction granted by congress on the part of the IRS rendered the regulation null.
From the Court Decision:
With an invalid regulatory regime on the IRS's side of the scale and threat to Plaintiffs' livelihood on the other, the balance of hardships tips strongly in favor of Plaintiffs.
This case was then appealed by the IRS. However it was often thought that even had the IRS lost at court, eventually Congress would pass a bill enabling the IRS to have the appropriate jurisdiction. But, now we have a new IRS chairman who sees things a little differently. In a recent interview from just two weeks ago the IRS Chairman stated that he would prefer that tax return preparers voluntarily take the new certification test and that he would not press the issue which would force preparers to take the exam. If preparers are never required to take the exam, then major tax preparing companies will not benefit from a greater barrier to entry - this could hurt HRB at some point.
2. The January 31st (or late start) for E-Filing: The IRS decided to delay the start of tax season till the end of January. Generally in the tax preparation industry it is helpful to get a person's tax return done immediately after they have the resources necessary to complete the tax return. This is especially the case now that online do-it-yourself programs have begun eating away at the market. Under the late start scenario, most people will get their W-2's by around the 20th (if not earlier) and then attempt to complete their return online. When the end of January approaches they will simply wait at their computer in their home and push 'send' at midnight.
The effect of the delayed start to tax season has often been seen by local tax preparers when a snow storm arrives that shuts down businesses. Prior to the snow storm customers are plentiful, after the snow storm people don't need the service because they have completed the process at home. In other words, with the delayed start to tax season, people will spend their extra time finding a more economical method of filing.
Conclusion:
While points 1 & 2 may not severely impact H&R Block this coming tax season, I still think that these are issues that must be dealt with in some way (especially point 1). Perhaps H&R Block is a good buy, but I really doubt we will see the same $15 dollar jump in stock price that we saw last year.
Disclosure: I have no positions in any stocks mentioned, and no plans to initiate any positions within the next 72 hours. I wrote this article myself, and it expresses my own opinions. I am not receiving compensation for it (other than from Seeking Alpha). I have no business relationship with any company whose stock is mentioned in this article.