After identifying the core holdings and non-core holdings in my portfolio, the Whistler Income and Growth portfolio, I found out that my core only accounted for 63% of my whole portfolio. One way I can increase my core is to add capital to existing core holdings.
Criterion 1: Expected Return of 10% or Higher
In this article, I'm going to explore which of my existing core holdings are estimated to give the highest total returns in the next 5 years. The average return of investing in the market is 6%, so I'll list ones with expected returns of 10% or higher.
Criterion 2: Estimation from at least 10 Analysts
In addition, there must be at least 10 analysts involved in the estimation for a company to be included since if only a small number of analysts made an estimation, the estimation will be biased in their view. The following core holdings are eliminated due to small number of analyst estimation: BCE (NYSE:BCE), Royal Bank of Canada (NYSE:RY), Bank of Nova Scotia (NYSE:BNS), and Telus (NYSE:TU). I'm also excluding Chevron (NYSE:CVX) from the list because the estimation tool expects an eventual P/E of 15, but for the majority of the past 15 years, Chevron traded below that with a normal P/E of 11. Personally, I would consider adding to Chevron at the 3.5% yield point. Similar reason as Chevron, I'm also excluding Enbridge (NYSE:ENB) from this list.
Criterion 3: Fair Valuation
Buying at proper valuation helps in capital preservation. So, another criterion for the company to be included is that it must be at least at fair valuation.
I'll now review my core holdings with FAST graphs.
Whistler Core Holdings with Estimated Returns of 10+%
| Ticker | 5Yr. Est. Total Return | Number of Analysts | Price* | Yield* |
| --- | --- | --- | --- | --- |
| International Business Machines (NYSE:IBM) | 17.6% | 27 | $184.16 | 2.1% |
| Target (NYSE:TGT) | 15.4% | 24 | $61.5 | 2.8% |
| Microsoft (NASDAQ:MSFT) | 13.8% | 31 | $34.98 | 3.2% |
| Union Pacific (NYSE:UNP) | 13.8% | 28 | $168.05 | 1.9% |
| Rogers Communications (NYSE:RCI) | 12.1% | 10 | $43.35 | 3.8% |
| Wal-Mart (NYSE:WMT) | 11.7% | 28 | $77.49 | 2.4% |
* Price and Yield at close of January 13, 2014
IBM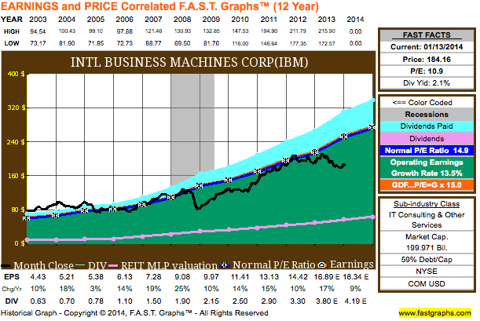 Click to enlarge
IBM gives a nice FAST graph. The orange earnings line continues to climb steadily upward. Likewise with its dividend increases. It's currently attractively valued with a P/E of 11, while eventually, I expect it to trade at P/E 15, which it's close to its long-term normal P/E.
TGT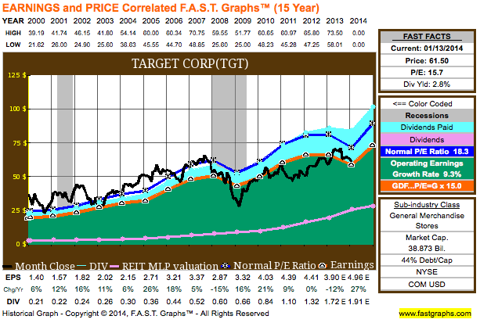 Click to enlarge
In the last recession, Target's earnings per share dropped $0.50 or 17.4%. So, it seems Target is not recession-proof. However, it is in the fair value range, and is yielding 2.8%, which is at the 10 year high.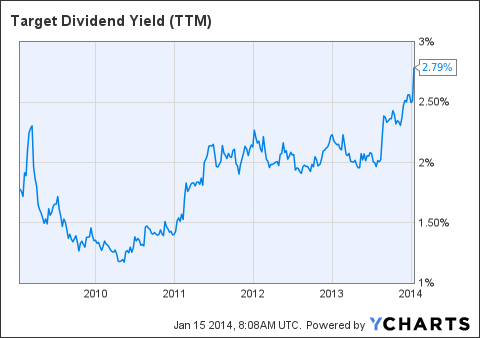 TGT Dividend Yield (TTM) data by YCharts
MSFT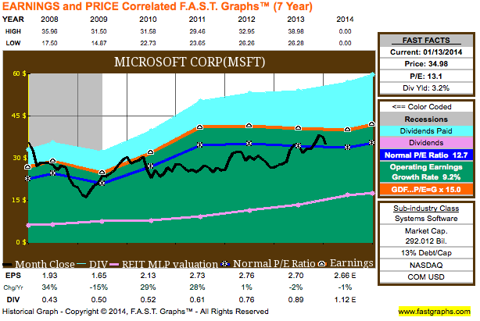 Click to enlarge
After being excessively overvalued in the tech bubble, Microsoft stayed overvalued, until in 2008 when its price finally crossed under the orange earnings line. I believe in the long term, Microsoft will head towards a P/E of 15, which would give us the 13.8% annual return.
UNP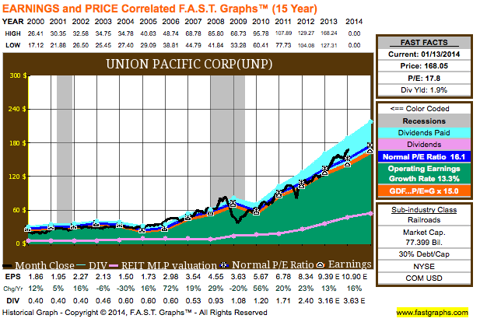 Click to enlarge
With UNP's high earnings growth, I view its current price as being in the fair value range. I don't think one can go wrong with dollar-cost averaging into this company on dips.
RCI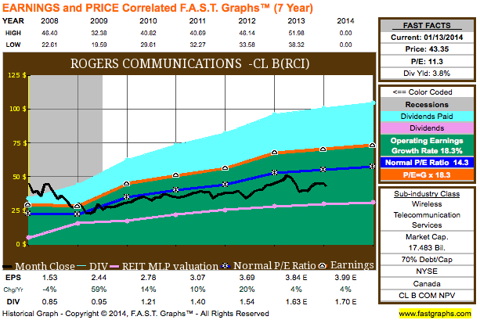 Click to enlarge
Rogers is currently undervalued. However, investors might want to take note that its estimated earnings growth in the next 5 years is 4% per year and that it has a high debt ratio of 70%.
WMT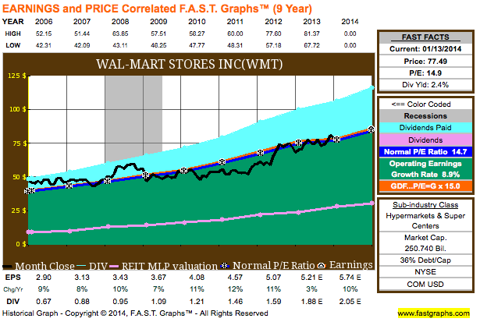 Click to enlarge
Recently, Wal-Mart's price is following closely with its earnings growth. This FAST Graph shows that Wal-Mart's price is touching the earnings line, indicating buying shares around this price is a fair deal.
Which of your core holdings are you adding to this year?
Are you considering estimated total returns, valuations, and earnings growth?
Disclosure: I am long CVX, IBM, MSFT, TGT, UNP. I wrote this article myself, and it expresses my own opinions. I am not receiving compensation for it (other than from Seeking Alpha). I have no business relationship with any company whose stock is mentioned in this article. Holding BCE, BNS, ENB, RCI.B, RY, T on the TSE.