FLYHT Aerospace (OTCPK: AMSLF) is a Calgary, Canada-based company that provides real-time data communications equipment and services to the aerospace industry. The sweetest part of its product and service offerings is that FLYHT was the first to offer a technology that enables instant streaming of live data to and from an aircraft in any part of the world, the Automated Flight Information Reporting System (AFIRS).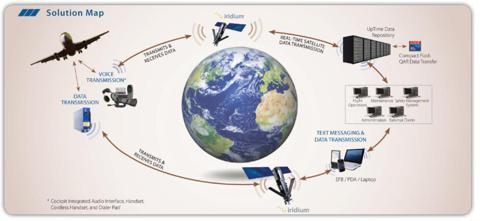 Source: company presentation
An underappreciated stock
For over 6 years now, FLYHT's shares have seen nothing but under appreciation. From $0.66 per share in October 2007, the company's shares are currently trading around $0.47 per share. Although between December 2007 and early March 2008, the shares traded up to $1.00+, but from then it has been on a downtrend. As of publishing, the shares are trading at less than half of its price between December 2007 and March 2008 at $0.39.
To sum it up, the company's shares have significantly underperformed, but the good news is that the company's fundamentals are already turning and expected to continue changing for the better. Based on a number of major drivers, the share price can't get any worse and it is poised to significantly appreciate over the next 12 to 24 months.
Why the stock has been underappreciated
There is this popular saying that in order to understand where you are going, you should know where you are coming from. I deduce from the company's filing that over the years, even though it has been growing its revenue, it has remained unprofitable. This is as a result of the huge expenses, especially in Research & Development.
As a result of it being unprofitable within those years, it negatively impacted on investors' sentiment and the share price saw nothing but the bottom. However, with the era of huge expenses over, as depicted by the company's first, second and third quarters of 2013 reports, the company is poised for a sustained earnings growth.
The company reported revenue of $1.7 million in the first quarter of 2013, a 54% increase over the same period of fiscal 2012. Net loss was reduced by 55.4% in the same period. Second quarter revenue was $2.1 million, with net loss decreased 46.9% over the same period in fiscal 2012. For third quarter of 2013, revenue increased 40.9% and by 9 months of fiscal 2013, FLYHT's net loss (excluding R&D), has been reduced by 53.3% in comparison to the same period a year ago. With the continued decline in expenses and increase in gross profit margin, FLYHT is set to begin a year-over-year earnings growth as management works towards growing the company's cash position. This means that the company's shares should see significant upside from its current level of $0.44.
Key components to the thesis
There are three key components to this thesis and they are:
Unparalleled technology package for the airline industry: Up until FLYHT developed its AFIRS technology, there was limited capacity for the majority of aircraft to provide real-time data for operations management and control. This led to incessant and unplanned delays and costly maintenance of aircraft. The company became the first in history to provide a technology that monitors essential aircraft functions and at the same time, transmits critical data to the ground in real-time, no matter where the aircraft is. With this head-start, the company could be able to accumulate significant market share.
High barriers to entry: FLYHT already holds multiple approved and pending patents on all its products. It also holds over 40 approved Supplemental Type Certificates, with approximately another 10 or more pending.
Monthly recurring revenues under multi year contracts: FLYHT's revenues come from four sources: UpTime sales, UpTime usage, Parts and Services. However, Uptime usage accounts for a significant portion of the company's total annual revenues (approximately 48%). One good thing about the recurring revenue is that even with a decrease in flight hours from one or more customers, the revenue continues growing instead of decreasing. A good example fiscal 2012 which witnessed a significant reduction in flight hours as compared to 2011. This was due to a decrease in airlifts related to US military operations. Instead of going down, the recurring revenues continued its year over year increase. With FLYHT not wholly dependent on one-time sales for its revenues, the 48% of recurring revenue mitigates the risk of little or no sales in any given year.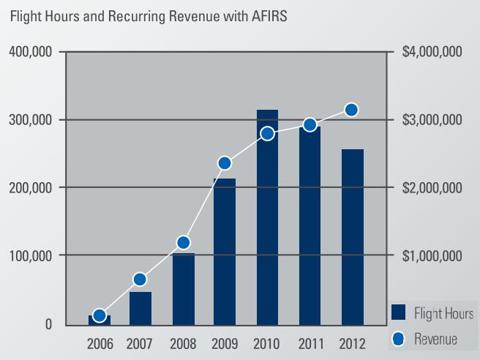 Source: 2012 Annual Report
Contracts awarded in first 9 months of 2013
In the first quarter of fiscal 2013, the company was awarded a Nigerian contract to install its AFIRS 220 on five Airbus (OTCPK:EADSF) A319 and A320 aircraft. It was also awarded a contract in China to install the same AFIRS 220 on aircraft of 3 new contractors.
In second quarter, it got a purchase order for AFIRS 228 for 7 Lockheed CV30 Hercules aircraft. It also got a Maldivian contract to install AFIRS 220 or 228 on 2 Boeing 767 aircraft.
In third quarter of 2013, it got another Nigerian contract to install AFIRS 220 on 4 Boeing 737 Model aircraft.
Apart from these contracts, it also received multiple activation Supplemental Type Certificates for AFIRS 220 and 228 for various models of aircraft. With the hardware revenue in the lifetime of the AFIRS 220 expected to exceed $15 million, the company and investors are in for a jolly ride as more contracts are awarded and expenses are significantly reduced.
Risks of the investment
As with every other business, there are certain risks associated with FLYHT's business which could in turn, have significant impact on the company's revenues and earnings. Some of these risks are:
Prolonged duration of AFIRS installation: According to the company, the AFIRS 220 takes approximately 200 man-hours to install on an aircraft. It could also be longer depending on the aircraft type and its crew. The result is that the company usually has to wait for a potential customer's aircraft to be due for c-checks before the installation can take place. Since it usually takes 2 to 3 years for an aircraft to be due for c-checks, depending mostly on the number of segments flown by the aircraft, there is a delay in initial revenue and subsequent recurring revenue. This usually impacts on revenues and earnings. In order to mitigate this risk, FLYHT does three things: encourages its customers to carry out the installation at the aircraft's earliest availability, makes sure the box is available at the appropriate time for installation and best of all, offers special discounts to customers who pay for the units upfront instead of waiting to pay upon installation. Although the last option slightly impacts on the company's gross margin, it increases chances of the company accruing revenue immediately after an agreement is signed with a given customer.
Revenue determined by economic trends: The industry which FLYHT's customers operate in is one that ties its finances to prevailing global economic trends. This means that during recessions, FLYHT's customers are sure to cut down on spending and this might negatively impact on the company's revenue, especially as its AFIRS is viewed as a value-added product.
Continued production dependent on key personnel: There is no denying the fact that FLYHT's AFIRS technology is rare and as such, design and development of follow-up products is dependent on specially skilled workforce. This means that the loss of one or more of the staff would affect the company's ability to effectively complete STCs on time. This risk is however, mitigated by the management's strategy of distributing the specified knowledge among a number of key individuals in the company.
High interest debentures: FLYHT currently maintains high interest debentures which will mature mid 2016. The earlier it retires its debts, the better for the company's growth.
Catalysts that will boost investor returns going forward
As I mentioned earlier, FLYHT's investors have not seen better days during the development periods of the AFIRS 220 and AFIRS 228. However, going forward, there are several catalysts that will boost investor returns and include:
Steadily decreasing expenses
Increasing global sales presence
Multiple approved and pending patents
Strong pipeline of prospective clients
Increasing installation momentum
Potential conversion of installations to recurring revenue
Asymmetric risk and reward
At the current level the stock is trading at, all the negatives are priced in which includes the heavy expenses and long standing net losses. With the company poised for growth, it definitely will get better than getting worse. This makes the company's current share price a huge discount considering the level it would be in the next 12 to 24 months.
Although the share price will not skyrocket at a glance, with management already executing on its prediction of considerably reduced expenses in 2013 and beyond, the shares surely have no place to go but back up to the $1.00+ it was trading at between late 2007 and early 2008. If the share price gets back to $1.00, that would imply an upside of 112%. On the downside, it would not be less than $0.40 which implies 14% downside. This makes a good risk/reward ratio with the potential outcome to benefit long-term investors.
Final thoughts
FLYHT's minimal income and huge expenses over the past years is already priced into the shares current price and as such, it can only get better as the next 12-24 months sees the company's share price appreciating significantly. This is especially true as the company spends less and gains more from sales and recurring monthly revenues. With the increasing adoption of its unparalleled technology package, continuing global market penetration, high barriers to entry and multiple approved and pending patents, there is a clear runway for FLYHT's top and bottomline growth.
Yes, with its head-start on AFIRS technology in the aerospace industry and management's proven ability to execute on its predictions, more clarity on future earnings growth and utilization of opportunities ahead, FLYHT's shares could see a significant rebound in the next one to two years. I strongly believe the company's shares are currently undervalued by ~127% and make an attractive investment opportunity.
Disclosure: I have no positions in any stocks mentioned, and no plans to initiate any positions within the next 72 hours. I wrote this article myself, and it expresses my own opinions. I am not receiving compensation for it (other than from Seeking Alpha). I have no business relationship with any company whose stock is mentioned in this article.