One of the themes we believe will be a big winner in 2014 is that banks will see earnings grow significantly as they are able to get back to business and put much of their legal issues behind them. As we look at the situation after the first batch of earnings have been announced for this quarter we realize that there is a lot to be desired still, but these figures are still from 2013 and not the 2014 calendar year. JPMorgan (NYSE:JPM) appears to have turned the corner as they have put significant portions of their legal issues behind them in order to move forward and focus on their business rather than the courtroom. The company's share price reflects this and has in fact been strong recently.
The news from Bank of America (NYSE:BAC) was very strong yesterday and might be enough to make them the strongest performer among the money center banks for the quarter. We are not fans of Citigroup (NYSE:C) but believe that the weakness that they are seeing in the mortgage market could very well spell trouble for Wells Fargo (NYSE:WFC) moving forward and possibly even slow down the entire industry's recovery.
Chart of the Day:
Financial stocks have been strong performers over the past year, but our view is that this has simply been the first leg up in a multi-leg run. Financial names, especially the banking names, make up one of the top two sectors that we find ourselves overweight in for 2014.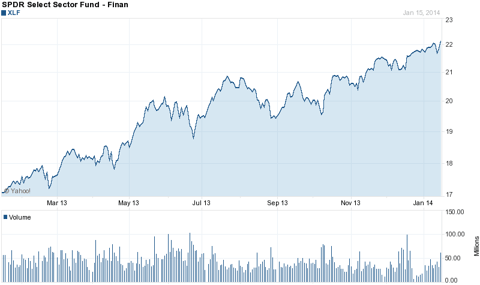 Source: Yahoo Finance
We have economic news today and it is as follows:
Initial Claims (8:30 a.m. EST): Est: 333k Act: 326k
Continuing Claims (8:30 a.m. EST): Est: 2835k Act: 3030k
CPI (8:30 a.m. EST): Est: 0.3% Act: 0.3%
Core CPI (8:30 a.m. EST): Est: 0.2% Act: 0.1%
Net LT TIC Flows (9:00 a.m. EST): Est: N/A Act: -$29.3 Billion
Philadelphia Fed (10:00 a.m. EST): Est: 8.0 Act: 9.4
NAHB Housing Mrkt Index (10:00 a.m. EST): Est: 57 Act: 56
Nat Gas Inventories (10:30 a.m. EST): Est: N/A Act: -287 bcf
Asian markets finished mostly higher today:
All Ordinaries -- up 1.21%
Shanghai Composite -- up 0.02%
Nikkei 225 -- down 0.39%
NZSE 50 -- CLOSED
Seoul Composite -- up 0.21%
In Europe, markets are trading mixed this morning:
CAC 40 -- down 0.21%
DAX -- down 0.11%
FTSE 100 -- up 0.04%
OSE -- up 0.01%
Commentary
In previous articles we have discussed the fact that we like JP Morgan, Bank of America and Wells Fargo among the national banks due to solid management teams, litigation issues being settled and the general economy turning. We have also discussed how we thought that some of their regional counterparts would also do well, and after today's quarter PNC Financial Services Group (NYSE:PNC) would need to be included near the top of the regionals list.
Our advice for certain clients has been to buy solid names individually if the risk tolerance is suitable to their situation with Bank of America as our top name in the category. Among the regionals we really like the names in the southeastern United States as we believe the region's economy will outperform the rest of the country as we return to more normalized growth. That is also part of the reason we picked names like Bank of America and Wells Fargo as our favorite national names; they have a big presence in the southeast.
We like Bank of America due to their core geographic regions, premier wealth management brand with Merrill Lynch and continued improvement in operations.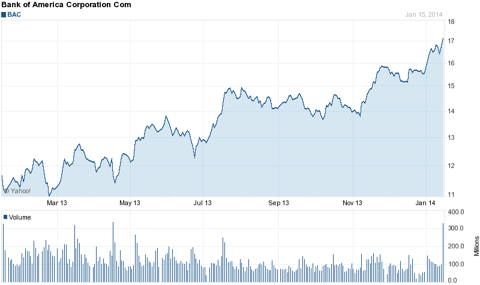 Source: Yahoo Finance
Which is another reason to like PNC Financial. PNC is focused on consolidating its branch network in the northeast and Midwest United States which will result in 200 fewer branches while expanding its presence in the southeastern United States where it sees better growth opportunities. Like the other large mortgage players the bank has cut its mortgage unit workforce and continues to find ways to cut costs. This led to this morning's news that the bank beat its expected EPS figure by $0.22/share and saw revenues beat as well.
PNC did not have the problems some names had during the financial crisis, and because of this they have been able to focus on consolidating market shares in their home region while expanding to new areas and grabbing deposits.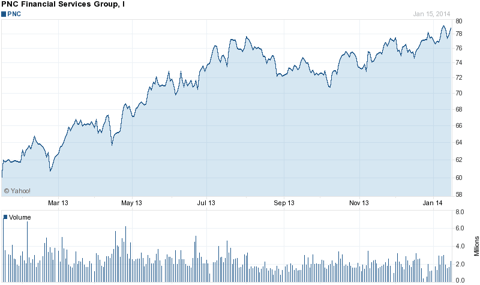 Source: Yahoo Finance
For readers who are looking for less risk we would direct your attention towards the Financial Select Sector SPDR (NYSEARCA:XLF) which diversifies your risk over the geographical United States and among institutions with different focuses. We have been using it to build a core holding in the financial sector while using individual names to deploy risk capital in the hopes of creating larger returns.
Disclosure: I have no positions in any stocks mentioned, and no plans to initiate any positions within the next 72 hours. I wrote this article myself, and it expresses my own opinions. I am not receiving compensation for it (other than from Seeking Alpha). I have no business relationship with any company whose stock is mentioned in this article. Some clients do have positions in BAC and XLF.