AstraZeneca (NYSE:AZN) is a multinational pharmaceutical and biologics company, offering the highest-dividend yield among the largest healthcare companies in the world. Currently, it offers a dividend yield of 4.5%, which is higher than offered by most of its closest peers, and can be either an interesting opportunity for income investors or a dividend trap. I've recently analyzed its closest peer GlaxoSmithKline (NYSE:GSK) and compare both companies throughout this article as they may be the best alternative to one another. AstraZeneca has a market capitalization of about $78 billion, and is traded on the New York Stock Exchange as American Depositary Receipts [ADR].
Company Overview
AstraZeneca is a Swedish-British global, innovation-driven, integrated biopharmaceutical company, specialized in the discovery, development, manufacturing and marketing of prescription medicines. Its product pipeline is focused on six important areas of healthcare, which include some of the world's most serious illnesses: cancer, cardiovascular, gastrointestinal, infection, neuroscience, and respiratory and inflammation. The company was formed in 1999 through the merger of the Sweden-based Astra AB and the U. K.-based Zeneca Group, and currently employs around 50,000 people worldwide. AstraZeneca is among the top ten healthcare companies in the world, thus its major competitors are other industry majors like Pfizer (NYSE:PFE), GlaxoSmithKline, Novartis (NYSE:NVS), or Roche (OTCQX:RHHBY).
Geographically, the company is well diversified with the U.S. being its largest market, accounting for 38% of its sales during 2012. Western Europe was responsible for 23%. Together, these markets represented more than 60% of its sales in 2012, while emerging markets were responsible for 21% of sales. Even though the company's geographical diversification is good, compared to GlaxoSmithKline it is more exposed to developed economies, which is negative for its long-term growth prospects.
Patent Cliff
We are in the middle of a period in which some of the biggest selling drugs the industry has ever produced face patent expiry. This is indeed one of the key issues facing the industry right now, which can negatively impact its revenues, earnings, and its ability to pay juicy dividends to shareholders. AstraZeneca is one of the companies most affected by this issue, given that it has close to 70% of its sales at risk over the next three years due to patent expiries. Moreover, it has already faced some important patent expiries over the past couple of years, which have had a significant negative effect on the company's growth profile.
AstraZeneca believes it will return to growth earlier than analysts' consensus and it expects 2017 revenues to be broadly in line with those of 2013; but this expectation may be too much optimistic given that a few approvals failures will certainly lead AstraZeneca to fail its revenue target. AstraZeneca has treatments in 11 Phase III programs, almost double the number a year ago, and 27 in Phase II studies. This is lower than for GSK, which has 31 products in Phase III studies. AstraZeneca's bullish expectations are also based on new launched products, such as Onglyza, Bydureon or Brilinta. Although these products should partly offset declining revenues of its existing portfolio, the patent cliff seems to be too much higher for the company achieve overall sales growth over the next few years.
Financial Profile & Dividends
Regarding its financial performance, AstraZeneca's has posted weak results over the past couple of years. In 2012, its results were particularly bad due to the loss of exclusivity of several brands in the portfolio. The most important one was Seroquel IR, which lost its patent in the U.S. and a number of generic products were launched leading to a fall in the company's sales of $3 billion. Other products that lost patent were responsible for a $1.5 billion reduction in AstraZeneca's sales. Its overall sales were down by 15% to $28 billion at constant exchange rates. By geography, its weakest market was the U.S. (-21% sales year-on-year), followed by Europe with a 19% decline and Rest of the World (-14% yoy). The only geography that was able to achieve growth was Emerging Markets (+4% yoy), however as its weight in sales is still relatively small and it wasn't enough to offset weakness elsewhere. As sales declined, AstraZeneca's profitability also plunged. In 2012, its EBITDA declined by 18% to $12.4 billion, but this was almost in-line with the sales decline leading to a relatively stable EBITDA margin of 44%. AstraZeneca's net profit declined by 37% to $6.4 billion, or $4.99 per share. During the first nine months of 2013, AstraZeneca continued to report weak figures with revenue and earnings remaining on a downtrend as shown in the next graph.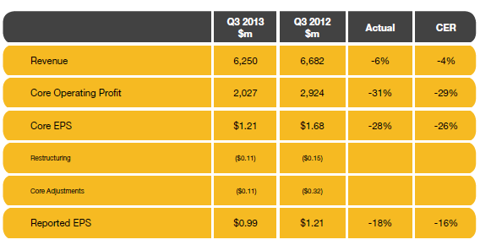 For the next few years, AstraZeneca's declining sales are expected to continue. According to analysts' estimates, in 2014 sales should decline by 2.8%, followed by a drop of 2.1% in 2015 to $24.5 billion. From 2010 to 2015, the company's sales are expected to have a -6% CAGR, showing the headwinds it currently faces. These forecasts are much weaker than for GSK, which is expected to post sales growth of 1.2% in 2014 and 4.2% in 2015. The profitability decline should continue in the short-term given that for 2013 its EBITDA is expected to be only about $9 billion, or an EBITDA margin of 35.3%, representing a decline of close to 10% on its margin. For the next two years, the forecasts aren't better as EBITDA margin is expected to decline further to 34.7% in 2015. Its net profit is expected to be around $4 billion during the next two years, 60% lower than what it was in 2011.
AstraZeneca's financial performance has been bleak and it has one of the worst sales and earnings profile within the major pharmaceutical companies in the world, given the negative expectations' regarding its sales and earnings growth for the next two years. Therefore, without acquisitions the likelihood of the company returning to sustainable growth seems low. AstraZeneca's management seems aware of this challenge and has performed several deals over the past few months.
It has proposed the acquisition of Omthera (NASDAQ:OMTH) and Pearl Pharmaceuticals for about $1.5 billion, and more recently announced an agreement under which AstraZeneca will acquire the entirety of Bristol-Myers Squibb's (NYSE:BMY) interests (50%) in the companies' diabetes alliance to consolidate worldwide ownership of the diabetes business within AstraZeneca. The closing of the transactions contemplated by the agreement is subject to customary terms and conditions, and is expected to occur during the first quarter of 2014. Under this agreement AstraZeneca is expected to pay $3.4 billion in the first quarter of 2014, which includes $2.7 billion in an upfront payment and an additional $700 million assuming regulatory approvals of dapagliflozin. Although this can be good for the company's long-term growth, these acquisitions will lead to lower cash flows available in the short-term to distribute to shareholders, creating more pressure on AstraZeneca's dividend sustainability. Moreover, the joint-venture was not profitable in 2012 and 2013, so AstraZeneca's financial profile is not expected to improve rapidly from this large acquisition as synergies should boost earnings only over the medium-term.
Regarding dividends, the company has adopted a progressive dividend policy intending to maintain or grow the dividend each year. The commitment to maintain or grow the dividend was reaffirmed at the beginning of 2013, despite the steep drop on earnings. Its last annual dividend related to 2012 earnings was $2.80 per share, unchanged from the previous year. At its current stock price, AstraZeneca offers a dividend yield of 4.5% which is slightly lower than GSK's dividend yield. Moreover, it only pays two dividends per year, instead of quarterly payments for GSK. Its dividend payout ratio was 56% in 2012, higher than its target of 50%. For the next few years, AstraZeneca has established $2.80 as a dividend floor. If the company is able to stabilize its business this dividend seems payable, but the risk is clearly on the downside and its growth potential is therefore limited. Furthermore, its share buyback program is suspended since October 2012 and is not expected to be resumed soon, decreasing the company's appeal for income investors.
Conclusion
AstraZeneca offers a high-dividend yield of 4.5%, but its sustainability is questionable due to the company's woes, namely the patent cliff that will continue to hurt its financial performance. Although GlaxoSmithKline offers a lower yield, it is still very attractive for income investors because it is mainly the result of negative news flow that led to negative investor sentiment towards its stock instead of deteriorating business fundamentals. Therefore, GlaxoSmithKline appears to offer better value for lower risk than AstraZeneca.
Disclosure: I have no positions in any stocks mentioned, but may initiate a long position in GSK, over the next 72 hours. I wrote this article myself, and it expresses my own opinions. I am not receiving compensation for it (other than from Seeking Alpha). I have no business relationship with any company whose stock is mentioned in this article.