After posting disappointing Holiday revenue results, Best Buy (NYSE:BBY) is following electronics and video game retailer Gamestop (NYSE:GME) into the trading dumpster. While the market is taking the results horrendously and BBY is down by nearly 30% as of writing, I believe the sell-off is a vast overreaction to the results.
I personally do not recommend buying BBY for greater than $25, but the underlying bull thesis is still intact. The Holiday sales release was to be expected, and actually contains promising information.
History with BBY
Best Buy was one of my top ideas in mid/late 2012. During the attempted takeover by original founder Richard Schulze, I advocated BBY as a short-term trade with long-term potential. After Hubert Joly was appointed CEO, I argued that he would help markedly improve both the perception and performance for the company.
In my conclusion of the latter article (published on August 20, 2012), I predicted:
If Best Buy is not bought out prior to year-end 2012, a likely record-breaking year will cause the stock to soar, and Joly will be hailed as a genius.
The below chart shows the 2-yr performance of BBY (2012-2013), including my articles (red x), taken from Google Finance. As can be seen, BBY posted a 2012 gain of 256% and 123% since my article recommendation.

As BBY soared, the stock price got a bit ahead of its underlying turnaround, and I sold at $30.45-$31.01. As always, I updated my followers: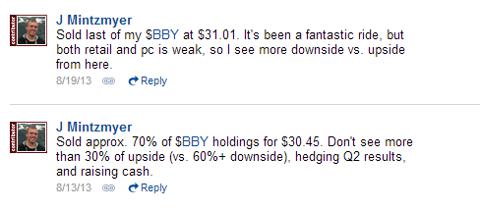 The Case Going Forward
Is BBY a 'bargain' at these current prices? No, but there's a lot of positive indicators in the latest release (despite the huge negative media spin).
These positive indicators include the sizeable 23.5% growth in online sales, as well as a relatively smooth sales season compared to the disasters in 2011. In fact, this growth percentage will likely outpace Amazon's (NASDAQ:AMZN) sales gains in the most recent period. That being said, the law of large #s does apply, as BBY's online sales are still only $1.32B, versus total domestic of $9.75B.
AMZN often posts a loss, so the fact that BBY is really starting to compete on price, and then subsequently reports a lower income is not a huge surprise. Investors cannot have it both ways, BBY must either grow their presence (and image) online or attempt to hold on to highly profitable, but rapidly declining, brick and mortar stores. Clearly the latter approach would result in disaster within a few quarters, so BBY really had no choice.
Eliminating 'Showcase' Phenomenon
I believe BBY offers a product that is in decline, but will never fully go away. Consumers want a 'show case' to view the latest gadgetry, but the current issue is that BBY acts as this showcase while the business ultimately goes to Amazon.
BBY has taken enormous strides to cut this practice, including product differentiation, multiple sales tiers, and price matching. Additionally, with Amazon now collecting sales tax in 19 states, the 'unfair' price advantage of 4-11% is rapidly going away. BBY's online growth of 23.5% is very encouraging, and I believe the growth will continue.
BBY is also shifting to smaller stores and kiosks that offer products the consumers really want. With PC games gone, console games down (and dominated by Gamestop ), physical music dead, physical movies way down, BBY is often left with stores than are underutilizing 40-60% of their space. Prime retail space isn't cheap, and these legacy stores are providing a massive overhang through lease and utility expenditures. These expenses will dramatically improve over the next several years.
As can be seen in the image below, posted on Yelp in 2010, virtually everything in the middle of the store (video games, movies, music) is now a "dead" or "rapidly dying" product category. In this picture those categories make up well over 50% of the store.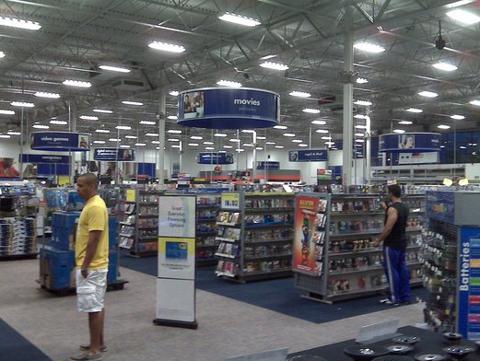 New BBY storefronts are much more open and focus on products that are driving sales. Additionally BBY is experimenting with the store-in-store format, with a Windows (NASDAQ:MSFT) example shown below (note premium lighting, flooring, and spacing):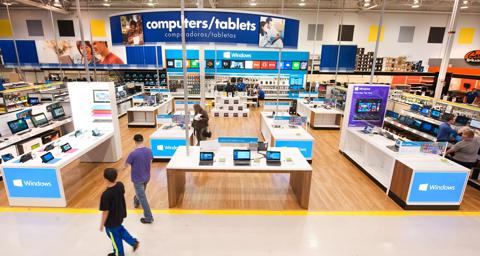 Stabilizing Revenues, Profits, and Improving Liquidity
BBY took major strides throughout 2013 to stabilize their operating results, and although the Holiday sales are 'disappointing,' comparable domestic store sales are only down 0.9% (compared to flat last year). These figures are not promising, but are hardly surprising considering the environment.
During 2013, comparable sales were up 0.9% for Q4-12, down 1.1% for Q1, down 0.4% for Q2, and up 1.7% in Q3. Judging by this pattern, it's easy to see how expectations were high for strong Q4 performance, but seasonality is important here. Last year's Q4 results were a "blowout" of expectations as BBY was expected to be slaughtered by AMZN and Wal-Mart (NYSE:WMT) during the same timeframe, and last year's Q1 was also far better than expected.
Most importantly profits stabilized (70c EPS in first 9M compared to 47c in 2012), operating cash flows improved drastically ($324M compared to negative $121M), and liquidity spiked (current ratio of 1.3 versus 1.06 in 2012).
Still in Transition
The latest release by Best Buy highlights a key theme-transition. BBY will not turn-around their behemoth model in only 5 quarters-it's going to take 2-3 years. Very few turnarounds are as simple as a few price-cuts and instant recovery… just ask Wal-Mart about their struggle to improve US sales.
Clearly the stock market hadn't been watching the abysmal performance in broad retail including big misses, warnings, and poor rumors by Bed Bath & Beyond (NASDAQ:BBBY), Sears/K-Mart (NASDAQ:SHLD), Target (NYSE:TGT), J.C. Penney (NYSE:JCP), and Kohl's (NYSE:KSS) coupled with the mediocre -to-poor technology market performance from Cisco (NASDAQ:CSCO), Intel (NASDAQ:INTC), and Hewlett-Packard (NYSE:HPQ).
Investment Recommendation
So- the selloff is overdone, is BBY a clear buy now? Not really. There's a lot of risk left, and I don't advocate an investment based on the potential risk/reward during 2014. However, IF you are a believer in the core bull thesis, these Holiday sales don't really change much. If anything, the online sales growth is a major victory.
This is why the selloff is overdone. The rational-bull thesis is still 100% intact, as the sell-off is being perpetuated by analysts who seem to have zero situational awareness (poor retail and tech sales everywhere in 2013) and bulls who have unrealistic turn-around timeframe expectations.
In short, BBY isn't a great buy at these prices in my personal opinion, but nothing has changed fundamentally. Anyone who believes in BBY and Hubert Joly has now received a 30% off coupon to go shopping!
Disclosure: I am long HPQ, CSCO, INTC, MSFT. I wrote this article myself, and it expresses my own opinions. I am not receiving compensation for it (other than from Seeking Alpha). I have no business relationship with any company whose stock is mentioned in this article.
Additional disclosure: I was short GME via puts until yesterday, and may enter a position within the next 72 hours on either GME or BBY depending on market pricing.