Red Hat, Inc., (NYSE:RHT) develops applications for enterprises. Its core offerings include its operating system, middleware, and virtualization applications. Its main competitors in the software industry are Microsoft (NASDAQ:MSFT), Oracle (NASDAQ:ORCL), and IBM (NYSE:IBM). To differentiate itself from competitors, Red Hat provides open source developed applications that are significantly lower in price. Consequently, the offerings are attractive to SMBs.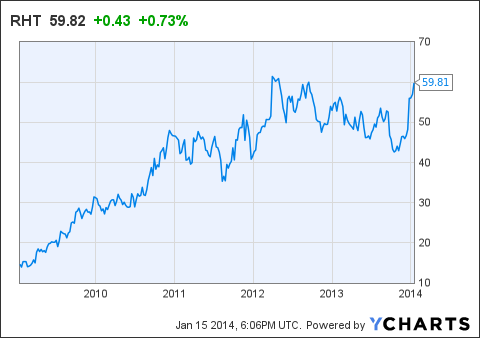 The company reported fiscal third quarter growth that I consider to be in the high teens. Looking forward, I expect Red Hat to grow in the low-to-mid teens during the next five years. The software industry grows in the mid-to-high single digits. And I think Red Hat is well positioned to take market share as companies look to diversify their software portfolios. Also, Red Hat offers its solutions at an attractive price point.
I'm bullish on Red Hat as the company's Enterprise Linux 6, JBoss Middleware, and Enterprise Virtualization offerings are likely to remain competitive in the market. My 12-month price target is $67 per share, but I think Red Hat could reach $75-$80 per share.
Recent Developments
The company continues to build out its partner ecosystem, which continues to grow and impact total annual revenue. This breaks down into a few components: the revamped partner program, deal registration program, teaming incentive program, online partner enablement network, and the North American partner authorization program.
Red Hat announced Test Drives on Amazon Web Services with three Red Hat partners: CITYTECH, Shadow-Soft, and Vizuri. Through the AWS Test Drive Program, users can quickly and easily explore and deploy ready-made solutions built on Red Hat technologies.
The world's leading provider of open source solutions and the CentOS Project are joining forces to build a new CentOS, capable of driving forward development and adoption of next-generation open source technologies.
Tim Yeaton, former CEO of Black Duck Software and a onetime Red Hat executive, has joined Red Hat in the newly created position of senior vice president, Infrastructure Group.
Red Hat reported third quarter revenue of $397 million, up 15% y/y and GAAP operating income of $61 million, up 22% y/y.
Business Summary
Red Hat, Inc., is a provider of open source software solutions, using a community-powered approach to develop and offer reliable and high-performance operating system, middleware, virtualization, storage, and cloud technologies.
Red Hat Enterprise Linux is offered in several versions. The desktop and workstation offerings compete with Microsoft's Windows; the Red Hat OS is priced significantly cheaper than the Microsoft OS. Red Hat Enterprise Linux Server competes with Microsoft's Windows Server; Linux Server comes in multiple forms including an IBM POWER and IBM System z version as well as a virtual datacenter version. Windows is slightly more popular but just slightly (humor).
Red Hat JBoss Middleware is a family of lightweight, cloud-friendly, enterprise-grade products that help enterprises innovate faster, in a smarter way. JBoss competes with Oracle Fusion and IBM WebSphere. Red Hat offers also Enterprise Virtualization for server and desktop, which appears to be a high performer relative to the competition.
Red Hat exhibits the profitability profile of a software company. The GAAP gross margin is in the mid-80% range. The operating margin and net profit margin would be high as well, but management is investing in SG&A (and R&D). Even so, Red Hat's GAAP net profit margin is in the low double digits, which is respectable. Annual revenue should cross the $1.5B mark in fiscal 2014 or 2015.
My money has a cost; so, is Red Hat likely to generate a return on my dollars? I would charge Red Hat $0.58 for my capital for the next 12 months; given the historic returns generated by the firm, Red Hat should easily generate a return on my dollars.
Based on the GAAP financial performance, the liquidity and solvency positions should be excellent. The cash ratio was 0.94 at the end of the November quarter while at the same time the current ratio was 1.43. The liquidity position is good as net cash is $967M, and the company doesn't have any reported debt. The financial leverage ratio is 1.94, which is higher than what I expected because of the share repurchase program.
Cash flow from operations is trending higher. Free cash flow should cross the $400M mark relatively soon as capital expenditure is relatively small. The share repurchase program is significant, but I would like to see a dividend policy established. (I will probably attempt to discuss the dividend policy with the management of the company.) FCF increased 1.5% in fiscal 2013, which followed a 39.3% increase in fiscal 2012; FCF is up 14.5% in the trailing twelve months relative to fiscal 2013.
The total revenue growth rate the past 10 years is phenomenal, 30.8%. Growth slowed recently to the high-teens, low-20s. Given the product line, I think Red Hat could grow in the low-to-mid teens, at least, during the next five years. Simply said, the fundamentals are bullish.
Risks
The share price is likely to remain volatile and investors could lose a portion or all of their investment.
Investors should judge the suitability of an investment in Red Hat in light of their own unique circumstances.
This section does not contain all risks related to an investment in Red Hat.
A decline in the global economic growth rate and/or a decline in the pace of economic growth in the United States could adversely impact the results of operations and the share price.
The technology industry is characterized by rapid technological change, which could materially adversely impact the results of operations.
Competition in product development and pricing could adversely impact performance.
Higher interest rates may reduce demand for Red Hats' offerings and negatively impact the results of operations and the share price.
Valuation
The share price of Red Hat found support at the $42 level. There is a gap higher during December. From a technical perspective, the path of least resistance is towards higher prices. I think $75-$80 per share is possible; $90 is possible but unlikely.
There are diversification benefits to investing in Red Hat. Since 2009, the correlation with the S&P 500 is 0.83, which is statistically significant at the 95% confidence level. But since 2011, the correlation with the S&P 500 is 0.35, which is statistically significant. Since 2013, the correlation is -0.07, which failed to reject the null hypothesis. The evidence suggests that Red Hat is positively correlated with the market.
The broader market does a good job of explaining the variation of the share price of Red Hat. Since 2009, variations of the market explained 68% of the variations of Red Hat. But since 2011, variations of the market explained 12% of the variations of Red Hat. It appears that over longer periods, S&P 500 share price movements explain more of the variations of the share price of Red Hat.
Over the longer period, the Nasdaq explained more of the variation of the share price of Red Hat. Since 2009, Nasdaq share price movements explained 75% of the share price movements of Red Hat. Since 2011, Nasdaq share price movements explained 19% of the share price movements of Red Hat. Longer term, directional calls on the Nasdaq and S&P 500 should be incorporated into Red Hat investment decisions.
I use 3-month, 6-month, and 12-month share price forecasts. The share price forecasts are $61.44, $63.31, and $67.04, respectively. Given the current share price, this represents 3.7%, 6.8%, and 13.1% returns.
A critical question that I need answered is, how likely is Red Hat to outperform the market? Using my proprietary model, currently the market is likely to outperform Red Hat. But there are early signs that Red Hat could outperform.
Given the growth rate, size, and industry, Red Hat is going to be expensive relative to the market. But Red Hat is competing in OS, it is competing in middleware, it is competing in virtualization; so, 7.4 times book value is reasonable. When I factor in the industry, company size, company and industry growth rate and macro economy, I think the multiple could expand and/or the company should continue to post remarkable growth numbers.
Disclosure: I have no positions in any stocks mentioned, and no plans to initiate any positions within the next 72 hours. I wrote this article myself, and it expresses my own opinions. I am not receiving compensation for it (other than from Seeking Alpha). I have no business relationship with any company whose stock is mentioned in this article.