eBay (NASDAQ:EBAY) is up close to 100% over the past 10 years. Solid results for sure, but if you bought after 2003 it has a been a tough ride. Recently, eBay is showing signs of strength since the March lows. PayPal and the large global payment opportunity are reasons to consider eBay right now.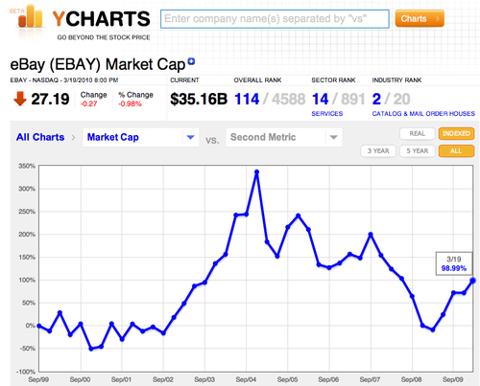 Click to enlarge
eBay's market capitalization is $35 billion with revenues approaching $9 billion for the last 12 months. Below we drill into the key growth, profitability and valuation metrics below and access the attractiveness of the company.
Top Line Growth
eBay's revenue growth rates have declined as the company continues to scale. You would expect this given the law of large numbers. Revenue growth turned negative in Q408 but have since rebounded.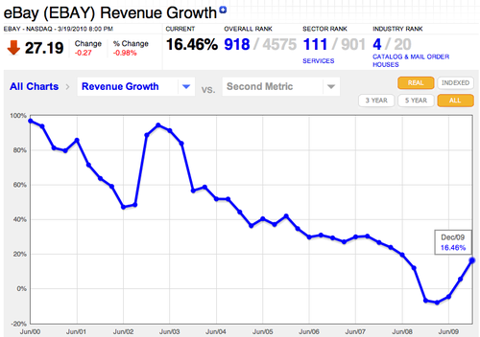 Click to enlarge
PayPal / International Growth
PayPal and international expansion are the keys that will continue to drive top line growth and profits for the company. You can see eBay's strong penetration rates in the chart below with particular strength internationally.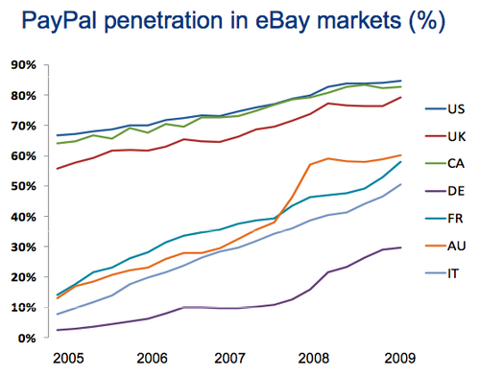 Click to enlarge
eBay announced it will increase PayPal's work force in Asia by 100% to 2,000 this year. They signed a deal with China UnionPay that will open up the Chinese market for the company. UnionPay (CUP) card members will be able to use PayPal to shop online, representing a new opportunity for international retailers to sell to a large base of Chinese customers who, combined, hold 2.1 billion CUP cards.
Scott Thomson, president of PayPal, said:

After years of being the export hub for the world, today marks the day that China is open for business as an import e-commerce market.

PayPal's partnership with China UnionPay removes an important friction point that exists across borders, and we are thrilled to eliminate the payments barrier so merchants can welcome millions of new Chinese customers to their sites.
Given the penetration trends above, this is worth taking note of and suggests good times may be ahead for eBay's PayPal. The international opportunity for eBay is expected to be $460 to $480 billion by 2011 with eBay capturing less than 6% of the market.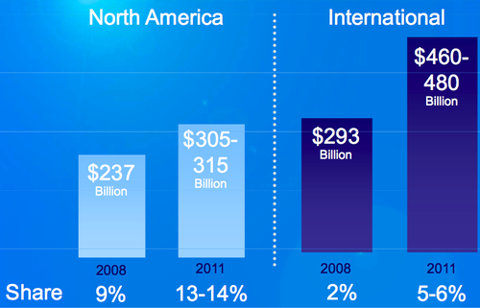 Click to enlarge
Merchant Services
The company also added over 100 merchants via merchant services in 2009 including Kmart, Sears (NASDAQ:SHLD), Foot Locker (NYSE:FL), FAO Schwarz and Disney (NYSE:DIS).
Free Cash Flow
eBay's free cash flow continues to improve to nearly $600M in Q409.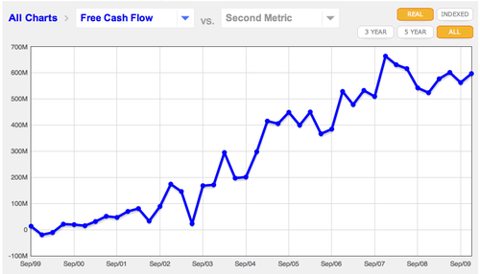 Click to enlarge
Valuation
eBay has traditionally traded at higher multiples on revenues and earnings. The company's rich multiples were driven by healthy margins and solid growth rates but are currently near the historical lows for Price to Sales and P/E Ratio.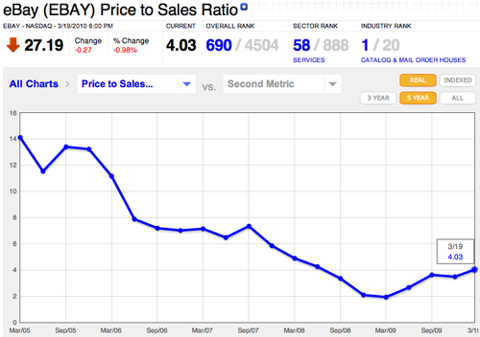 Click to enlarge
Strong eBay Balance Sheet and Cash Position
eBay has over $18 billion in assets and close to $14 billion in shareholders equity. Cash on the balance sheet is approaching $5 billion and will continue to grow given strong cash flows.
Conclusion
eBay is growing revenue again, trading at a reasonable multiple and has strong growth prospects internationally with PayPal. Our proprietary valuation models have eBay slightly undervalued. We expect the company to trade as high as $35 over the next 12 months.
Disclosure: No positions