Facebook makes Amazon look cheap
Amazon (NASDAQ:AMZN) is often cited as the most expensive mega-cap stock. It started 2013 at $250 per share, when many people were already calling Amazon a bubble. The stock price then advanced another 55% during the year, passing the $400 level, and now sports a 1440 P/E ratio.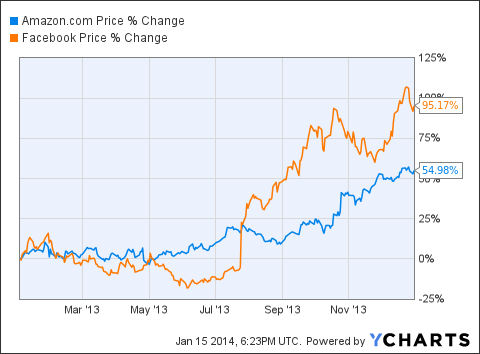 Facebook (NASDAQ:FB) had an even better 2013, as its stock nearly doubled in price. With a P/E ratio of a "mere" 147, Facebook looks a bargain in comparison with Amazon, but is it?
Let's examine Facebook and Amazon from the point of view of other valuation metrics.
| | | |
| --- | --- | --- |
| Metric | Facebook | Amazon |
| Market Cap | $142 billion | $182 billion |
| Enterprise Value | $133 billion | $177 billion |
| Forward P/E ratio | 51.1 | 151 |
| PEG ratio (5 year expected) | 2.11 | 14.9 |
| P/S ratio | 20.0 | 2.55 |
| P/B ratio | 10.5 | 19.7 |
| Enterprise Value/Revenue | 19.5 | 2.53 |
| Enterprise Value/EBITDA | 40.9 | 55.9 |
| Qtrly Revenue Growth YoY | 59.7 | 23.8 |
Source: Yahoo Finance
Based on this list of expanded valuation metrics, Amazon still looks more expensive than Facebook, right? Amazon is growing its top line at less than half the rate of Facebook but is given a forward P/E ratio three times that of Facebook, and a PEG ratio 7 times that of Facebook. What is going on?
The crucial missing concept here is operating margins: Amazon's are razor thin and artificially low whereas Facebook's are already approaching their maximum level.
One can see this by comparing Amazon to eBay (NASDAQ:EBAY). eBay does around $65 billion (excluding automobiles, which don't generate much in the way of transaction fees) in gross merchandise volume through its marketplace. From this, eBay manages to generate $2.1 billion in net income from its marketplace or around 3.3% of total gross merchandise value - eBay also earns another $600 million from PayPal's transactions, outside of eBay's marketplace.
Now Amazon has direct sales of around $65 billion but also does another $70 billion worth of transactions on its third party selling platform. So Amazon does over twice the turnover of eBay and is actually growing turnover at a 25-30% annual rate - twice as fast as eBay's marketplace is. eBay, excluding PayPal, is considered to be worth around $35 billion, so Amazon could reasonably be assumed to be worth 4 times that amount, and that's before considering AWS and Kindle.
Facebook is priced for perfection
Facebook is the complete opposite of Amazon: it has operating margins of 33% percent, which is even higher than Google's (NASDAQ:GOOG) at 25% (Google's operating margins are 30%, excluding Motorola). Therefore I can't envisage any further increase in Facebook's operating margins beyond its current level. Without any operating leverage, Facebook will have to depend on revenue growth to bolster its bottom line.
But Facebook's underlying growth rate isn't any better than Amazon's. Monthly active users are only growing by around 18% per year.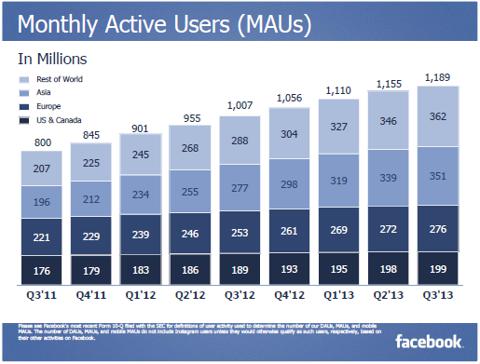 Note how growth in North America and Europe has now fallen to less than 10%, year on year. And given that teen usage in these geographies is either flat-lining or actually declining, that growth is coming from older users, who are less valued by advertisers.
The only real growth in users is occurring in Asia and elsewhere and this adds very little in additional revenue.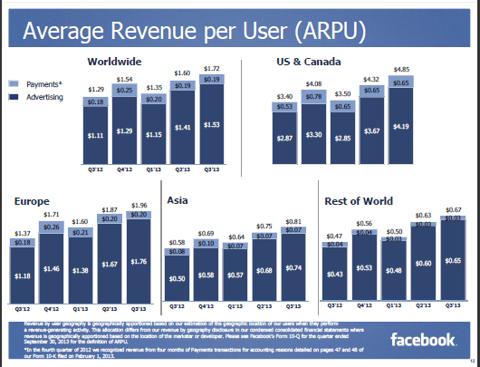 One North American user generates 7 times the revenue of someone from Africa and South America.
Facebook bulls have seemingly taken for granted the high revenue growth rates Facebook has been reporting in recent quarters. But this has entirely been down to Facebook finally getting around to monetizing mobile.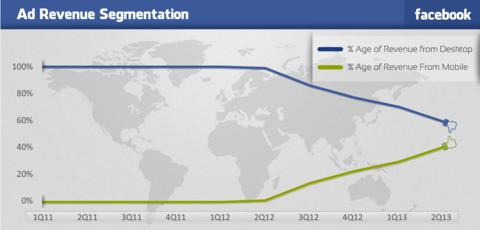 In another words, Facebook these last few years has been carrying around a snack that it has only now got around to eating.
Advert overload
Now can't Facebook just run more ads? Increase the ad load to 10% from the current 5% and bingo, double the revenue!
There are two basic problems with that strategy:
First of all too many adverts will threaten to push users away from Facebook. Already, teens are starting to leave for other sites. Some of that has nothing to do with ads - teens just don't want to share their personal lives with their parents and grandparents. However, it is likely advertising does play some role. One of the reasons cited behind Facebook's rise and MySpace's fall was that MySpace was covered in advertising, while Facebook for many years had no adverts at all.
Ultimately the number of adverts Facebook can show is limited by the ROI of the companies advertising on Facebook. Doubling the inventory will lead to a massive drop off of in that ROI.
Facebook valuation
Facebook is expected to triple net income next year. This is actually mostly the result of a lower expected tax rate, which this year was over 50%. Yet even with that massive boost to net income next year, Facebook still has a forward P/E ratio of 50. Google in contrast has a forward P/E of only 22. Since Facebook doesn't have any superior form of advertising to Google, and I would argue, actually an inferior one, Facebook won't be able to take market share away from Google. Instead its revenue growth over the next few years will be limited to the overall growth of the online advertising market, which is approximately the same rate as Google is expected to achieve. Consequently, I don't think Facebook should be given a forward P/E ratio any higher than 20. That implies a share price of $22.
Disclosure: I have no positions in any stocks mentioned, and no plans to initiate any positions within the next 72 hours. I wrote this article myself, and it expresses my own opinions. I am not receiving compensation for it (other than from Seeking Alpha). I have no business relationship with any company whose stock is mentioned in this article.