Homebuilder sentiment for the month of January slipped from a revised reading of 57 down to 56 (expectations were for 58). While sentiment slipped, it is important to note that any reading above 50 indicates optimism among homebuilders.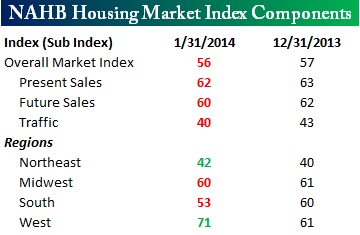 The table above breaks out this month's report by components and region. As shown, Present Sales, Future Sales, and Traffic all declined this month, with the biggest drop coming in traffic. On a regional basis, sentiment was mixed. Even though the weather has been brutal in the Northeast, sentiment actually saw a modest increase, rising from 40 to 42. The West, however, saw the biggest improvement, rising from 61 to 71. While these two regions saw improvement in sentiment, sentiment in the South and Midwest declined.
The chart below shows the historical levels of the NAHB Sentiment survey going back to 1985 with recessions highlighted in gray. The current level of 56 is down slightly from the post-recession high of 58 reached in August. While the index has seen a remarkable improvement since the lows from the recession, optimism still has some work to do on the upside before getting back to the highs from the prior expansion.