Seadrill Ltd. (NYSE:SDRL) is the most highly levered of the major offshore drilling companies. According to the company's third quarter 2013 results, Seadrill has $2,645 million in short-term interest bearing debt outstanding, $254 million outstanding of short-term debt owed to a related party, $10,087 million in long-term debt outstanding, and $630 million in long-term debt due to related parties.

Source: Seadrill
This gives the company total debt outstanding of $13,616 million. This compares against total shareowners' equity of $7,766 million. This gives the company a total debt-to-equity ratio of 1.75. This is significantly higher than any of its major peers; however many smaller offshore drilling contractors have higher debt-to-equity ratios:

This debt load would appear to make Seadrill much riskier than other offshore drilling companies. After all, should an event occur that significantly lowers the company's revenue or EBITDA then it may find itself struggling to make the payments on its debt. In fact, there is a lot of merit to this argument and many other companies in a variety of industries have found themselves in exactly that position. However, Seadrill does have some things going for it that should help protect it against such an event.
First, let us take a look at the structure of Seadrill's debt. The majority of the company's debt consists of several bank loans and credit facilities but Seadrill does have some outstanding bonds and convertible bonds. Additionally, the company and its subsidiaries are currently leasing one drillship, two semi-submersible rigs, and a newbuild jack-up from Ship Finance Ltd. (NYSE:SFL) for fifteen years. The company and its subsidiaries originally owned these rigs but then sold them to Ship Finance in order to free up capital. However, Seadrill is obligated to repurchase these rigs once the fifteen year lease is up.
Here are all of Seadrill's bank credit facilities as well as the amount that the company has outstanding under each one: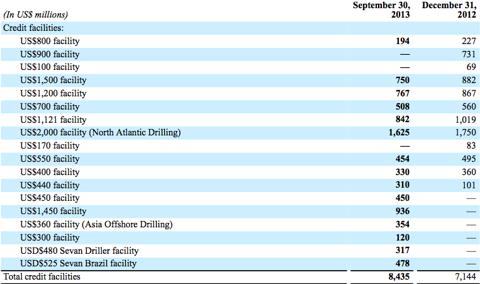 Source: Seadrill
As the chart shows, Seadrill has not, for the most part, maxed out its credit facilities. However, the company does have much more outstanding debt than it did at the end of 2012. Most of this increase, however, is due to the company acquiring a majority stake in Sevan Drilling (OTCPK:SDRNF) and consolidating Sevan's debt into its own. A total of $795 million of the outstanding debt under these credit facilities is actually debt of Sevan Drilling and not of Seadrill. If we exclude Sevan Drilling's debt then Seadrill only increased its outstanding debt under these credit facilities by $496 million during the first nine months of 2013. While the company has still increased its indebtedness, it is not by as much as it first appears.
In addition to this bank debt, Seadrill also has $2,925 million in bond debt, including convertible bonds.

Source: Seadrill
As is likely immediately obvious, Seadrill's outstanding bond debt increased substantially during the first nine months of the year. This is due primarily to two new bond issues by Seadrill:
On March 5, 2013, Seadrill issued a NOK 1,800 million unsecured bond with a maturity date in March 2018. This bond carries an interest rate of NIBOR+3.75%.
On September 20, 2013, Seadrill issued a $500 million unsecured bond. This bond has an interest rate of 6.13% and matures in September 2020.
Seadrill will likely see its bond debt increase again in its fourth quarter results due to the actions of its majority-owned subsidiary, North Atlantic Drilling (OTCPK:NATDF). On October 17, 2013, North Atlantic Drilling completed a NOK 1,500 million senior secured bond issue with a maturity date in October 2018. The interest rate on these bonds is NIBOR+4.4%. Please note that this is actually debt of North Atlantic Drilling and not of Seadrill itself. However, it will show up on Seadrill's balance sheet beginning with its fourth quarter results due to accounting rules regarding consolidation.
I mentioned earlier in this article that Seadrill has obtained financing from Ship Finance through the sale and immediate leasebacks of four rigs to that company. Three of these rigs were originally owned by Seadrill and the fourth rig, West Linus, was originally owned by North Atlantic Drilling. While the complexities of this are deserving of an article in and of themselves, I will provide a brief summary here. Back in 2008, Seadrill sold three rigs (West Polaris, West Taurus, and West Hercules) to Ship Finance at a price of $850 million each. Ship Finance then put these rigs into separate wholly-owned subsidiaries of itself known as variable interest entities. Seadrill is paying a fixed charter rate to the variable interest entity to use the rig and will continue to do so until the company either repurchases the rig or the fifteen year term of the original agreement expires at which point Seadrill is obligated to repurchase the rig. On June 28, 2013, North Atlantic Drilling entered into a similar agreement with Ship Finance, selling the West Linus rig for $600 million.

Source: Seadrill
Despite not having ownership of these variable interest entities, Seadrill still consolidates them into its financial statements because it is the primary beneficiary of the risks and rewards connected with the ownership of the units. The variable interest entities used debt in order to purchase the rigs and so this debt is also consolidated into Seadrill's balance sheet. The total amount of this debt still outstanding is $1,153 million. Thus, due to these sale and leaseback agreements, Seadrill's balance sheet shows $1.1 billion in debt that is debt owed by neither it nor any of its subsidiaries. Removing the debt owed by these entities from the company's total reduces its debt to $12,463 million. This is still a substantial amount but it is not as bad as the larger figure that includes the debt of these entities.
The majority of Seadrill's debt does not mature until the fourth quarter of 2014 at the earliest which gives the company plenty of time to grow its earnings in order to better support its debt. However, the company does have a very large tranche of its debt maturing over the next year.

Source: Seadrill
Seadrill does not currently have sufficient cash flow to maintain its dividend and pay off this debt. Therefore, the company is likely going to roll it over with either new bank loans or a new bond issue and continue to pay the interest on this debt until its horde of new rigs are completed in 2014 and 2015. Seadrill will need to secure contracts for these rigs and thus begin generating cash flow from them in order to begin paying down this mountain of debt.
With that said, Seadrill does have something going for it that provides confidence in its ability to carry its debt even if it fails to secure contracts for its new rigs. That is its revenue backlog. As of November 22, 2013, Seadrill's revenue backlog stood at $19.5 billion. As my long-time readers are likely aware, this represents revenue that Seadrill is contractually guaranteed to receive. This removes a significant portion of the risk that would otherwise be present because it ensures that the company will be able to maintain its revenue regardless of macroeconomic or industry-specific conditions. Earlier in this article, I stated that the biggest risk with a high debt load is that of deteriorating revenues which could result in the company not having enough money coming in to afford the debt payments. This revenue backlog ensures that this is not a problem that Seadrill will have over the short- to medium-term. In the third quarter of 2013, Seadrill had total revenues of $1,280 million. Thus, the company's $19.5 billion contract backlog essentially enables the company to continue operating at its third quarter level for just over fifteen quarters or 3.75 years! This is true even if the company is not awarded a single new contract during that time. This should prove reassuring as it provides significant confidence in the company's ability to continue to carry its large debt load.
Disclosure: I am long SDRL, NATDF, SFL, SDRNF, . I wrote this article myself, and it expresses my own opinions. I am not receiving compensation for it (other than from Seeking Alpha). I have no business relationship with any company whose stock is mentioned in this article.
Additional disclosure: My long position in Sevan Drilling consists of the shares that trade on the Oslo Bors in Norway and not the shares that trade over the counter in the United States.