This is part of a series of articles on stocks that show significant volatility and/or are heading into a binary event that is likely to move the stock price significantly. The point is to be able to recognize stocks with significant volatility and benefit from it through both short-term and long-term trades.
My article of this same nature on Amarin (NASDAQ:AMRN) was the first in this series. Amarin wound up down over 72% and option straddles made money. My recent article on Tesla (NASDAQ:TSLA) was the second piece in this series. Since then, Tesla is up 22% already and we're still months from the strike date. I wrote about Twitter (NYSE:TWTR) three weeks ago for this series, as well. Twitter, since then has already moved 12% to the downside and then over 20% to the upside, showing the volatility trade is the way to go. Most recently, I introduced Questcor (QCOR) into this series - claiming it's either an enormous house of cards or the most undervalued pharma stock in history. Questcor is up over 10% since writing, and we're still 10 months from its "strike" date.

Facebook (NASDAQ:FB) has traded well over the past year, nearly doubling. In the last three months, it's continued its ascent, up 12.3%, but appearing to reach a level where it could potentially plateau here at the $57-$58 level.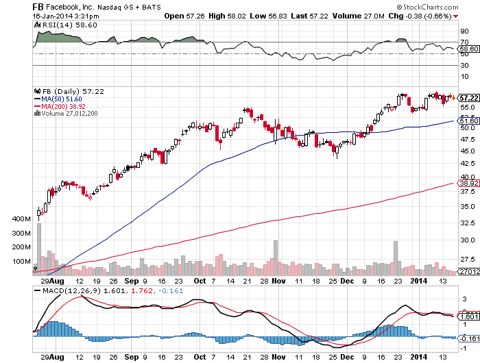 Before introducing the trade, let's take a look at the bullish and the bearish on Facebook as it heads into the meat and potatoes of 2014.
Facebook bulls say:
Facebook continues to grow it's monthly average users.
Facebook continues to grow its revenue by double digits year over year.
Facebook has operating margins of 33%.
The company is able to compete with Google (NASDAQ:GOOG) for digital advertising and lure away at Google's lead in this category. Facebook is gaining share on Google with mobile advertising.
The company has $3.1 billion in cash on hand and only $1.9 billion in total liabilities - in other words, a healthy balance sheet.
Mobile advertising could be an area for explosive growth for the company.
Facebook bears say:
The company is overvalued in an overvalued sector (social media), sporting a P/E ratio of roughly 150, a market cap of $142 billion and a price to book ratio of 10.5.
The younger generations are already starting to shy away from Facebook - similar to the way they did with Myspace before its inevitable fall into the abyss.
The company is already going overboard with its advertising on site, compromising the user experience. Additionally, Facebook could have issues finding new advertising niches.
Facebook's future growth is being pinned on its past success, which isn't realistic.
The Trade
What I'm expecting this year is a much clearer look as to which side of the argument on Facebook is correct. Either the valuation will get roped in as revenue slows and the price will tank; or, Facebook comes out of left field and blows past expectations with some type of new innovation and the stock runs up without rhyme or reason.
For the long-term investment, I'm bearish on Facebook simply for reasons of how quickly the internet develops and how many social media sites have come and go over the years. But, that shouldn't stop us from making our volatility based trade for the year on FB.
There are no options available for the start of Q4 2014, so we're going to be looking at a long straddle at $60 for January 2015. Believe it or not, I find this trade to be relatively cheap for having so much time between now and expiration.

The trade is going to cost $19.35, putting your breakeven points on FB at $40.65 or $79.35 - two prices not necessarily off the table if Facebook falls below its already established lows or if it comes out and shows that it can grow advertising and/or find another big margin revenue niche.
Think of all the catalysts that can occur within a year that could allow you to cash both sides of this trade: earnings, macro market shifts, analyst upgrades/downgrades. However, I'm convinced that even if you want to simply go long the straddle and hold, you're going to be rewarded in this case. Facebook is a highly covered volatile stock, not unlike Twitter or Tesla . When it moves, it moves with momentum and volatility - and that's where we're going to make our money on this trade.
Best of luck to all investors.
Disclosure: I have no positions in any stocks mentioned, and no plans to initiate any positions within the next 72 hours. I wrote this article myself, and it expresses my own opinions. I am not receiving compensation for it (other than from Seeking Alpha). I have no business relationship with any company whose stock is mentioned in this article.