While the stock price does not show it, Kinder Morgan Energy Partners (NYSE:KMP) just had one of its strongest years ever. The company posted strong growth in all of its key business segments while also delivering robust distribution growth for its unitholders. This trend is likely to continue in 2014 as the company has projected a 5% increase to its distribution as well as about $3.6B in capital spending for organic expansions.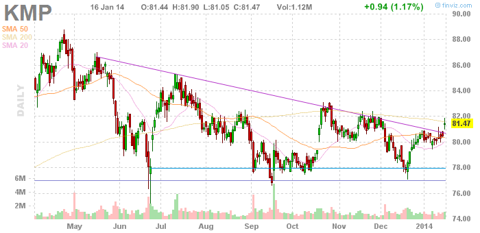 Corporate Overview
Before I get into the earnings, a brief overview of Kinder Morgan Energy Partners' corporate structure is warranted. Kinder Morgan Energy Partners is part of the larger Kinder Morgan family of companies which combined constitute the 4th largest energy company in North America. Kinder Morgan Inc (NYSE:KMI) is general partner for both Kinder Morgan Energy Partners and El Paso Pipeline Partners (NYSE:EPB). Also note that Kinder Morgan Management (NYSE:KMR) is essentially another method to own Kinder Morgan Energy Partners units as it shares are pari passu with these units, though offering a stock dividend rather than a cash distribution.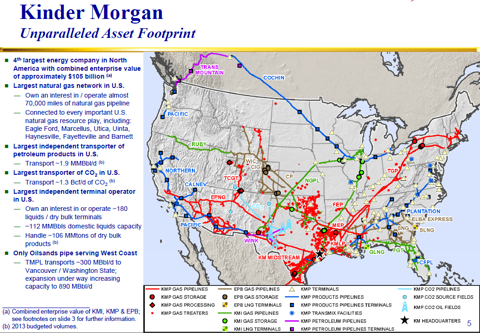 Q4 2013 Results Overview
As noted in the intro, Kinder Morgan Energy Partners posted solid results for Q4 2013. For the quarter, the company posted adjusted net income of about $796M, up 19% from last year. Distributable cash flow, or DCF, came in at $635M, up 28% from $495 last year. On a per unit basis, DCF came in at $1.44, up 7% from $1.35 per unit last year. Overall, Kinder Morgan Energy Partners results were better than expected, easily beating estimates and previous guidance.
Along with its earnings report, Kinder Morgan Energy Partners also announced an increase to its quarterly distribution to $1.36 per unit, up 5% from $1.29 last year. This marks Kinder Morgan Energy Partners' 50th increase to its distribution since February 1997. For the year, Kinder Morgan Energy Partners will pay out $5.33 per unit in distributions, up 7% from the last year's $4.98 per unit. Kinder Morgan Energy Partners coverage ratio for the quarter improved to 1.06x from 0.94x last quarter. For the year, the coverage ratio was 1.01x.
When looking at Kinder Morgan Energy Partners' individual segments, some areas of strength and weakness are apparent.
The natural gas pipeline business saw its adjusted segment earnings explode 40% higher to $665M. This increase was caused by the addition of assets from the Copano acquisition as well as El Paso asset dropdowns from Kinder Morgan Inc. However, there was also some organic growth in the segment from investments made in the Marcellus and Utica Shale plays. Kinder Morgan Energy Partners also saw increased volumes for its pipelines to export natural gas to Mexico, essentially transporting the majority of Mexico's imports on its systems.
Kinder Morgan Energy Partners' products pipeline business saw its adjusted segment earnings increase 16% to $203M. Earnings would have been moderately higher if not for an adverse tax dispute ruling in California. The company saw NGLs volumes on its product pipelines increase substantially, especially on the Cochin and Cypress pipeline systems. The company also saw increase volumes for its refined products pipelines, with gasoline volumes up 8%, biofuel volumes up 15%, jet fuels volumes up 7%, and NGLs volumes up 23%.
Kinder Morgan Energy Partners' much maligned CO2 segment posted a solid 16% increase in adjusted earnings to $392M, largely thanks to increased production and improved realized prices. The company boosted its oil production by 7% to 57,000 BBLs/D while realized prices for oil, including the impact of hedges, were up 6% to $92.70.
Kinder Morgan Energy Partners' terminal business saw is adjusted earnings increase 12% to $221M in Q4. Almost all of this increase was driven by organic growth projects and somewhat higher pricing. The company was able to restructure contracts for its Houston Ship Channel liquids facilities, resulting in higher rates in the quarter. The company also experience slightly higher coal export volumes of 2%, thanks to long-term minimum tonnage commitments. Of note, Ethanol terminal volumes were up 19% to 18.3M BBLs. Kinder Morgan Energy Partners systems now handle nearly 30% of all the ethanol used in the US.
The only sore spot for Kinder Morgan Energy Partners' was its Kinder Morgan Canada segment. Adjusted earnings declined 25% to $54M. This decline is almost entirely due to the Q2 2013 sale of the Express-Platte pipeline system to Spectra Energy (NYSE:SE) as well as some unfavorable book taxes.
A look at Kinder Morgan Energy Partners' 2014 outlook
2014 is likely to be another stable year for the partnership. Kinder Morgan Energy Partners expects to declare distributions of $5.58 per unit in 2014, up 5% from 2013's $5.33 per unit. Do note that these projections assume average WTI prices of $96.15 per BBL.
The company also announced plans to invest over $3.6B into organic growth projects in 2014. Of this total, about $720M is expected to be funded via Kinder Morgan Management's share dividends and ATM equity sales for Kinder Morgan Energy Partners.
About $2.1B is to be invested in the Terminals and Product Pipelines segments, mostly to expand existing crude oil and refined products transportation networks in the Eagle Ford and Marcellus/Utica plays.

About $700M is to be invested in Kinder Morgan Energy Partners natural gas pipelines, with a large chunk of capital being devoted to increase export capacity to Mexico and Eastern Canada.

Another $700M to $800M is to be invested in Kinder Morgan Energy Partners' CO2 business, with the majority focused on enhanced oil recovery projects. The company is seeing strong demand for its product which may lead to up to $2.0B of additional investments by 2017. Of special note, the company's $214M Yellow Jacket Central Facility expansion at the McElmo Dome in SW Colorado is currently under construction. The first phase of four for the project is currently planned to be operational by Q4 2014.
Conclusion
With the stock offering a strong 6.70% yield and modest distribution-growth potential, Kinder Morgan Energy Partners remains an attractive choice for income focused investors, Investors should also take heart from CEO Richard Kinder's resolve. During the conference call, the CEO noted that the company had underperformed in 2013. However, he also noted that "you sell, I'll buy, and we see who comes out the best in the long run" in regards to his $27.7M purchase of over 800,000 shares of KMI in December.
In addition, the CEO noted that Kinder Morgan Energy Partners and Kinder Morgan Inc both appear to be attractively valued stating during the conference call that "these securities are trading at the greatest disconnect to appropriate valuation since the period in 2006, just before we took the first KMI private." I do not know about others, but would you really want to bet against Richard Kinder?
Disclaimer: The opinions in this article are for informational purposes only and should not be construed as a recommendation to buy or sell the stocks mentioned. Please do your own due diligence before making any investment decision.
Disclosure: I am long KMI, . I wrote this article myself, and it expresses my own opinions. I am not receiving compensation for it (other than from Seeking Alpha). I have no business relationship with any company whose stock is mentioned in this article.