Intel (NASDAQ:INTC) announced its earnings today, Thursday, after the market closed. The semiconductor company reported EPS of $0.51/share that missed by a penny and revenues of $13.8 billion that exceeded expectations. This revenue was up from $12.5 billion the same quarter prior.
Intel's press release stated:
Intel Corporation today reported full-year revenue of $52.7 billion, operating income of $12.3 billion, net income of $9.6 billion and EPS of $1.89. The company generated approximately $20.9 billion in cash from operations, paid dividends of $4.5 billion, and used $2.1 billion to repurchase 94 million shares of stock.

For the fourth quarter, Intel posted revenue of $13.8 billion, operating income of $3.5 billion, net income of $2.6 billion, and EPS of 51 cents. The company generated approximately $6.2 billion in cash from operations, paid dividends of $1.1 billion, and used $528 million to repurchase 22 million shares of stock.
Other items to note from Intel's earnings were reported this afternoon by Seeking Alpha:
Intel (INTC) expects Q1 revenue of $12.3B-$13.3B, in-line with a $12.8B consensus. Full-year revenue is expected to be flat; that's slightly below a consensus for 1.2% growth, but matches prior guidance for flat 2014 revenue/EPS growth.
The chip giant is maintaining 2014 capex budget of $11B (21% of revenue guidance).
Q4 gross margin was 62%, -40 bps Q/Q and +400 bps Y/Y, and above a guidance midpoint of 61%. However, gross margin is expected to drop to 59% (+/- 2%) in Q1. Intel largely blames lower volumes and higher pre-qualification product costs for its next-gen (14nm) Broadwell CPUs.
Opex rose 8% Y/Y, outpacing revenue growth of 3% and contributing to the EPS miss. $528M was spent on buybacks, up from $500M in Q3.
(click to enlarge - source - Intel Investor Relations)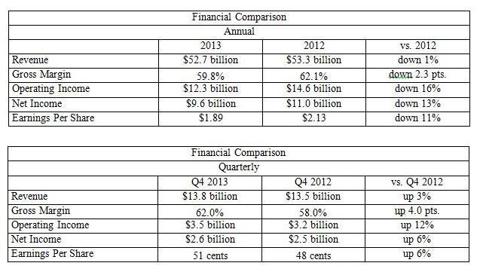 I think investors are going to view this earnings report similarly to the way investors viewed Alcoa's (NYSE:AA) earnings earlier in the week. The stock was off a few percent at first, until people got under the surface and saw that 2014 holds promise for the company. On a day like today, just a few days post-earnings, Alcoa is up nearly 5% from where it was pre-earnings.
I've been long Intel for about a week now. I penned an article earlier this week stating what my five main reasons were for buying Intel:
The company has staying power - with $8.4 billion cash on hand and a price/book ratio of 2.29 - the company isn't going anywhere anytime soon.
Despite the stock not moving a ton, Intel continue to raise its dividend, thereby increasing its dividend yield. Right now, Intel pays a handsome 3.52% dividend in the form of $0.22/share.
Intel has consistently traded near a P/E of around 13 for the past few years. Unlike many other companies that have inflated P/E ratios due to the macro market bullishness, Intel remains a stock that investors keep "roped in", and is no way too expensive from a fundamental standpoint.
The PC market has bottomed and Intel stands to benefit as it rebounds, even though Mac will continue to gain market share on PCs.
A large short position, now consisting of 224 million shares, could be squeezed out relatively soon - though it doesn't look like earnings will catalyze the squeeze.
With the market overreacting on this news and Intel being off 3.5% after hours, it definitely makes for a buying opportunity for those that want to enter before what I think will be a prosperous 2014. I will be buying on the dip now and tomorrow, should the shares sink further in light of the conference call and guidance.
I stated my intention to add on the dip, if applicable, just a couple of days ago - and I'm sticking by it.
Best of luck to all investors.
Disclosure: I am long INTC, AA. I wrote this article myself, and it expresses my own opinions. I am not receiving compensation for it (other than from Seeking Alpha). I have no business relationship with any company whose stock is mentioned in this article.