I recently had an idea to look at 19 of the biggest banks in North America. I detailed my reasons for being interested in the space in my last article, but once again:
I believe stocks in general are expensive at this point. Although the big commercial banks have largely recovered from the financial crisis of 2008-09, they are still cheap relative to other industries and are due to outperform, driven by:

multiple expansion as the stigma of the financial crisis fades
further recovery of profits to normalized range
NIM expansion due to steepening of the interest rate yield curve with ZIRP less QE
The list I looked at included the Canadian Big Five + National Bank of Canada (OTCPK:NTIOF), the US Big Four, and nine second tier US banks. I compared the banks on size, credit risk, profitability, and valuation, and found the Canadian banks collectively to be the clear winners. The Canadian banks all show higher ROE, strong credit ratings, and a few look pretty cheap relative to the rest of the pack. Executives at Canadian banks are paid more reasonably than the heads of their US counterparts.
I also prefer the Canadian banks because I believe Canada is a better operating environment than the US. Canada has a better record of economic growth than many other big financial centers, including the US: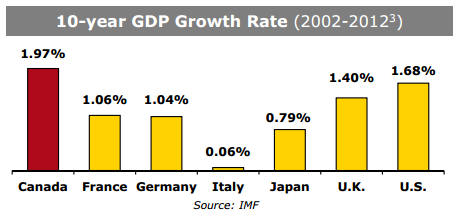 It also has a government that has historically been more fiscally responsible than others. The Canadian budget was balanced for 11 years from 1998 to 2008, when the global financial crisis sort of forced its spending hand, but is now reducing its deficit and the budget should again be balanced in a few years.
Of the 19 banks I compared, my favorite was Canadian Imperial Bank of Commerce (NYSE:CM). From there I decided to take a deeper look at CIBC and I am happy to say that I believe I've identified an extremely high quality company. I'd like shares to get cheaper, but CIBC is the kind of the company I'd have no problem owning for the long haul and it's the best value of the 19 banks I looked at in my opinion.
Business Overview
CIBC is a large Canadian bank with 3 businesses:
Retail and Business Banking
Wealth Management
Wholesale Banking
It has significant scale:
44k employees
11mm clients
3500 ATMs
1100 branches
One recurring theme about CBIC that is a big part of why I like the business is the company's commitment to being idealistic/the model of what a bank should be/proper. However you want to say it, CIBC seems to be a thoroughly ethical enterprise. Take a look at the company's strategy: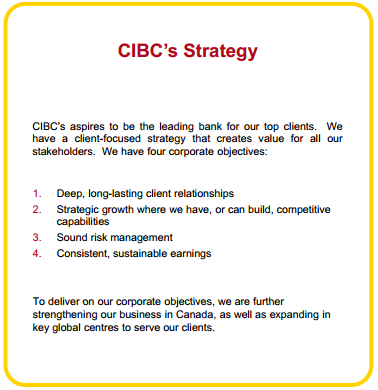 Source: Q4 Fact Sheet
This contrasts a great deal with the volatile, heavily-levered, self-serving stigma that surrounds the US financial system. I'm not saying all US banks deserve this reputation, but many do. I think CIBC differentiates itself big time in this area.
The company's Retail and Business Banking segment is the largest of the 3 segments. It is their traditional commercial banking operations- taking in deposits and spitting out loans.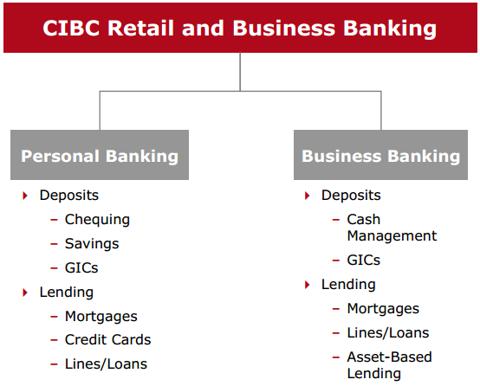 Click to enlarge
Source: Investment Community Introduction to CIBC
The company believes Retail an Business Banking operations have distinct competitive advantages: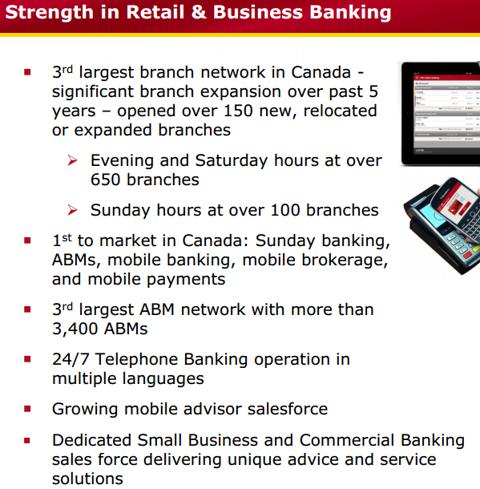 Click to enlarge
This is all true, but I think the underlying theme and the real source of the competitive advantage is scale. CIBC is the fifth largest bank in Canada and one of the biggest banks in the world. The economics of banking gives big banks a distinct advantage over smaller banks. Think about the cost of a banker in the credit risk department evaluating the risks of lending to another corporation. The small bank is constrained by capital- it doesn't have nearly as much to lend- so it will be lending to much smaller corporations and lending much less money. Because of its size, not only will the big bank have access to slightly cheaper capital, it will also save a great deal on non-interest expense relating to the deal. Say it takes one or two bankers from the small bank to assess the credit risks of the small borrower. This analysis hardly scales. At the big bank, maybe the transaction is 10000x larger than at the small bank. Sure there most definitely are much more bankers assessing the credit risks of the big borrower, but there isn't 10-20k bankers working on the credit risks of the deal. I liken it to me analyzing companies for SA. At times I analyze small companies like my recent article on Keating Capital (KIPO), other times I look at big players like CIBC. I've been writing for almost a year now and I don't think I spend any more time or effort analyzing big companies than small ones. In other words the cost of analysis and due diligence hardly scales. Additionally, big banks have proven themselves capable of coexisting profitably. There are 5 major banks in Canada and all of them are quite profitable and efficient. They all have their own niches and focuses.
You can probably tell that I really like the economics of big banks and I don't think I'm the only one. My idol, Warren Buffett, through Berkshire Hathaway (BRK.A, BRK.B), is heavily invested in the big banks. Berkshire's largest stock holding by far is Wells Fargo (NYSE:WFC). Berkshire owns $21.5mm worth of it. His 8th largest holding is another US big bank, US Bancorp (NYSE:USB). His 11th largest holding is Goldman Sachs (NYSE:GS). His 18th largest holding is The Bank of New York Mellon (NYSE:BK). His 24th largest holding, a very large bank with $84B in assets, but not in the first or second tier of US banks, is M&T Bank (NYSE:MTB). In total, 27.3% of Berkshires stock portfolio is allocated in big banks. Warren Buffett is a responsible man. He would not put that much money in banks if he didn't absolutely love the economics of the industry.
Now that that worthwhile tangent is through, let's move on. The Wealth Management business is structured as follows: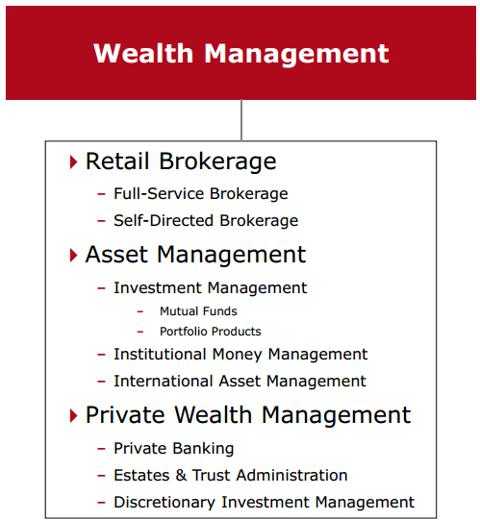 Click to enlarge
In Wealth Management, CIBC is looking to strengthen relationships with HNW clients, expand its geographic presence and build scale through acquisitions, especially of US Wealth Management businesses. They're also pushing to cross-sell more productively, following the lead of Wells Fargo. CIBC's Wealth Management business is established and has a leading market position.
The Wholesale Banking business is structured as follows: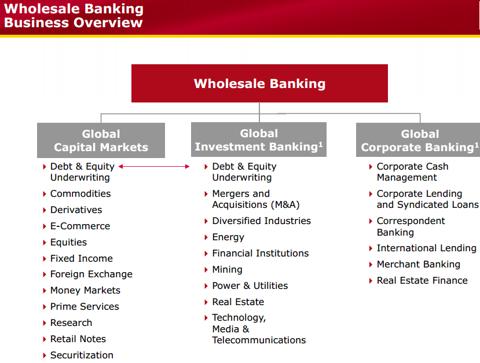 Click to enlarge
The Wholesale Banking business is characterized by a client-based, value adding focus. I enjoyed reading this because I think that's what investment banking should be. Maybe it's just PR bull, but a value-adding strategy is in my opinion the only way to sustainably do investment banking without scandals and erratic results, coupled with high client turnover.
Canadian Imperial focuses on the stable bedrocks of Canadian industry: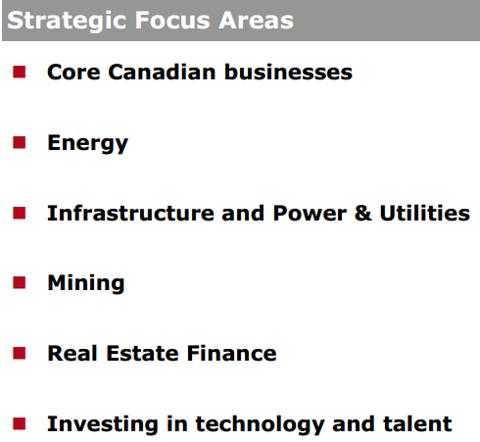 Click to enlarge
Management
Gerald McCaughey is the company's CEO. He started out as an Account Executive in Merrill Lynch's Canadian operations and rose internally in CIBC's Wealth Management business after it acquired Merrill Lynch Canada. He's been CEO for 9 years now. He makes about $10mm annually. I consider that reasonable. I compared his pay to Dan Amos of Aflac (NYSE:AFL), a holding of mine that is virtually the same as CIBC in terms of profits and revenues, and in terms of profitability (both companies boast ROE of about 20%). Amos makes 40% more so that's a good sign for CIBC. But then I compared McCaughey to some of the other CEOs of big US and Canadian banks. While the Canadian CEOs in general are paid more reasonably than at US banks, McCaughey is on the higher end relative to the size of the enterprise he's managing. I don't think it's that glaring an issue though. After all, his company has been performing better than the other banks.
Health of the Business
Basel III places the focus of minimum capital requirements on the Common Equity Tier 1 ratio (CET1). It requires banks to have a minimum CET1 of 4.5%. CIBC is extremely well-capitalized. As you can see below, the company's risk-weighted assets have increased quite a bit in the last year and yet the company's CET1 is substantially higher now than it was a year ago and still well above the Basel III minimum.

Click to enlarge
The company's credit ratings are solid: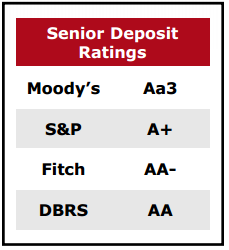 Moody's: 4th highest rating out of 21
S&P: 5th highest rating out of 22
Fitch: 4th highest rating out of 20
DBRS: 3rd highest rating out of 20
CIBC has been named the strongest bank in Canada by Bloomberg Markets for the past 2 years and is currently fourth on the list of "World's Strongest Banks." To put this in perspective for American investors, there is only one US bank on the list and it is Citigroup (NYSE:C) at #17.
The company has long term goals of 5-10% earnings growth annually and a dividend payout of 40-50%. This implies expected ROE of 8.33-20%, with a midpoint of 14.2%. The company has been outperforming even the high end of its expectations though for almost 4 years now since recovering from the financial crisis, with ROE averaging about 22%.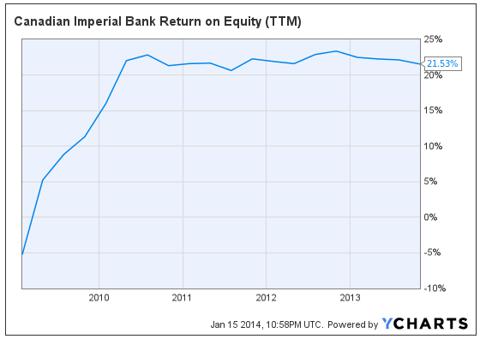 Click to enlarge
As far as performance by segment, the business is cruising, uneventfully but well. There isn't much to say and little evidence of the 20+% ROE status quo shifting.
In Retail and Business Banking, the company has seen modest NIM expansion, volume growth, profit growth, and much improved credit performance: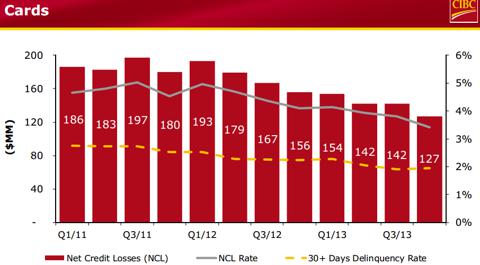 Click to enlarge
In Wealth Management, there's been solid AUM and AUA growth, due in part to acquisitions, and record revenue and income in Q4.
In Wholesale Banking, the company has seen lower trading revenue driven by the market. Credit losses are trending well. The company also made some switches to lower performance-based compensation in the business, supporting the 'idealistic' theme.
Valuation
With trailing ROE of 21.53% and the stock at a P/B of 2.05, effective yield (ROE/(P/B)) is at 10.5%, a full percentage point above my cost of equity of 9.5%. This was 2nd best of the 19 banks I compared.
I valued the company using a dividend discount model. I assumed a 9.5% cost of equity and ROE of 20% for the next 5 years. The only uncertainty that I used as a variable, was terminal ROE after the 5 years. I input a variety of possibilities and my probabilities of each respective scenario, and took the weighted average of all of them.

Click to enlarge
It seems that shares are just a bit below fair value. I have a hard line of at least 25% margin of safety, so I haven't bought shares yet. I'd buy if it got to $70, but I sort of doubt that.
Conclusion
Big banks in general are attractive. Their economics make them attractive long-term investments. My favorite of the biggest banks in North America right now is CIBC and if shares get cheaper, I'll be a buyer. Canadian Imperial is in the world's elite of the big banks in terms of capitalization an profitability. On top of that, it operates in a great country for banks. I'm hoping it drops to $70, but I doubt that. I will definitely be keeping it in mind for the next few years though.
Disclosure: I am long AFL, . I wrote this article myself, and it expresses my own opinions. I am not receiving compensation for it (other than from Seeking Alpha). I have no business relationship with any company whose stock is mentioned in this article.
Additional disclosure: I may initiate a long position in CM over the next 72 hours.