Up until May of 2013, Linn Energy (LINE, LNCO) was regarded as a sort of Cadillac among upstream MLPs. Linn consistently traded above its peers, with a higher price to distributable cash flow ratio and a lower distribution yield than all the rest. The reason? Investors regarded Linn's savvy acquisitions of some of the most economical, mature oil and gas fields in the country as reason to give Linn a premium. In addition, income-oriented investors also appreciated Linn's strategy of hedging 100% of production, thereby guaranteeing cash flow.
The premium Linn had earned came to an abrupt end when the partnership became the recipient of some very negative press coverage which questioned the company's hedging strategy, the way it classed maintenance capex, and its unprecedentedly large proposed acquisition of Berry Petroleum (BRY).
This fear reached a crescendo when management announced that the SEC had begun an informal inquiry into Linn's latest acquisition, hedging practices and accounting practices. In a single day, shares dropped by 10%-15%. Altogether, shares dropped from over $38 in May to under $24 in August. This was a gut-wrenching move for most of Linn's income-minded investors. Linn went from carrying a premium compared to its peers to being the rock bottom lowest in value. But as they say, the darkest point of night is the moment just before dawn.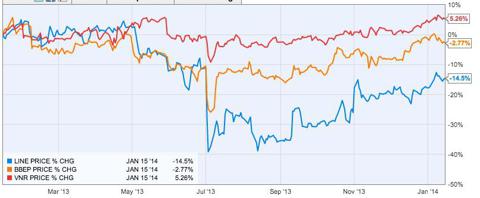 Click to enlarge
YCharts
The hedge fund which led the attack on Linn got bored and moved on. The negative press coverage eventually blew over as the talking heads ran out of things to talk about. Linn's viability as a business was intensely debated here on Seeking Alpha. The chart above shows that while Linn has fallen the furthest of all MLPs since about May of last year, it has also had the strongest recovery. This chart also suggests that, were upstream MLPs to "reset" back to where they were in the early part of last year, Linn would still have the most to gain.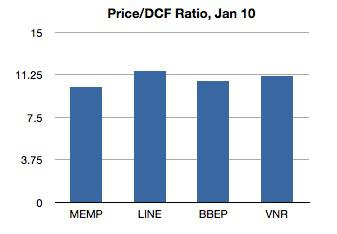 Data based on each respective partnership's 2013 DCF guidance. Linn Energy no longer reports DCF directly.
Looking at upstream MLPs by valuation, Linn is now at a slight premium to its peers. Were it to reach its early 2013 valuation, Linn shares could rise to 13 times the metric that was known as distributable cash flow. Linn currently sits at 11.5 times distributable cash flow. Although these upstream MLPs are to be primarily invested in for income, there is price upside in Linn Energy.
Why Linn Deserves A Premium
Linn's value proposition, if anything, has improved since early 2013 when its stock price began falling. Since then Linn has not only solidified its acquisition of Berry with a higher offering but has also acquired 5,000+ acres of land in the highly desirable Permian Basin. This really touches on exactly why Linn once traded at a premium to other names: The company's acreage is second to none amongst upstream MLPs.
Consider this, Linn currently holds about 110,000 acres in the Permian Basin in West Texas, a geography which other partnerships are eager to enter for the high oil composition (relative to natural gas), very high margins (the Permian is one of the oldest, most established oil geographies in the country), and potential for extended drilling through waterfloooding, CO2 injection and shale drilling. In short, the Permian is something of a "holy grail" of drilling geographies in the US: Everybody wants to be there. When the Berry acquisition is finally complete, Linn will have an unrivalled 160,000+ acreage position in the Permian.
If there was one oil-producing geography in the US that might economically rival the Permian, it would be California. That state's less than friendly regulatory environment is more than compensated for by the fact that California-produced crude fetches premium Brent Crude pricing and not the lower West Texas Intermediate pricing. While Linn already has a substantial position in California, that position will be more than doubled by the Berry transaction. In fact, Linn will soon be the fifth largest oil producer in California, a state where most MLPs are clamoring just to get in. Berry's California assets include the mature, high-margin South Midway-Sunset field and the high-growth North Midway-Sunset, the latter of which is organically growing production at a double-digit clip.
Finally, Linn will soon also have acreage in the Uinta Basin in Utah. Like North Midway-Sunset in California, Uinta is growing production substantially. Berry management estimates that it's Uinta fields will continue to grow production at a 14% compounded rate.
"A Very Active Time"
Thanks to a flurry of acquisitions, the company's production is now weighted toward higher return oil. Linn's acreage portfolio represents an ideal combination of high-margin geographies, high-growth geographies, and finally vast enhanced recovery opportunities. Most other partnerships, on the other hand, have only high-margin, slow-to-no-growth acreage.
In the company's most recent conference call, management stated that this was a "very active time" for acquisitions, as many producers are selling mature acreage in order to invest in the higher-growth shale plays, and that the Berry acquisition was a "repeatable event." We should expect more acquisitions in the future, perhaps even within 2014.
In any case, it is for the above reasons that Linn used to have some kind of premium to the other upstream MLPs. Going forward, Linn's distribution should be bolstered by robust production growth in some locations. That, coupled with some price/DCF upside, could make Linn a great investment over the next few years.
Disclosure: I am long LINE. I wrote this article myself, and it expresses my own opinions. I am not receiving compensation for it (other than from Seeking Alpha). I have no business relationship with any company whose stock is mentioned in this article.