I had recommended Cognizant Technology Solutions (NASDAQ:CTSH) as a top software and service company to buy some time ago and had advised investors to sell IBM (NYSE:IBM), as I considered CTSH as a much better stock. I have been proved right on both counts, as IBM has declined while CTSH has seen its stock price increase. Cognizant has been an amazing stock for investors to hold over the last 10 years, having substantially outperformed not only its software peers but also the iconic technology companies such as Apple (NASDAQ:AAPL) and Amazon (NASDAQ:AMZN). The company has very good management and has kept up the growth momentum, even as bigger peers such as Wipro (NYSE:WIT) and Infosys (NASDAQ:INFY) have faltered. IBM, the big daddy of software services, has seen its revenues stagnate for the last decade, even as Cognizant Technology has seen its stock price increase by almost 20x. Cognizant has benefited last year due to the tailwinds of rupee depreciation against the dollar and a slowdown in India's economy, which has led to declining real wages. We think that investors should look to buy dips as the company has proven itself both during the up and down cycles.
FY 2015 growth is expected to be better than forecasted according to NASSCOM
India's main software industry body NASSCOM expects that growth in FY 2015 will be better than FY 2014 (12-14% growth). This is on account of India's main markets of USA, Britain seeing stronger economic growth which will lead to more IT spending. Recent results by companies such as Infosys have beaten expectations as companies ride on the secular tailwinds of rupee depreciation and recovery in Western economies. Cognizant has typically grown at a faster rate than the industry and 20-22% growth in FY 2015 for CTSH should be considered a base case. The company is forecasting a growth of more than 20% in FY 2014.
On the back of our strong second quarter performance, we are extremely pleased with this solid third quarter. As a result, for the second time this year, we are raising our full year revenue guidance. We now expect 2013 revenues of at least $8.84 billion, which would represent industry-leading growth year-on-year of at least 20.3%.

Source - Cognizant Q3 Conference Call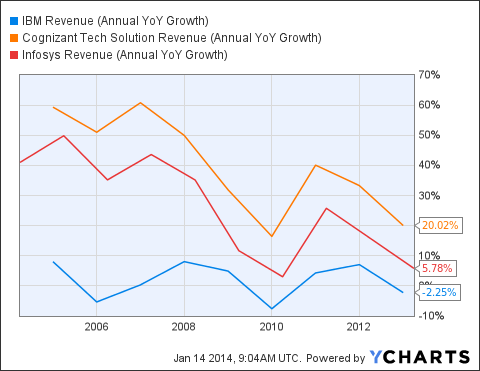 IBM Revenue (Annual YoY Growth) data by YCharts
New services Social, Analytics and Cloud offerings growing rapidly
Cognizant Technology has started focusing on Horizon 3 services, especially the Social, Mobile, Analytics and Cloud (SMAC) segment. The company believes that the future growth is in these areas and has put considerable resources to expand the SMAC segment. The management has said that the company is already making $500 million in revenues annually from SMAC and that the growth has been faster than they expected.
So we haven't talked about Horizon 3 in total but the SMAC stack which is the very big component of that we said would be about $500 million of revenue in 2013 and is certainly growing quite - frankly is faster than we thought it would, so it's really been taking off nicely.

Source - Cognizant at Barclays
Real Wages in India are stagnating even as Rupee has depreciated sharply
Employee costs are the biggest cost component for software and service companies. The Indian outsourcers such as Infosys, TCS and HCL have been facing margin pressure as wages in India were rising in the middle part of the last decade. The sharp boom in Indian IT outsourcing led to increased demand for engineers leading to sharp wage increases. However this trend has reversed now, as hiring has slowed even as the supply of engineers in India has increased manifold. A recent Credit Suisse study has showed how the real wages for entry level engineers has fallen over the last decade. With hundreds of thousands of engineers passing out each year, Cognizant and other Indian IT companies are set to benefit from the secular decline in wage costs (at least at the entry level).
A drop in attrition, a rise in the joining rate of freshers and a significant jump in the supply of engineering students has increased the bargaining power of technology companies, with real wages for entry-level employees at its lowest in 15 years. Mid-size companies such as Tech Mahindra and Hexaware have been able to postpone pay rises without a significant increase in attrition. Tata Consultancy Services' official forecast ("guidance") of entry-level hires is the same as in 2008-09, despite twice the overall employee base and a vastly different outlook (more positive) on the demand environment. Joining salaries offered at many engineering institutes have remained in the range of Rs 3.1-3.5 lakh per annum for some years.

Source - Business Standard
The rupee has depreciated sharply against the US dollar in the last year as India's current account deficit has become very high. Economic mismanagement has led to India's GDP growth decline sharply, while the deficit has remained stubbornly high due to high fertilizer and oil subsidies. Indian exporters have gained tremendously as their products and services have become more competitive and their rupee earnings have increased. It looks unlikely that the rupee will appreciate, as there are indications that India's national elections (which will be held in May 2014) will result in a weak coalition government.
Cognizant Risks
a) Not gained traction in selling higher Value Added Services - Cognizant has struggled to compete with the likes of IBM and Accenture (NYSE:ACN) in selling higher value added services such as consulting. It gets a majority of its revenue from plain vanilla IT development and BPO services. Its consulting services are still not at par with those sold by Accenture. The company probably needs to look into acquiring a pure play major consulting company in order to break into the top ranks.
b) IT automation reduces need for Cognizant services - Technology advancements have reduced the need for manpower in doing routine and repetitive work. IBM is using its Watson technology to offer new service offerings to its clients.
Stock Valuation is Not Expensive
Cognizant has seen its stock price increase by more than 25% in the last year, even as our favorite short in the software industry has declined by ~3%. Cognizant has not seen its stock price increase as fast as the Indian stock market listed companies such as TCS, HCL Technology etc. as it is quoted in USD.
Cognizant is not expensive with a forward P/E of 16.9x and is cheaper compared to Indian listed outsourcers, who are trading at a forward P/E of greater than 20x. The company should grow by 20% plus rates over the next 2 years at least, which means that there is scope for multiple expansion. IBM which has stagnated is trading at a forward P/E of 9.4x, while Infosys trades at forward P/E of 17.2x.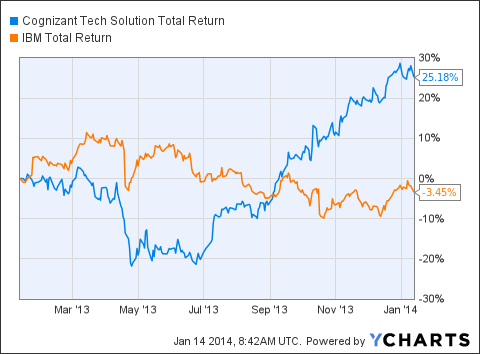 CTSH Total Return Price data by YCharts
Summary
Cognizant has been the best performing software services stock over the last decade and has given multi bagger returns to investors. The company is still growing at over 20% annually despite its larger base. The company is focusing on fast growing areas such as Social, Analytics and Cloud which will maintain its growth momentum. Even at $100, Cognizant remains a good buy for long-term investors given the company's history and future growth prospects. We look to buy dips in CTSH as the company still has a lot of space to grow.
Disclosure: I have no positions in any stocks mentioned, and no plans to initiate any positions within the next 72 hours. I wrote this article myself, and it expresses my own opinions. I am not receiving compensation for it (other than from Seeking Alpha). I have no business relationship with any company whose stock is mentioned in this article.